Robyn Crawford Opens Up About Her Romantic Relationship With Whitney Houston, Shares How They Were Going To Pull Up On Wendy Williams
​
Nov 12 | by _YBF
​ ​ ​ ​
Robyn Crawford is speaking out about her alleged romantic relationship with Whitney Houston. And she also shares how she and Whitney were plotting to pull up on Wendy Williams for talking her ish. Deets inside…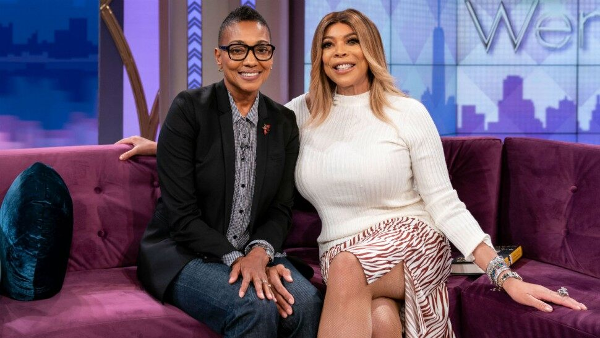 Rumors about Whitney Houston having a romantic relationship with her bestie/longtime assistant Robyn Crawford have been circulating for years. And now, Robyn is ready to share her side of the story.
Yes, the rumors are true – at least- according to Robyn. She claims she and Whitney had a sexual relationship. In fact, their relationship was a "label free" situation and she opened up more in depth about their physical relationship in her new memoir titled, "A Song For You: My Life With Whitney Houston."
"It wasn't anything planned, it just happened. And it felt wonderful," Robyn wrote in her memoir. "And then, not long after that, we spent the night together. And that evening was the night that we touched. And that just brought us closer together."
Robyn stopped by the "Wendy Williams Show" to chop it up about her relationship with the superstar singer. Robyn shared she and Whitney met in 1980 as summer camp counselors in New Jersey and hit it off from there. She said they had a nice "see-saw relationship" about who was who in the music business and later that summer they got closer than close.
"We just sat back on her sofa – on the floor – and it was that time. A time to get a little closer and we did. A little closer…,"she shared.
At the time Robyn was 19 and Whitney was 17.
"I prayed for someone male or female, who would love me for me, whoever that was," Robyn shared.
Robyn revealed she and Whitney became physical after that point and then explained why they ended it. She said they had a "beautiful friendship," but it was short lived. Whitney had to call it off and explained she decided to end it because "people would use this against us."
Wendy Williams was a big part of the story as she was on the radio reporting the rumors about Whitney's alleged relationship with Robyn.
"I've never met Whitney, I had never met her," Wendy said during the interview.
"You act like, you talk like you did," Robyn responded.
The daytime talk show host then reflected on the now infamous interview with Whitney Houston.
"I've only seen her in concert once and that was at the Beacon Theater in Boston when I was a burgeoning radio star in college radio. … I've only talked to her once, and that was on the radio. And that was that interview," Wendy shared.
"I heard that interview, I got a call from my former assistant. I wasn't working with Whitney. And she said Whitney's going to be on Wendy Williams," Robyn recalled." I said, 'What do you mean she's going to be on Wendy?' That was the cumulative, fed up Whitney Houston that I heard."
"You had been talking about Whitney and myself for so long," Robyn said, making note of the lesbian rumors that had been circulating.
"But it all came true. A lot of what I said is in this book. A lot of things I said were in this book," Wendy responded.
Robyn then shared how she and Whitney were down to run up on Wendy for being uber messy in the media.
"Everyone lived by the radio back then. We're in the car, you're talking like you lived with us, like you're roommates with us. We're in the car, sitting still and Whitney would say, 'Who the… who is she? Who is this woman? I don't even know what she looks like,' " she recalled.

"We were gonna… We didn't know what you looked like and our plan was to go down to Hudson Street … and wait for you right outside," Robyn continyed. "We weren't gonna fight, we just wanted to see you face-to-face and have a chat."
Oop!
Peep her full interview below:
In another interview...
Robyn Crawford chops it up with EMMY winning writer Lena Waithe ("The Chi") about her relationship with the late singer - who died in 2012 of an accidental drowning in a bathtub. She was 48.
Below are the highlights from their conversation:
LENA: A lot of us have been wanting to hear from you for a long time. But many people's question will be "Why now?" I'm personally happy that you got the chance to speak your piece, because there's been so much said about you and Whitney over the years. You come up in [her mother] Cissy Houston's book, in Bobby Brown's book. Bobby even said something like, "If Robyn had stuck around, Whitney would still be alive," which was a very heavy statement. After all these years, what made you say "It's time?"

ROBYN: I had comfort in my silence for many years. When her daughter Bobbi Kristina passed [in 2015], that's when I first really felt the need to stand up, hearing the way people were treating Bobbi, Whitney, our friendship, and their version of my story. And I felt the legacy of my friend was buried underneath all of that. That's when I had to ask Nip about writing this book. I actually sat there and asked her up above: "What would you want me to do? Do you understand why now?" Feeling her yes, that was my clearance. When I felt complete in my being that I could have the confidence to stand up and lift her legacy out of the trash, to elevate it and put it back in her hands, while also honoring our friendship...that's when I felt ready.

LENA: So here's the thing. I think people all have the same question. "Were y'all together, or not?" What I love, as a queer person myself, is that when you're describing when you were first intimate as teenagers, it felt no different than, I think, most young women's stories. I think what you describe is so innocent.

ROBYN: We were exploring each other.

But then you decide to end your physical relationship. And not long after that, you move in together. And if I can keep it 100, as I read that, I said, "This feels like a disaster waiting to happen."

ROBYN: But why?

LENA: Because, yo...look. Even though you guys had a conversation about ending it, you're a human being—you can't shut off feelings that quickly. You write about living together and watching her secretly dating Jermaine Jackson...who was married at the time. How could you deal with all of that, given your history?

ROBYN: Well, we had one vision, and that was to make her dream happen. I left school not to be her lover, but to be there for her. To work and watch her rise. I believed in the dream that she painted. When I saw her in church, I felt the energy. I was a witness. I knew she had a powerful gift to touch people that was much bigger than either of us.

LENA: My other question is, and we're jumping ahead in time a little bit—but I can't imagine being in your shoes as maid of honor on her wedding day to Bobby Brown.

ROBYN: By then, we were so past that. But I will say I did feel that I was losing her in some way. Because back then it was very much when a woman gets married, you lose them, because they are committed to their marriage entirely. So, I did feel that, looking at her on her wedding day bonding her life with someone else...I did see that in her eyes that I was losing her.

LENA:When you mention she was dating Eddie Murphy and Bobby at the same time, yet Eddie wasn't giving her the time of day...I was really shocked about that. Especially the fact that Eddie called Whitney on her wedding day to tell her not to marry Bobby.

ROBYN: That was nuts. On her wedding day, Whitney is telling me about his call, and I'm in and out the room as the maid of honor as she's getting ready, and I'm just listening. I didn't really know the ins and outs of what was going on with her and Eddie. All I saw was my friend chasing a guy who did not deserve her.

LENA: In the book you reference going to visit her cousin Dee Dee Warwick when you two were teens. But as you know, in the second documentary, Whitney, there are allegations that Whitney was abused by a family member—and that family member was Dee Dee. But it's not something you bring up in the book. Is that because you felt those allegations weren't accurate?

ROBYN: Whitney was very close to the Warwicks, before super stardom and during. She talked a lot about Dee Dee, how talented she was as a singer, how funny. And Whitney and I talked a lot about our families. She told me everything. So if there was any truth to that, I would've known. I don't have any doubt about that.

LENA: It's tricky, because they say she was touched by a woman. And then it's insinuated "Oh, maybe that's why she was so confused about her sexuality." The whole thing is a little murky and it could also be a little bit dangerous, in my opinion. Because then it's like, maybe that's what drew Whitney to you, so to speak.

ROBYN: Is that what people are implying? The Whitney I knew never talked labels. Never.
You can read the full interview here.
Thoughts on Robyn coming out now about her relationship with the legendary singer?
Robyn Crawford's "A Song for You: My Life with Whitney Houston" hits bookshelves today.
Photos: s_bukley / Shutterstock.com/Wendy Show
​ ​
​ ​ ​