After 'RHOP' Star Monique Samuels Caught Second-Degree Assault Charge From Fight With Candiace Dillard, Things Get Messier
​
Nov 11 | by Natasha
​ ​ ​ ​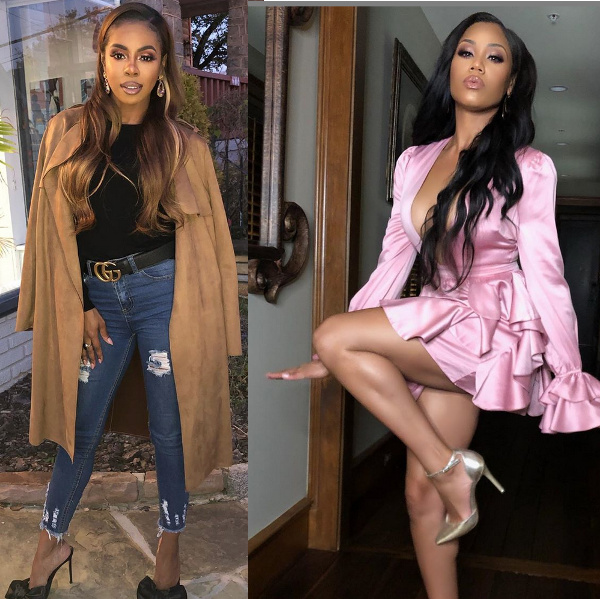 Remember when Candiace basically begged a pregnant Monique to drag her last season on "Real Housewives of Potomac"? Well, it looks like no-longer-pregnant Monique did just that while the cast was filming the upcoming fifth season. Now, the fallout is extra messy. Deets inside.
"Drag me, Monique!" Candiace Dillard wrote a check her hands couldn't cash. It seems she caught Monique Samuels' hands though.
In a lawsuit filed just before the weekend, Candiace, 32, is accusing her castmate and (now former) good friend Monique, 36, of attacking her during filming. Now, Monique has been charged with alleged second-degree assault from the District Court of Montgomery County in Maryland.
According to reports, Candiace says Monique grabbed her hair and pulled her down while they were at a dinner party on October 16th, with the Bravo cameras rolling. People magazine spoke to Candiace's attorney, who said in a statement that they "pray Monique gets some help" and they "hope everyone prays for Candiace and her family."
Dillard's personal attorney James L. Walker, Jr. provided PEOPLE with this exclusive statement. "At this time, we do not want to say too much and just allow the criminal process to play out. We only ask everyone to pray for our client Candiace and her family," Walker said.
"The physical assault, humiliation and emotional distress have all been very painful and difficult for Candiace, as it would be for anyone attacked so viciously," he continued.

"We also pray that Monique will get some help," said Walker. "The summons to court charge of Second Degree Assault is just one step below first-degree assault and must be taken very seriously. This behavior has no place in our society."

Walker ended his statement by asking that "everyone respect the privacy of the parties and allow the Montgomery County District Court to exercise its duty here to protect victims like Candiace."
Chile...
Monique's attorney says it's one-sided B.S. and she was simply defending herself.
Samuels' attorney, A. Scott Bolden, tells PEOPLE that Dillard's claims are "completely one-sided, inaccurate and unwarranted," adding, "Ms. Dillard has a public reputation for aggressive, belligerent and threatening behavior that has played out repeatedly on the Housewives of Potomac for millions of viewers to see for themselves."

Bolden adds, "To be sure, my client did nothing but defend herself in the face of more very aggressive behavior by Ms. Dillard. If this event occurred during taping of the show, I am confident that the video will bear all of this out. My client has every right to file for a counter criminal summons, as well, and will consider doing so, while fully defending herself in this action that has been filed with the Court. Either way, I am confident that she will prevail on this matter. Going forward, we hope that Ms. Dillard seeks the help she needs to avoid creating these kinds of unsafe and unfortunate circumstances in and outside of the workplace."
Now if you watch "RHOP," Monique's side isn't hard to believe.
We've been hearing rumors for weeks about this fight, before formal charges were filed. Unconfirmed rumors also say that Candiace allegedly threw a drink on Monique first, which could explain why Monique claims she was defending herself and why she could file her own complaint against Candiace.
This also explains why Monique recently posted to her IG Stories that only castmate Ashley Darby came to her event she spoke at, and revealed that the other ladies wouldn't film with her. Interesting.
Ever since news of the charges became public, RHOP fans have been taking sides. Unfortunately for Candiace, #IStandWithMonique started trending with people verbally dragging her for possibly provoking Monique based on her history of verbal altercations on the show.
Sorry, we'll take Monique over Candiace. #RHOP #IStandWithMonique pic.twitter.com/7jUAEvduul

— bri (@_____bat) November 10, 2019
So wait, Candiace threw a drink at Monique & gets dragged, but Monique's the only one getting charged? Candiace was acting all tough & sh*t, yet she went running to the popo for being dragged in a fight she started, WTF? #IStandWithMonique #RHOP https://t.co/zLbhSYEE1b

— ligi leterizi (@islandgirl9417) November 10, 2019
Candiace has been asking to get her ass served for a whole season and when Monique finally knocks her one Candiace gets the law involved? Lmao pathetic. Proceed with caution hunni because we all stand with Mo #IStandWithMonique #RHOP pic.twitter.com/h00JV2OWNE

— Housewife Maniac (@HousewifeManiac) November 10, 2019
I don't normally condone violence, but Candace needed a good ole-fashioned butt-whoopin'....especially when she invited it last season. Don't write a check your ass can't cash. #rhop #istandwithmonique

— Jessica (@Jessica34429232) November 10, 2019
Whew the internet is DRAGGING Candiace... Sis didn't plan this out right. LMAO #IStandWithMonique #RHOP pic.twitter.com/3y9HD3iQ5O

— Cousin Faith (@DukeOfShade) November 9, 2019
But, Candiace had a little support too.
Why when Porsha dragged Kenya everyone turned on her and said she was violent and wanted her fired etc etc but when Monique dragged Candice everyone HAILS her as some sort of god and having this #Istandwithmonique bullshit..I'm really not about the double standard #RHOP #RHOA pic.twitter.com/K8uiOcBWji

— Real Housewife Polls (@RHOPolls) November 10, 2019
She posted Sunday:
Hold your praise, folks. Hold your praise.

— Candiace Dillard Bassett (@candeegal) November 10, 2019
Monique then posted a quote referencing "damaged people," which is obviously a slight to Candiace who often talks about trying to fix her emotional scars stemming from her volatile relationship with her mother: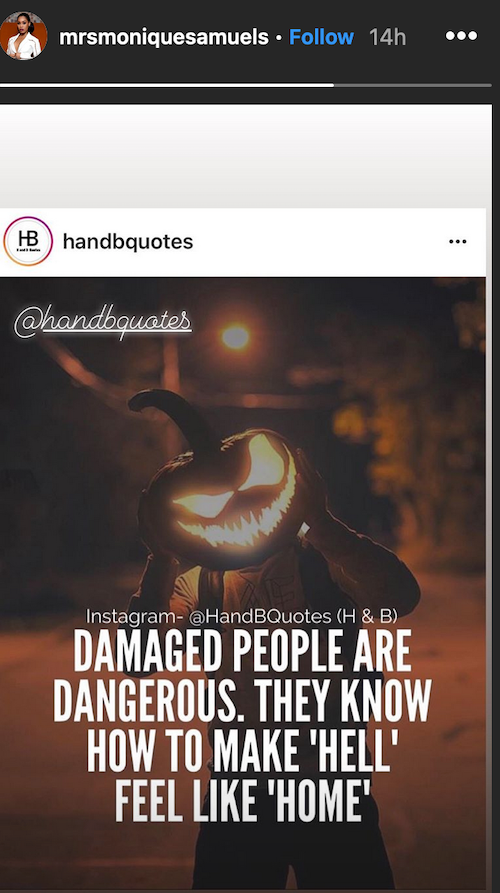 Monique is due in court Dec. 23rd, just before Christmas Eve. Her second degree assault charge comes with potential jail time if found guilty, and the judge could have her arrested on the spot at her court hearing if he or she finds probable cause.
In case you forgot how all this "dragging" got started between Candiace and Monique:
How tragic. It was all good just a little over a year ago:
Photos: Instagram
​ ​
​ ​ ​