Lizzo Has All The Juice In Versace On British VOGUE's December '19 Cover!
​
Nov 07 | by _YBF
​ ​ ​ ​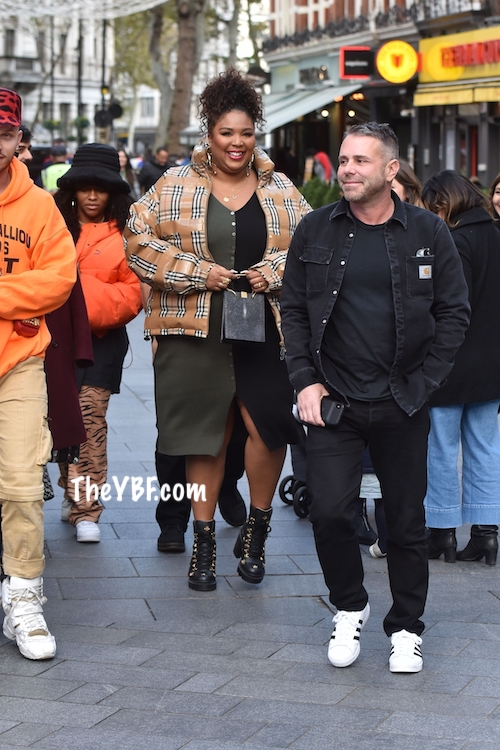 British VOGUE knows what's up! Lizzo is the cover star on their December 2019 issue and chick is slaying it up in Versace. See her spread and more inside…
Turns out, Lizzo really is 100% that b**** on the cover of British VOGUE magazine! Yassssss sis!
The "Juice" songstress (above, outside the Global Radio studios in a Burberry Puffer coat) served up Versace drip and glam on the second cover of British VOGUE magazine's December 2019 issue. And yes, this is the singer's first VOGUE cover.
Inside, the 31-year-old entertainer opened up about embracing exactly who she is and encourages her fan base to do the same. However, when it comes to the "body positive" label, she's cautious because some folks are using the term to cash in on a trend.
"Anybody that uses body positivity to sell something is using it for their personal gain. That's just it," Lizzo shared. "We weren't selling anything in the beginning. We were just selling ourselves and selling ourselves on the idea – selling ourselves on ourselves, you know?"
Here's what our good sis is selling:
"I'm not trying to sell you me," she said. "I'm trying to sell you, you."
A word.
The Detroit native (who was raised in Houston) said growing up, she never saw women or girls who looked like her in the media, so she's using her platform to show other women and girls that there are successful women doing it up out here – no matter what they look like.
"I would watch things on television and I would look at magazines and I would not see myself," she explained. "When you don't see yourself, you start to think something's wrong with you. Then you want to look like those things and when you realize it's a physical impossibility, you start to think, 'What the f*ck is wrong with me?' I think that took a greater toll on me, psychologically, growing up than what anyone could have said to me."
Our fave twerking/singer/rapper/flautist almost quit music the day she released "Truth Hurts," but the song took off and put her directly in the limelight. Looking back, she said had she gained notoriety earlier, she may not have been able to handle it.
"I think if I was 21 right now, I would not be able to maintain this lifestyle without having major anxiety and panic attacks," she told the publication. "But thank God, my journey is all about self-care and finding that love for yourself and nurturing yourself. Because that's what artists need more than anything."
Won't he do it!
You can read more from her interview here.
Below, Lizzo drops a few of her "firsts" during a behind-the-scenes interview for her VOGUE shoot:
Lizzo's cover hits newstands tomorrow!
By the way, all you f*** boys steer clear of Lizzo:
We approve this message!
BONUS:
Second grade teacher Dorothy Mallari went viral for using some Lizzo-inspo to get her students excited for school every morning! Adorbs.
Photo: Backgrid
​ ​
​ ​ ​