Nicki Minaj Says White People Post Better Things About Her Than Black People After She Unleashes Her WRATH On 'Demonic' Wendy Williams
​
Nov 05 | by Natasha
​ ​ ​ ​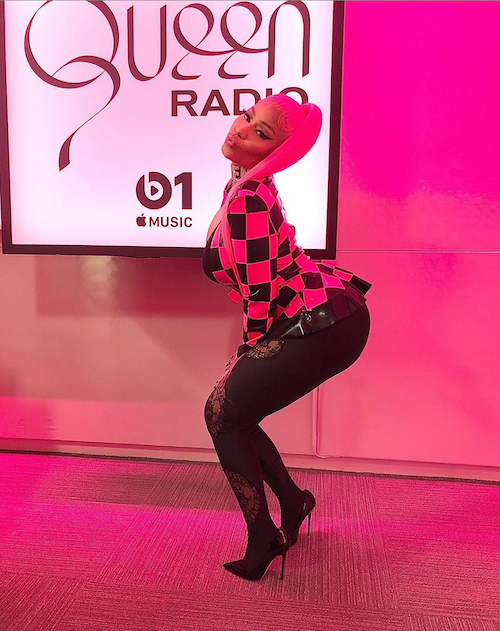 Nicki Minaj was NOT on that Omarion "unbothered energy" during her recent episode of Queen Radio. After giving Wendy Williams an extra bitter and very harsh taste of her own medicine, Nicki now claims white people post better things about her than black people.
Everything she said inside.
Mrs. Petty apparently isn't here for how black people post about her in comparison to white people.
LMAO screaming pic.twitter.com/g6HqB0e4Fv

— (@SlideAroundAri) November 5, 2019
Oh really?
Who's going to tell her TMZ is white owned?
During Nicki's Queen Radio episode Friday night, she had plenty to say to defend herself against Wendy Williams.
After staking her place as the Queen saying, "Platinum album with no radio play none of your faves could do that sweetheart," things took a sharper turn when she clapped back at Wendy harder than a mug.
After Wendy got messy recently about Nicki getting married to an ex-con with a long wrapsheet who did plenty of time, Nicki got messy right back, referring to Wendy as Mr. and Pendy (since she says shes shaped like a P) and other shady adjectives. But not before she quoted scripture saying, "God already told us he placed our sins into the sea of forgetfulness."
Then, it got real:
"So how can you remember something that God already forgot? How can you blast a bunch of rappers, and interview a bunch of rappers, that all they do is talk about shooting and killing, then continue to mention somebody that actually did that, then served their time and paid their debts to society?"
Then, she went for the jugular:
"That's why Kevin [Hunter] was on that island chillin' (addressing pics of Wendy's estranged husband on vacay with his mistress). I can't... He said "B*tch I can't come to that episode, my real b*tch giving birth chile."

"When you announce my husband, P, there's no need to mention his past because these rappers is rapping about shooting and killing everyday. Talking about guns they aint never had, gins they aint never bust. Ok?" Do you mention Gucci Mane's body every time you mention him? Or his wife? Do you mention his man down? His charge? Where was you at when Kevin had his d**k knee deep into that b**ch punani?!"
Chile. Nicki then switched back to Jesus:
"I pray for you because I know you're hurting and I know you must be sick and humiliated. I pray for you. I let it go when you had to tell the audience whatever [Kenneth] had to do time for. But, every time you mention him, you feel the need to bring these things up, as well as something he was wrongfully accused of doing when he was 15 years old, and because he didn't have $7,000 to bail himself out. Because when you're in the hood at 15 you don't have that kind of money and neither does your family. And when the alleged accuser wrote a letter to the judge to recant the statements, she was told she would go to jail, allegedly, if she recanted the statement."
Then, she oddly did exactly what she accused Wendy of doing - putting white people on a pedestal. (Especially since we know of plenty of white owned sites who don't have such nice things to say.)
"But white is right. But I didn't know in our society, you have to be plagued by your past. I didn't know that people can't turn over a new leaf. I didn't know that your viciousness and evilness was this deep rooted, this deep seated. But I understand why now. When a woman isn't really being loved at home, the viciousness is a different type. So, I really wanted to pray for you today."

"Because look at where you are now in your life. Look what age you are. You sat up there being vicious all this time, and paid for that man's mistress for all these years, chile. You paid for her shopping sprees. you pad for her hotels. B***h you probably paid for her GYNO bills. You paid for that baby to be delivered, ho. How you doin'?! I want to know what you was doing when that MF'ing d**k was knee deep in that p***y. I don't want to imagine you without that wig on your head. And that's why he ran! That's why. That's why!"
Nicki didn't stop at Wendy's criticism of her, she also talked about her criticism of Beyoncé (which, honestly, we never understood either):
"I watched you do that to Beyoncé for years and I could never for the life of me figure out why. Like, what does this woman have against Beyonce? It's sickening to watch. But I remember when I was somewhere with Nas, and you walked up to him and acted like you didn't see me and said to him, 'Oh my god, why are you with her? I don't like her.' Then you said you and Kevin had spent the whole morning playing Nas. B***h, Kevin wasn't playing Nas. Kevin was knee deep in that p***y. You was playing Nas! You was playing yourself AND Nas!"
Lawdt!
The Pinkprint rapper also revealed she previously defended Wendy after the mistress drama:
"And I was one of those black women supporting you when that came out. I said forget about what she's said about me in the past. Let's all support her and uplift her." Then, she called "wanna be Queen Radios" and people who are dying to get her to say their name - peasants. "I know you must have gone through a lot, but you are demonic."
Nicki is taking the pettiness one step further, announcing that this week, she's bringing Tasha K - the woman who called the hospital acting like a family member to find out Kev's mistress was having the baby - on the show. What's extra awkward, is that DJ Boof was right there in the studio with Nicki during this episode. Yes, the same Boof who also DJ's at "The Wendy Show" and, according to Wendy, constantly asks her out on dates now that she's single.
Photo: Instagram
​ ​
​ ​ ​