Kanye West Is Supposedly 'Mentally Ready' To Tour + Gospel Musicians Fred Hammond & Warryn Campbell Willing To Help Him Profit With Jesus
​
Oct 30 | by _YBF
​ ​ ​ ​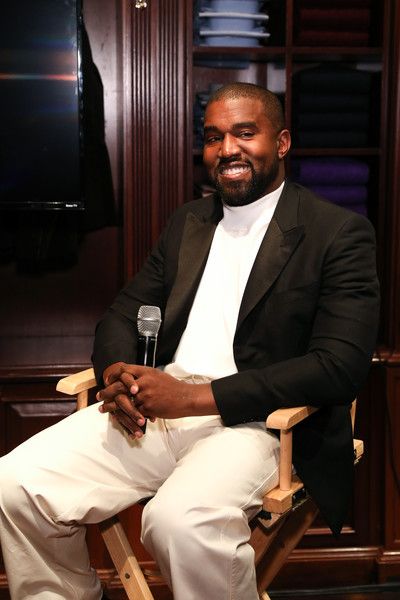 Kanye West says he's going on tour and folks in his camp say he's "mentally ready" to get it done. Deets on the upcoming tour, plus what Fred Hammond and Warryn Campbell said about helping Ye profit for Jesus inside…
Kanye West just dropped his ninth studio album, Jesus Is King. And now, he's ready to take the new music on the road.
According to people in the 42-year-old rapper's camp, he's "excited" about hitting the road. Not only that, they claim his mental state is great and he's fully prepared to bring his new music to his fans.
"Kanye can't wait to tour," a source told PEOPLE. "He is excited about his new music. He is putting together a tour schedule right now. He wants to start the tour as soon as possible."
Fans don't have to worry that this tour will be anything like his last, according the source. In 2016, Ye had to cancel his Saint Pablo Tour shortly before he was hospitalized.
"He is in [a] much better place mentally than he was during his last tour," the source continued.
Oh ok.
As of now, he has his wife Kim Kardashian West's blessing to hit the road, but she's also allegedly worried about his mental health.
"Kim supports a tour, but still has concerns," the source says. "She doesn't want him to go crazy and do an intense tour with no breaks. She wants him to focus on his wellbeing and mental health too."
As Ye gears up to take his religious themed album on the road, several gospel singers have spoken out in support of the Chi-town rapper.
Gospel musicians Fred Hammond and Warryn Campbell say they'll help Kanye in any way possible despite the fact he's a Trump supporter.
Fred - who's featured on Ye's new album - told TMZ Ye's politics doesn't affect his relationship with the rapper. He said politics should be left out of the studio. All he's concerned about is praising the Lord. Peep his interview above.
Ye and gospel producer Warryn Campbell are longtime collaborators and friends. In the past, Warryn worked with Yeezy on two of his albums, Late Registration & Graduation. They reunited this year for Kanye's new album where Warryn secured the sample for Ye's song "God Is." Not only that, Ye brought his Sunday Service to Warryn's church in LA recently.
The producer/pastor revealed to Rolling Stone that when Ye needs help with scriptures, he helps lead him in the right direction.
" I just told him, whatever I can do to help you [I will do]. When he did Coachella, he wanted to know which scriptures to tie in with the songs. I do things like send him a list of all the scriptures. I wouldn't call it a mentorship — I'm just walking with him, shepherding him in these areas. If he doesn't know something or has a question on something I try to give him my wisdom on it, my perspective. I come from a place I call "the cheets" — the church and the streets. I understand it a little differently than some people would. "
How did he end up working with Kanye for the "God Is?" track?
"The day after the Sunday Service, he invited me to come by the house and hear what he was doing. I was there that whole week at his compound in Calabasas. I ate some swordfish in one of the silos, that was fun. One of those days I played the sample in "God Is," I had it chopped up and I played it for him. He said he loved it and asked me to give it to him. I did. I hadn't heard the finished version until [Friday]."
Interesting. We wonder if he's going to consider enrolling in the School of Theology to get the knowledge himself, or "follow a pastor" for a couple years to get a Theology degree, much like how his wife is doing with well-studied lawyers to become a lawyer herself.
You can read Warryn's full interview here.
Thoughts?
During "Carpool Karaoke," the Jesus is King rapper shaded Kim's ex-husband Kris Humphries and their 72-day marriage.
The rapper was explaining how initially he thought that it would be "uncool" to get married, to which Corden replied, "No one ever thought it'd be uncool to marry Kim Kardashian. Everyone thought it'd be cool to marry Kim Kardashian."
He laughed and replied "Well, not Kris Humphries."
Oop!
Check it:
Photo: Getty
​ ​
​ ​ ​