Summer Walker Pops Back After Getting Clowned For Saying She Hates Taking Showers
​
Oct 28 | by _YBF
​ ​ ​ ​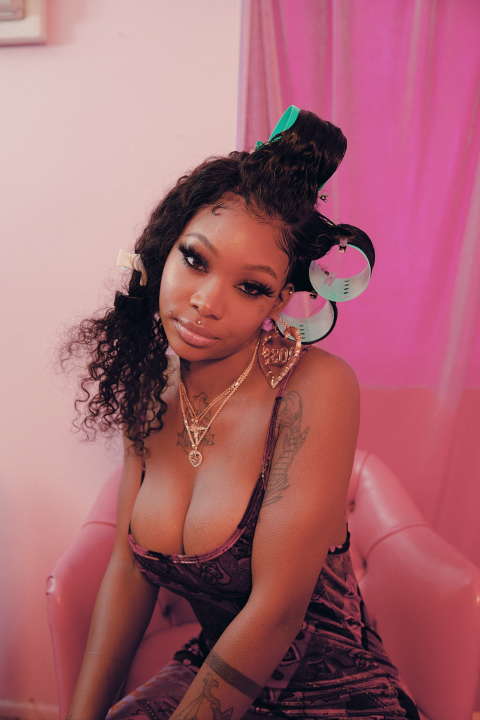 Summer Walker is fed up with y'all taking everything she says literally, so she's popping back. Find out what she said, plus deets on her allegedly showing up late and drunk for a performance inside…
The highs and lows of social media. One must remember, if you don't want people to comment or share their opinions about something, don't post about it. Summer Walker learned that recently.
The 23-year-old singer – who just released her first studio album Over It – is currently making waves across the nation on tour. Chick is super busy and seemingly doesn't have as much time as she would like for self-care, so she's making it work. She posted a picture of her "washing bowl" that featured face wipes, baby oil gel, foaming bath with Epson salt, miscellar water and few other essentials on her IG Stories.
"My washing bowl lol I get to wash in my bowl I hate showers," she captioned.
Now, ya'll know the Internet has zero chill, so when they saw her write "I hate showers," folks began to go in, calling her dirty and things like that. People assumed she doesn't even take showers and apparently the comments started to get to her because she offered up a response.
The jokes already said Summer Walker looks like she doesn't shower... Then she posts a WASHING BOWL and says she doesn't like to shower??? pic.twitter.com/BVgazK5ASx

— (@Mo_Cain) October 27, 2019
Summer Walker don't take showers ??!?!? pic.twitter.com/uuaJDbvWHT

— Ijeoma | Chinedu (@djmakaveliatl) October 27, 2019
We posted earlier about #SummerWalker dislike for showers and I remembered, I shouldn't be surprised. She uses her own spit to remove her makeup https://t.co/0L6bYqX5DS#GlockTopickz pic.twitter.com/jMZH6bhYB0

— Glock Topickz (@GlockTopickz) October 27, 2019
The "Girls Need Love" singer shared a screenshot of the comments to clarify what she meant.
"Stay out my comments with that dummy sh*t. I take showers, I don't like them because I like baths in very nice jacuzzi or garden tubs. If I don't have time or whatever I'll take a hoe bath in the sink (something that every female has taken in their lives), yes I use soap."
"F*ck I hate people man," she continued. "Who tf really walking around NEVER washing themselves. Lmao plp really just mad miserable."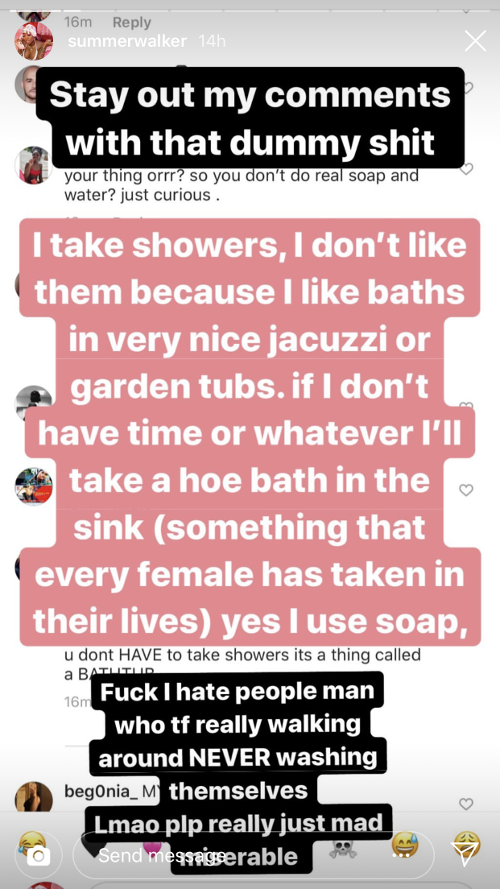 Hygiene wasn't the only thing fans were coming after her for on social media.
The "Playing Games" singer was tapped to perform in San Antonio, TX for the 2019 Mala Luna Music Festival. However, her performance was less than stellar – at least – that's what some of her fans blasted her for on social media.
Here's what some of them said:
— Taylor (@tay1o) October 27, 2019
Summer Walker need to give back literally every dime she got from Mala Luna. Terrible performance then just walked off the damn stage like we wasn't waiting for 20 min before she showed up then didn't even play Girls need love too

— 1TakeJo (@Josephfer_24) October 26, 2019
Honestly I really fuck with @IAMSUMMERWALKER but her attitude and the way she handled Mala Luna was fucking trash.

— boo g hoe. (@msatanr) October 27, 2019
She was 20+ minutes late, acted like she didn't want to be there, and walked off the set with 2 songs left to sing.

— boo g hoe. (@msatanr) October 27, 2019
Yikes.
Photo: Randy Henderson
​ ​
​ ​ ​