Tiny Harris Says Kandi Burruss' Mom Schooled Her On Marrying For Security, Not Love
​
Oct 24 | by _YBF
​ ​ ​ ​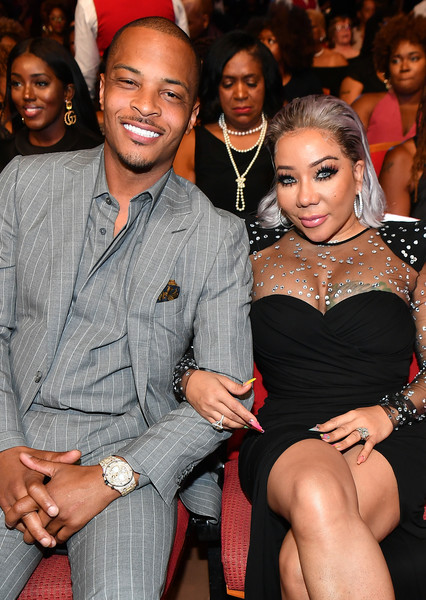 As a teenager, Tiny Harris was taught she should live happily ever after with a man who could provide security over a man she's in love with. And it just so happens Kandi Burruss' mom – Mama Joyce - was the one who schooled her. More inside…
Should you marry for love? Or security?
Back when Tameka "Tiny" Harris was coming up, she was taught she should marry for "security" and not love.
The XSCAPE singer shares that lesson during a sit-down with her husband/rapper T.I. on his "expeditiously" podcast, and the topic of discussion was marriage and relationships. He started off jokingly asking her what it was like being married to such an amazing man, then laughed it off before saying he was happy to have spent the last 9 years with such a "tolerant" woman. He said she has been very accepting of who he is during his transition. The 44-year-old mom and singer then chimed in saying a strong woman can help a man with that process.
Tiny grew up around matrimony and is a product of an interracial couple. It wasn't easy for Tiny's parents since her father was black and her mother is white. When she was young, she thought people got married for love.
"I think it was more so about love back in the day because they had a lot of things to fight against," she said. "If we're speaking about my mother and my father, they were fighting against racial issues. In the '60s, they had difficulties. He was getting locked up because he's riding with a white woman and so on and so on. But I think it's changed a little bit now."
When she was a teenager, the mother of her XSCAPE band mate Kandi Burruss dropped some gems on her. She said Mama Joyce was the one who told her that love isn't the most important thing in a marriage.
"I'm going to tell you, I'll never forget that when I was about 15, 16 years old, Aunt Joyce, Kandi's mom, told me do not marry for love. Marry for security," she said. "I didn't understand that at the time."
A WORD. (Even though BOTH simultaneously are ideal.)
Tip jumped in and cut her off, of course, comparing how young women are schooled about relationships while young men don't get the same treatment. He said women are "trained and conditioned" at an early age to look for partners who can give them a particular lifestyle. (We disagree, btw, boys are definitely conditioned by society on what to look for in a partner, whether they realize it or not.) Tiny said she was "blessed" to have found both love and security in their marriage. Tip then asked her if she thought it was easier to be married with money and she responded:
"I've never been married outside of money, so if you want to be fair about it, I don't know. But I was told that women [who] are more successful than their man are happier in marriage," she said. "I could see how that's possible."
Interesting. It's important to note, Tiny often talks about being the breadwinner when she and T.I. first met.
The couple went on to talk about women who "marry down" – meaning a woman who marries a man who makes less money than her. The convo then changed and went straight to sex. Tip didn't like when Tiny said the woman "gives" the man sex. He said her "sex box" is half his so she should give him sex whenever he wants. Tiny agrees. She said that's one of the things you should want to do with your man.
"Got to give him that fix," she said.
Well that explains...a lot.
You can listen to the full episode here.
Thoughts on Mama Joyce's advice?
Photo: Getty
​ ​
​ ​ ​