Gucci Mane Goes In (Again) About Angela Yee's Alleged WILD Sexual Proposition He Says Got Him Banned From The Breakfast Club
​
Oct 21 | by Natasha
​ ​ ​ ​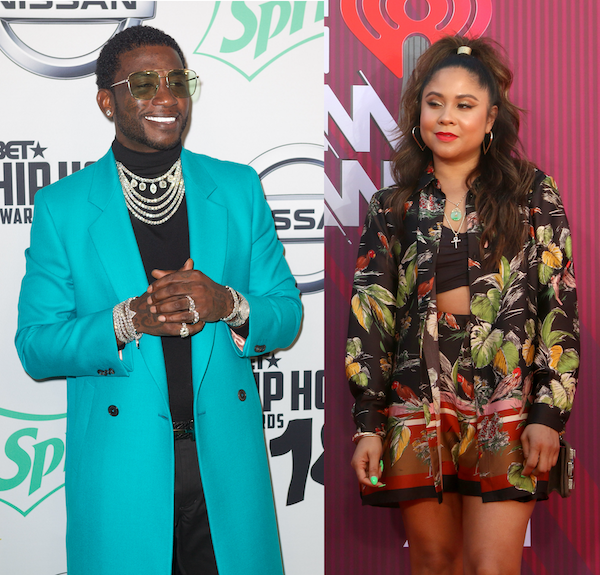 Gucci Mane still swears he's banned from The Breakfast Club, all over that he said-she said drama with co-host Angela Yee. Gucci and Charlamagne Tha God get to the bottom of it (kinda) in a new interview and Gucci gets RECKLESS about what he claims was a sexual proposition from Angela. Watch inside.
Remember that time in 2016 when Gucci Mane and Angela Yee got into it on The Breakfast Club about whether or not she tried to offer him sex years prior? He said then, Angela Yee was "on my dick back in the day." She denied it, saying she was simply being cordial and he misinterpreted it. Both say they never had sex, but Gucci maintains that Angela even texted him after they met asking what hotel was he staying at in NYC.
Well, the case of the "Did she or didn't she throw the punani" is still alive and well.
After dropping a new single with Meg Thee Stallion recently, he posted this, asking if this is why he's "banned" from TBC.
In the comments of this post, Angela wrote, "Back on those drugs I see."
Then, this past Friday, she went in about it all on the show, revealing she never texted him asking what hotel he's staying in. She said Gucci has a history of lying, and revealed one of his representatives even called her after that 2016 interview to apologize for his actions. She told the person to tell Gucci, "You said something publicly that wasn't true, you should publicly apologize. As far as the ban, I said he's welcome to come on the show...I also don't trust him."
She did say if he did come back on TBC, she would be "busy" that day with other arrangements and probably won't be there.
Now, Angela's co-host Charlamagne is sitting down with Gucci for the radio host's own YouTube channel. And foolery ensues when this topic comes up.
Gucci said she "disrespected herself" when she supposedly told him crass comments about "how deep Asian p---" is. So why else would she say these things if she wasn't coming on to him, according to Gucci.
Chile....
The rapper also went off about TBC co-host DJ Envy, threatening to "slap the sh-- out of him" next time he sees him. He said Envy is scared of him, though. Now, Envy has already responded:
Gucci also talked about how he knew his wife, Keyshia Kaoir, was the one. By the way, he recorded this interview on their 2-year wedding anniversary.
Gucci revealed:
"I'm crazy about my wife. Man when she had me whipped. When she held me down from prison that made me say I'm finna marry her. Not gon' find nobody that's gon' go hard like that. She had been showed me who she was. I got to know her and I knew what type of person she was. I just wasn't ready yet. But I loved her from the jump, but I just didn't think it was going to be a good relationship. I wasn't mature."
He went on to explain that they stayed together through jail and then got married simply because they wanted to be together. His answer was likely in response to folks being taking issue with the glorifying if struggle love, and voicing that in his IG comments often when he praises the fact she stayed with him through his immaturity and prison sentence.
Watch in full below to see Charla and Gucci discuss his evolution, how his wife, Keyshia Kaoir, made him a "better man", how he's staying drug free, why he lost friends, his regrets and more.
Photos: Shutterstock.com
​ ​
​ ​ ​