Rep. Elijah Cummings - Political Legend, Father, Husband & Son of Baltimore - Has Died
​
Oct 17 | by Natasha
​ ​ ​ ​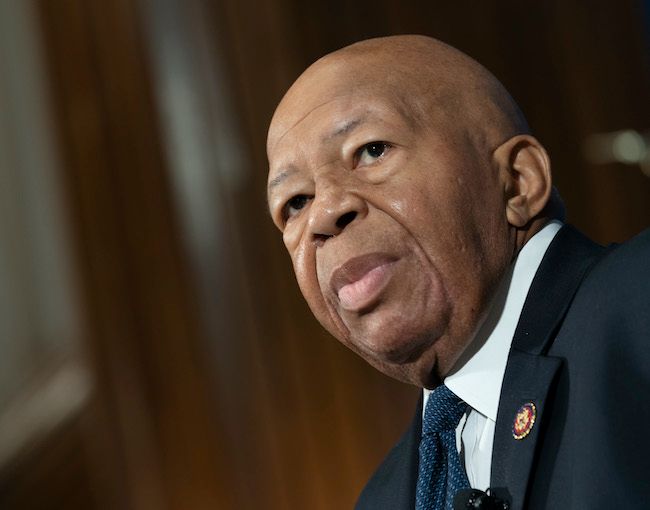 Representative Elijah Cummings, longtime member of the House of Representatives, has died. Details on the 68-year-old political legend's life and death inside.
He was set to be honored at the Spirit of Democracy Awards dinner last night. We now know why he was unable to be there to receive his flowers, and another honoree gave a moving tribute about the impact he had on her life.
Rep. Elijah Eugene Cummings - longtime staple of the 7th district of Baltimore - passed away early this morning after suffering more complications from incessant health challenges.
Cummings' office released a statement, saying, "At approximately 2:30 a.m. on Thursday Oct. 17, 2019, Congressman Elijah E. Cummings (MD-07) passed away at Gilchrist Hospice Care, a Johns Hopkins affiliate, due to complications concerning longstanding health challenges. More details will be forthcoming."
As one of our powerful black political leaders and civil rights activists, he stood up for the marginalized, his Baltimore citizens, and the Americans who know - as he once said - that "we're better than this".
The Howard University alum, where he served as student government President & member of Phi Beta Kappa Honor Society, and University of Maryland Law School grad started his decades-long career of service after practicing law for 19 years in Maryland.
His wife, Maryland Democratic Party Chair Dr. Maya Rockeymoore Cummings, released a statement encapsulating his legacy saying:
"Congressman Cummings was an honorable man who proudly served his district and the nation with dignity, integrity, compassion and humility. He worked until his last breath because he believed our democracy was the highest and best expression of our collective humanity and that our nation's diversity was our promise, not our problem. It has been an honor to walk by his side on this incredible journey. I loved him deeply and will miss him dearly."
Here is her statement in full:
As the Chair of the House Oversight Committee, Cummings always made sure to stand up for truth and light, speak truth to power, and used rules of order strategically to ensure fairness and democracy in our system of government. One of his most important statements in this current term was written and said just this past September as he spoke truth to power, calling for impeachment of the President. His words could serve as his own epitaph:
When the history books are written about this tumultuous era, I want them to show that I was among those in the House of Representatives who stood up to lawlessness and tyranny.

Read my statement supporting impeachment: https://t.co/xppt73HN6k

— Elijah E. Cummings (@RepCummings) September 24, 2019
As expected for a man of his caliber, the tributes are pouring in from around the country.
Michelle and I are heartbroken over the passing of our friend, Elijah Cummings. May his example inspire more Americans to pick up the baton and carry it forward in a manner worthy of his service. pic.twitter.com/lM2rES3PNV

— Barack Obama (@BarackObama) October 17, 2019
The American people have lost a great leader at a time of crisis in our democracy. Chairman Elijah Cummings gave all he had. He dedicated his entire life to serving the public good. https://t.co/g54fqjRaZH

— John Lewis (@repjohnlewis) October 17, 2019
America lost a giant with the passing of Rep. Elijah Cummings, a man of principle who championed truth, justice and kindness. He fiercely loved his country and the people he served. Rest In Peace, my friend.

— Hillary Clinton (@HillaryClinton) October 17, 2019
.@RepCummings work to make every community he touched a better place is one we should all emulate, and we know he will rest in peace and in power. pic.twitter.com/vT99Qzq2vN

— Mayor Muriel Bowser (@MayorBowser) October 17, 2019
Rest In Peace @RepCummings. Our nation is a better place due to your dedicated service and principled example. Congress will miss your leadership. I will miss your friendship and will never forget our work to improve the lives of Baltimore residents when I was at @HUDgov.

— Andrew Cuomo (@NYGovCuomo) October 17, 2019
Rest In Peace, Elijah Cummings. His passing would be a huge loss to his family, his district and his country under any circumstances. But this particular moment puts his absence into even sharper relief.

— jelani cobb (@jelani9) October 17, 2019
My heart is heavy with a flood of tears waking up to the news my friend @RepCummings has died! Rest in peace my friend. May God be with your wife, your family, friends & the City of Baltimore who mourns your loss. May the Nation & the world remember your heat & your fight.

— AprilDRyan (@AprilDRyan) October 17, 2019
Today our country lost a true leader. Congressman Elijah Cummings was a friend, a passionate fighter for justice, and a powerful voice of moral conscience in our government who served his country for decades with dignity and integrity. I'm blessed to have known him. #RIPElijah

— Cory Booker (@CoryBooker) October 17, 2019
Our nation has lost a mighty fighter for democracy, accountability, equity and justice with the tragic loss of Congressman Elijah Cummings. He never forgot that his was borrowed power, which he wielded in defense of the vulnerable and on behalf of the American people. #RIPElijah

— Stacey Abrams (@staceyabrams) October 17, 2019
Salute to A Great Man.We appreciated your relentless,unwavering commitment to our community and the country . You're irreplaceable and that speaks volumes to the legacy that colors YOU. Sound the trumpets and open the doors and windows of Heaven a man from God is home.#RIPElijah pic.twitter.com/gkr0WsPnHn

— MC HAMMER (@MCHammer) October 17, 2019
Elijah Cummings was only 68
He was a true champion, real Black King.
Rest in Peace Sir #RipElijah #RIPSir pic.twitter.com/TRNmsdiCle

— Alexis Carter (@carter_royalty) October 17, 2019
@RepCummings was a public servant of unimpeachable integrity and class. He was as decent and fair of a human being as you could ever find. He was a crusader who did not enjoy the spotlight that followed. An icon who will never be replaced. #RIPElijah pic.twitter.com/gu9mqa7Pu6

— Kurt Bardella (@kurtbardella) October 17, 2019
We lost a giant today. Congressman Elijah Cummings was a fearless leader, a protector of democracy, and a fighter for the people of Maryland. Our world is dimmer without him in it.

— Kamala Harris (@KamalaHarris) October 17, 2019
Never forget this legacy:
Wow. From Rep. Elijah Cummings' first floor speech: "I only have a minute, only sixty seconds in it... Just a tiny little minute, But eternity is in it." 4/25/96 #RIPElijahCummings pic.twitter.com/SV85PV74c0

— Tommy X-TrumpIsARacist-opher (@tommyxtopher) October 17, 2019
Watch this remarkable speech from Elijah Cummings

Last words from his 92 year old mother were "do not let them take the vote away from us"

"There are efforts to stop people from voting," he said. "That's not right. This is not Russia. This is the USA!"pic.twitter.com/9d8ZICW5is

— Ari Berman (@AriBerman) October 17, 2019
I'm begging the American people to pay attention to what is going on. Because if you want to have a democracy intact for your children, and your children's children, and generations yet unborn we've got to guard this moment…this is our watch. pic.twitter.com/ShTZwbQROP

— Elijah E. Cummings (@RepCummings) July 24, 2019
Rest in Peace, Sir.
Photo: Shutterstock.com
​ ​
​ ​ ​