CHILL! Regina King Is Keeping Her Golden Globes Pledge – Of Course 'They' Expect Her To Have Done It Yesterday
​
Oct 12 | by _YBF
​ ​ ​ ​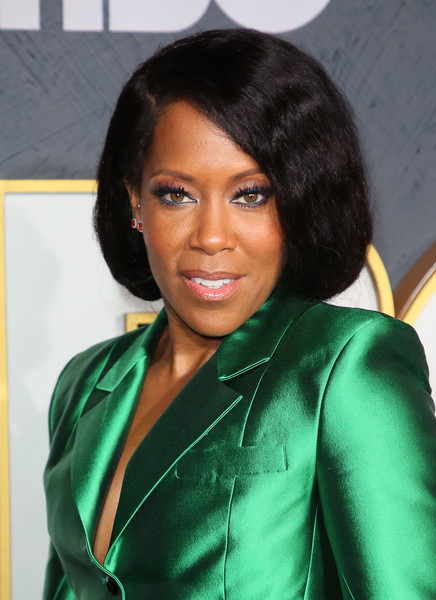 Regina King covers Marie Claire's "Ambition" issue where she talks about how folks have been rushing her to make good on that Golden Globes pledge to staff her productions with 50% women. She served up the perfect response. Find out what she said and more inside....
At this point, there's no denying Regina King is an an unapologetically black force in Hollywood that continues to blossom into something even more magical than before. It's been 34 years since Regina first wowed us on television (on the 80s sitcom "227") and then taking her talents to the big screen (starring in Boyz In The Hood). The acting queen is finally getting her just due.
Over the last four years, the 47-year-old actress has been scooping up major awards, including three EMMY awards, an Oscar and a Golden Globe award. Finally, Hollywood is recognizing her incredible talent and putting some "respeck" on her name, something we've always admired and have done.
Earlier this year, Regina King won a Golden Globe for Best Supporting Actress in a Motion Picture for her role in If Beale Street Could Talk. During her acceptance speech, she made a promise that she would make sure everything she produces will be 50% women and she challenged anyone from any industry to do the same.
Being a black woman, she's expected to instantly make good of her word, but she literally made the promise at the beginning of the year. Journalists have been hounding her about making good on her pledge when she hasn't even announced she's producing a new project yet. In her cover story for Marie Claire's "Ambition" issue, she talks about how people of color are always expected to do things twice as fast as their white counterparts.
"Have you seen an announcement of me producing something yet?" she constantly finds herself saying. "That speech was six months ago. Goddamn."
Yes, the double standard that often comes up when it comes to women of color.
"I'm held to account. Not having as many of the opportunities or resources as a white man or a white woman in the industry, but now that I'm the one that's decided to say that I'm going to use what I've been given to do more, it needs to have been done yesterday?"
Exactly. Can sis even get a project first before they start with the BS? Sheesh.
In her new role on the upcoming HBO "Watchman" series, she plays a superhero named Sister Night. And just like her character, she isn't taking any ish…from anyone.
"Turn the other cheek? I don't quite believe that. I do believe that sometimes you're supposed to turn the other cheek, sometimes they're supposed to get smacked back, sometimes they're supposed to get knocked the fuck out, you know? And taking that moment to assess the situation will help you."
You can read Regina's full interview here. In the meantime, peep her Pop Quiz clip with the publication below:
Check out Regina's return to television when "Watchman" premieres Sunday, October 20th on HBO.
Photo: Getty
​ ​
​ ​ ​