Three Suspects Identified In The Murder Of Joshua Brown - Key Witness In Amber Guyger's Murder Trial + One In Custody
​
Oct 08 | by _YBF
​ ​ ​ ​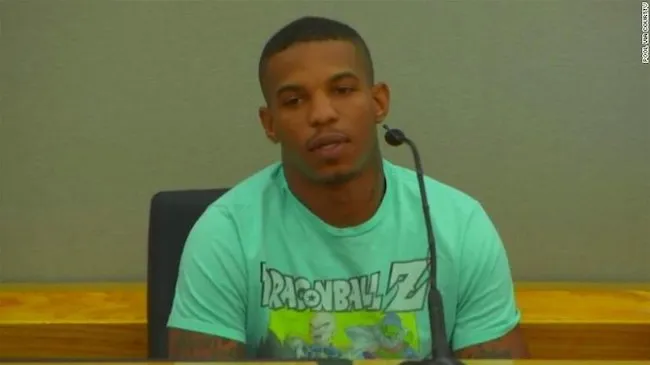 Dallas police have reportedly named three suspects in the shooting death of Joshua Brown – Botham Jean's neighbor who testified in ex-Dallas cop Amber Guyger's murder trial. One of the suspects is in custody, while the other two remain at large. More details inside….
Three suspects have been identified in the murder of Joshua Brown, a key witness who testified in the murder trial of ex-Dallas police officer Amber Guyger. According to reports, one alleged suspect is in custody while they other two remain at large. Police believe Joshua's murder was the result of a "drug deal" gone wrong and they emphasized his death was NOT related to his testimony in the Guyger case. Hmph.
Through the dedicated work of the DPD homicide detectives, we have identified 3 suspects in the murder of Joshua Brown. Jacquerious Mitchell B/M age 20, Michael Mitchell B/M age 32 and Thaddeous Green B/M age 22 pic.twitter.com/v0vikYEpD4

— Dallas Police Dept (@DallasPD) October 8, 2019
The Dallas Police Department has reportedly identified Jacquerious Mitchell, 20; Michael Mitchell, 32; and Thaddeous Green, 22, as the suspects. The police claim the three men traveled from Alexandria, Louisiana to Dallas, TX – which is a good 4-hour drive – to purchase drugs from Joshua in the parking lot of a Dallas apartment complex. Hmm….something seems…off about this.
Joshua was gunned down just 10 days after he testified against ex-Dallas cop Amber Guyger. He was a key witness in the trial that led to Amber being sentenced to 10-years in prison for the death of 26-year-old accountant Botham Jean. Joshua lived right across the hall from Jean. The 28-year-old's testimony was central to the case, as he was the only non-police officer who saw Amber's immediate actions after shooting Botham Jean.
One of the alleged suspects were taken into custody at a hospital while police continue to search for the other two suspects. Dallas Assistant Police Chief Avery Moore said at a news conference that the two fugitives are believed to be armed and dangerous.
Jacquerious allegedly told police an altercation broke out right before Joshua was shot and killed. NBC News reports:
Jacquerious Mitchell told police Green got into a physical altercation with Brown and that Green shot Brown twice in the lower body, Moore said.

Brown then allegedly shot Jacquerious Mitchell in his chest. Jacquerious Mitchell fell back into a car and said he heard two gunshots, Moore said. Green took Brown's backpack and the gun used to shoot Jacquerious Mitchell and the three suspects fled the scene, Moore said.

The suspects dropped Jacquerious Mitchell off at a hospital, the assistant police chief said, adding that warrants will be executed for the two other suspects. Michael Mitchell is the suspected getaway driver.

Police confiscated 12 pounds of marijuana, 149 grams of THC cartridges and $4,157 in cash from Brown's apartment, Moore said.
During the press conference Dallas Assistant Police Chief Avery addressed rumors that have been going around claiming the Dallas Police Department may have had something to do with Joshua's death.
"The rumors shared by community leaders that Mr. Brown's death was related to the Amber Guyger trial and that the Dallas Police Department was responsible are false," Moore said. "We encourage those leaders to be mindful because their words may jeopardize the integrity of the city of Dallas and Dallas Police Department."
Check it:
BREAKING: Dallas police issue arrest warrants for three suspects in the slaying of key witness in Amber Guyger trial.

Police say Joshua Brown was gunned down in a botched drug deal. https://t.co/wiR7BGKO7Y pic.twitter.com/eXLeg5AMa4

— ABC News (@ABC) October 8, 2019
It's one hell of a coincidence Joshua was randomly killed in an alleged "drug deal" gone bad just days after he testified against a former police officer in a murder trial.
What's even more eerie is the fact that Joshua didn't even want to testify in Amber's murder trial because he feared he had been targeted in a previous November 2018 shooting. According to Joshua's family lawyer Lee Merritt, Joshua had been shot at a Dallas strip club that left him wounded and killed a man named Nicholas Shaquan Diggs. Joshua was set to testify in that upcoming murder trial as well.
According to Lee Merritt, the day Joshua testified, someone posted on one of his social media accounts, "Now we know where to find you." The post was later deleted.
Joshua's family wants an outside agency to investigate his death and rightfully so. Here's the Brown Family's official statement:
STATEMENT FROM THE FAMILY OF JOSHUA BROWN: pic.twitter.com/FrBqa8O2mV

— S. Lee Merritt, Esq. (@MeritLaw) October 8, 2019
Something about the police's version of what happened to Joshua Brown just doesn't seem right. We'll just leave this here:
If Joshua Brown had any history with the foolishness that they're putting on his name now, then they would have found that and used it to discredit him during the case. And he didn't start doing it last week. Just ridiculous. Throw the whole PD in the trash.

— Mel G (@_MelG_) October 8, 2019
Where's the lie?
Photo: Pool via Court TV
​ ​
​ ​ ​