AIRING OUT DIRTY LAUNDRY?! Tiffany Haddish Pops Back At Chingy After He Blasted Her For Lying About Sleeping With Him
​
Oct 04 | by _YBF
​ ​ ​ ​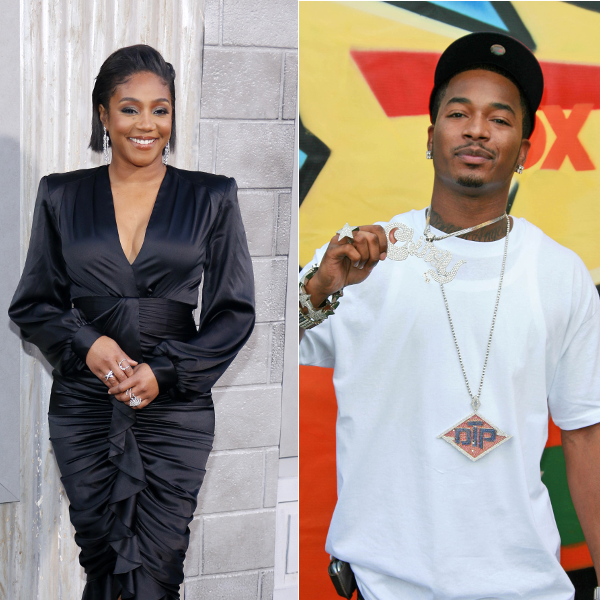 Tiffany Haddish and Chingy are going at it. She claims she slept with him. He claims she's lying. Now, she's threatening to release some receipts. Yikes. More inside…
OOP!
Tiffany Haddish and Chingy seemingly have different memories when it comes to their past. And we just hope people arent out here lying on their smash behavior.
The Kitchen star recently spilled some celebrity hook-up tea during her appearance on the "Ellen DeGeneres Show." During a game of "Burning Questions," Ellen asked the 39-year-old actress if she ever dated a celebrity that the world doesn't know about. At first, she said "No." Then, she thought about it and began to spill some tea about her sexcapades from back in the day.
"Chingy … I mean, it was a hook-up. That was the early 2000s, I don't even know if that counts anymore," she told Ellen.
Check it below at the 2:40-minute mark:
It didn't take long for the 39-year-old rapper to catch wind of Tiffany's comment. The "Right Thurr" rapper hopped on Instagram to blast Tiffany for lying, saying she didn't sleep with him and that it was his brother who she hopped in bed with.
In a now-deleted Instagram post, he posted the clip and captioned, "Now @tiffanyhaddish knows damn well that's a lie [and] since she lied I'm a tell the truth. She use to hook up with my brother not me but she liked me. Hey if we gone be honest let's be honest."
The Night School actress then hopped in his comments section to call him out for denying they hooked up – something she talked about in the past. She mentioned the sex wasn't good, but they def got it in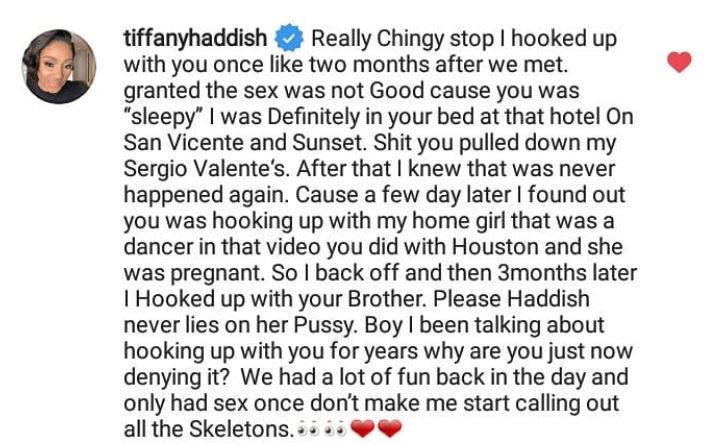 "Really Chingy stop. I hooked up with you once like two months after we met. Granted the sex was not good cuz you was 'sleepy.' I was definitely in your bed at that hotel on San Vicente and Sunset. Sh*t, you pulled down my Sergio Valente's," she explained.
She went on to explain why she never slept with him again and where his brother comes in.
"After that I knew that was never happened again. Cause a few days later I found out you was hooking up with my homegirl that was a dancer in that video you did with Houston and she was pregnant. So I back off and then 3 months later I hooked up with your brother.

"Please Haddish never lies on her P*ssy. Boy I been talking about hooking up with you for years, why are you just now denying it? We had a lot of fun back in the day and only had sex once, don't make me start calling out all the Skeletons."
Welp. There you have it.
Tiffany Haddish has a new movie called Bad Trip set to hit theaters in February 2020.
So we gotta ask, who's lying?!
Photos: Tinseltown /s_bukley / Shutterstock.com
​ ​
​ ​ ​