Cardi B. Talks Being Sexually Assaulted By A Photographer On A Magazine Shoot, 'Stopping Her Period' To Have Sex With Offset
​
Sep 26 | by Natasha
​ ​ ​ ​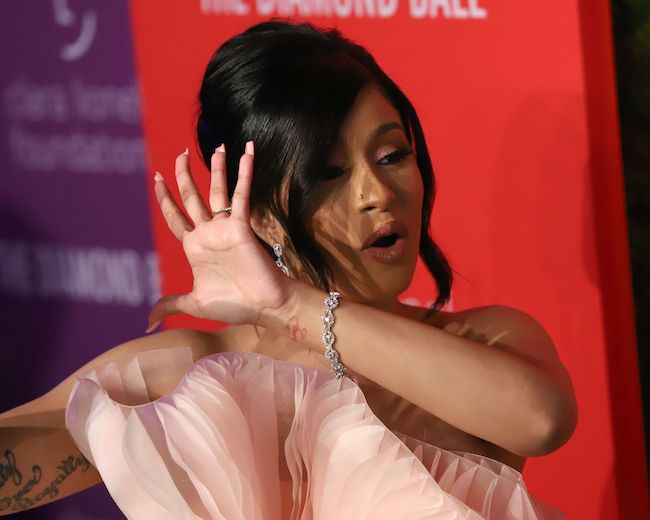 Just when you thought you knew everything there is to possibly know about Cardi B.'s personal life - because she holds NOTHING back, like, ever - she pops up again like, "DING DONG! I have some more craziness to tell you."
The craziest things we learned from her "Untold Stories" interview inside.
Cardi B. was probably the perfect choice to kick off WeTV's new "Untold Stories of Hip Hop" series. Because y'all know chick stays with a story that has you like, "Oh wow...."
On tonight's series premiere (10p ET), the "Clout" rapper sits down with host Angie Martinez to drop some interesting nuggets, and to go into detail about one in particular she said in passing previously.
She opened up about her shocking #MeToo moment and exposes her first time having sex with Offset.
While talking more in depth about being sexually assaulted on the set of a magazine shoot, she revealed that it was a photographer who basically told her she would need to have sex with him in order to get int the publication. When she told the owner of the publication, a woman, what went down, she was shocked at her reaction. The person seemed to say, "Ok, and?"
Cardi mentioned in previous interviews about dealing with foolishness on sets.
Cardi also dished on "stopping her period" in order to have sex with now husband Offset for the first time. While many women, at a young age especially, have likely manipulated birth control to change/stop their menstrual cycle to take advantage of a sexual opportunity, vacation or any other reason they needed to be free of Aunt Flo, Cardi's way was a bit....different.
The rapper told Martinez, "I really wanted to impress him. I spoke to him in three days and I don't feel like he liked me as much. I'm trying to impress him and everything, then I got my period."
Oh.
She then said she used Ibuprofen and gelatin to "stop her period." We have no idea what that looks like or entails, but it's safe to say you probably shouldn't try that ish at home.
Cardi also discusses her decision to have baby Kulture while members of her team were discouraging her, saying "When I found out, it was, like, around the weeks that you could find out the sex, and I wanted to find out the sex right the...away. And, like, when they said I have a girl... I was -- Oh, man. I have a girl? That means that God wants me to have a baby because I always wanted a girl."
Next up on the show: Snoop Dogg, Queen Latifah, Ice Cube, Nelly, A$AP Rocky, DJ Khaled, Wyclef Jean, Ja Rule, Fat Joe and more.
Cardi's taking over Netflix soon as well. Starting October 9, new episodes of her new competition show "Rhythm + Flow" (the streaming service's first music competition show) will roll out each Wednesday, with different phases of the competition featured across 10 hour-long episodes. And above is the first trailer.
Cardi joins Chance the Rapper and Tip "T.I." Harris in a search for the next hip hop sensation. The series brings together industry legends across a multi-city search in hip hop epicenters Los Angeles, New York, Atlanta and Chicago, to find raw talent and help undiscovered artists pursue their come up.
Here's how it's going down:

o Week 1 (Wednesday, October 09): The Auditions (episodes 1-4)

o Week 2 (Wednesday, October 16): Cyphers, Rap Battles & Music Videos (episodes 5-7)

o Week 3 (Wednesday, October 23): Samples, Collaborations & Finale (episodes 8-10)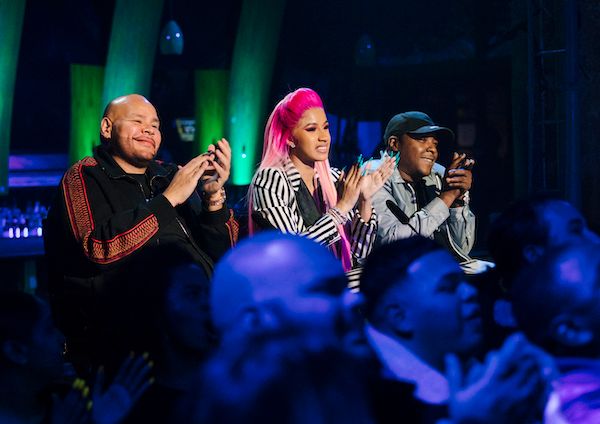 You watching?
Photos: JStone for Shutterstock.com/Netflix
​ ​
​ ​ ​