DMX Is BACK! Chats With GQ About Solitary Confinement, Forgiving His Abusive Mother & New Music Set To Drop Via Def Jam
​
Sep 24 | by _YBF
​ ​ ​ ​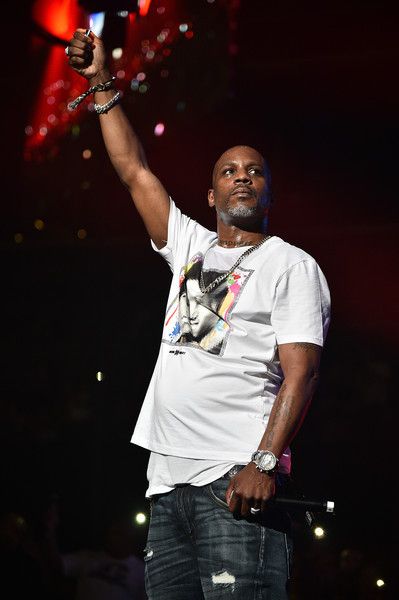 DMX is on the comeback tip, giving his first interview since being released from prison back in January over tax evasion charges. Find out what he told GQ about what it was like being in solitary confinement, forgiving his abusive mother, and releasing new music after inking a deal with Def Jam inside….
If you're a Hip Hop head, you know DMX has been through the ringer and back, especially when it comes to getting locked up. The 48-year-old rapper has been to jail countless times. He was first arrested at the tender age of 10 for arson and he's still fighting those demons.
The NYC rapper was released from federal prison in January 2019 after he was sentenced to one year behind bars for tax evasion in March 2018. He must complete three years of probation and he has been ordered to pay $2.29 million in restitution to the government.
X has made headlines for his wild antics and legal situations over the years. However, when he first hit the scene, he was mega successful. He's in the Hip Hop History books as the only rapper to have his first five studio albums debut at No. 1 on the Billboard 200. He's also the only living rapper to have two albums go platinum in the same year. So yeah, he's definitely an important component of the culture.
Since his release, he has been spotted attending Kanye West's Sunday Service where he gave a prayer. He also was featured on a recent episode of "Black Ink" where his fiancée/son's mother Desiree Lindstrom copped some new ink with her bridesmaids.
And he's still relevant. The #DMXChallenge blew up on Instagram:
Now, he's preparing a musical comeback. It was recently reported X signed a new deal with the label that first helped catapult his career. He does have at least 15 mouths to feed, afterall. The Yonkers rapper reportedly signed with Def Jam Records and he plans to release a Christmas album, titled DMX-Mas.
"Yeah, it's good to be back home," the "How's It Goin' Down" rapper said during an interview with GQ – his first since being released from prison earlier this year.
"I wanted to be a part of Def Jam since 1985, when the movie Krush Groove came out. And I found out that Run's last name was Simmons, and Russell's last name was Simmons. And Russell was running Def Jam. I saw the movie Krush Groove, and I was like, "Yo." And at that point, I was so naive then. I was like, "Yo. If I could just meet them." And like, "Yo, my last name is Simmons too." And that's it."
The rap game is totally different since he released his last album, Undisputed, in 2012. Although the rap game isn't the same as it was back when he was in his prime, he said he isn't worried about making good music. He knows it's going to be fire.
"Right. It's going to be great," he said. "The standard that I hold myself to is the same: Better than everything I hear. I need to be better than everything that I hear. And I can hear it. They winning with that? Oh, I'm good. If you don't give people something incredible to listen to, they're going to listen to whatever. And I get that. I'm not mad at the fans for enjoying these songs, or the DJs for playing songs they play. I'm not mad at them or the artists that's winning even though they suck. I'm not mad at them."
When asked how he ended up at Kanye West's Sunday Service, he confirmed the Chi-town rapper "reached out" to him.
"I wouldn't call it a church service. There's no word," he shared. "Yeah. It's joyful, which God says to do. We about to make a joyful noise. I enjoyed it. It was moving. I didn't know what to expect, though. I didn't know what to expect."
X has always been vocal about his upbringing, and "hard" would be an understatement. As a child, his mother abused him. He talked about how his mom knocked two of his teeth out with a broom. Despite the abuse, he has been able to overcome those issues and said he loves his mother now.
"That doesn't mean I don't love her [because she abused him growing up]. That doesn't mean she's the same person. Children don't come with a f*cking instruction manual. She was 20 when she had me. Four sisters; I'm the only boy. Maybe she didn't know what to do with me. I found out I just knew things that she didn't know when I was only six years old. I would get up at night sometimes to drink water because I was so hungry. And I saw something in her notebook that was open on the kitchen table. And it was wrong, so I erased it. I thought I was helping. I don't know what she thought I was doing, but… I don't know if she thought I was trying to sabotage her or whatever. I don't know what she thought. But she beat two teeth out of my fucking mouth with a broom. And I think about this today, I'm like, "Okay, you saw me erase something in your notebook. What did you think I was trying to do? What could you have possibly thought I was trying to do?"
Speaking of teeth, the "Party Up" rapper revealed he has a lot less teeth than most people.
"You have to have teeth to have cavities. I don't have many teeth left. I think the average person has 36 teeth, right? I have like 20 left."
Yikes.
He opened up about how he was able to forgive both of his parents for his upbringing.
"I think a lot of people struggle with forgiving their parents. In fact, I personally struggle with forgiving my parents. But until you learn how to forgive others, you can't forgive yourself. You can't forgive yourself if you don't know how to forgive."
He shared he has learned to fully forgive himself for the mistakes he has made in the past. Good for him.
While serving time in prison last year, he had to spend a lot of time in solitary confinement.
"Ninety days. My last 90 days. One fourth of my bid," he shared.
He continued:
"You know, police target you. I went to the hole once because I was paying people for their phone time. Because you only get 300 minutes a month. That's not enough time to talk to my baby. The second time, I got caught with a bag of wine. I bought the wine, and after I paid for the wine, the guy said, "Your wine will be done Friday." Friday we go to rec… boom. When he handed it to me, it had a hole in it. So I put it in my shirt and tried to walk out. The wine bag fell out when I reached for something in my pocket. I picked it up and tried to walk to my cell real quick but got caught.
Lord.
"If you don't got a strong mind, it'll fuck you up. I didn't get out of my cell at all," he said.
"What you try to do is sleep as much as you can. Read books. Because you got to think of shit that's going to pass the time. Then they give you rubber pencils. I swear to God, a pencil that bends. Like, I'm saying to myself, "How the fuck do they make lead bend?" So you can't stab someone. And then they give you paper with no lines. It's just a bunch of shit that they don't have to do that they do anyway, just to make your time harder.
You can read his full interview here.
GQ: So what kind of vibe are you going for in this photo shoot, DMX?
DMX: Supervillain.
GQ:........okay. Which one?
DMX: All of 'em. pic.twitter.com/a6KweFg5CC

— Cornell West Coast Customs (@cambrewhaha) September 24, 2019
X also chopped it up with GQ about how some of his hit tracks came into fruition. Peep the clip below:
Photo: Getty
​ ​
​ ​ ​