Malik Yoba Goes Deep With The Breakfast Club About His Trans Attraction, Mum On Allegation Of Sex With Minors
​
Sep 12 | by Natasha
​ ​ ​ ​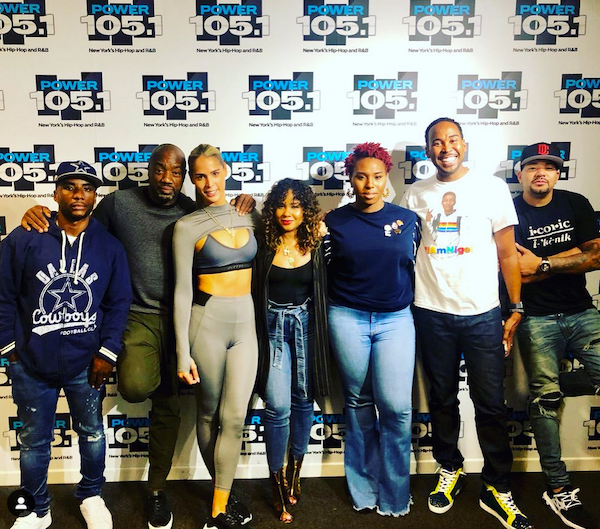 Malik Yoba took his new advocacy work in the LGBTQ+ community to The Breakfast Club Wednesday. He doubled down on being a heterosexual man who is attracted to all women, included trans women. Their deep chat inside.

"Empire" star Malik Yoba recently made a revelation on his Instagram page while discussing a man being bullied for having a girlfriend who is a trans woman. While Malik claimed the man ended up committing suicide due to the bullying, that wasn't factually correct. he died from a drug overdose. But the sentiment remains - people are often bullied for their attraction to the same sex or to genderless or trans people. Malik revealed:
"Trans people deserve love and respect as do those of us that love them!!" the actor exclaimed in the caption. "I love ALL women AND count MYSELF among those that find themselves trans attracted and I too have felt the self-imposed shame that comes with that truth but it's time to speak up."
Just as Malik went public with his preferences, a trans woman named Mariah Lopez Ebony alleged that he engaged in sexual relations with her when she was underaged, and he allegedly did the same with others. She claims it happened during his "New York Undercover" years.
During The Breakfast Club interview, he dished on it all. Well, most of it. He said he brought members of the LGBTQ+ who are on the front lines along with him to speak on the causes that affect their daily lives. He talked about the mistreatement and judgment he's received for admitting his preferences.
Malik claimed his own fraternity where he is an honorary member, Phi Beta Sigma, has removed him from their youth leadership program because of his "trans attraction." But it's possible that the allegation of him having sexual contact with a minor is what led the fraternity to disassociate themselves.
He also didn't really speak on his ex's, Terry Vega's, response where she applauded him for living in his truth, but made it known it's problematic how he made it known. She claimed he concocted a PR campaign before telling their children.
So when Charlamagne asked him directly about what the mother of his children was speaking about, he acted like he didn't know her.
"That is not true. This is what I am saying about Black folk on social media. There was nothing to tell. Tell what?"
Charlamagne responded with, "I think the mother of children is the one who put that out there."
"Who? Who is that?" Yoba replied.
"Was it the mother of children? I don't know her name." Charlamagne said.
"I don't know her either. I have no idea why or what that was about."
That's interesting, since he was surely in somebody's bathtub with her on Mother's Day.
As for his next moves, he says he's planning on telling the trans community's stories in his own storytelling way:
"I'm in the storytelling business so you know what my next job is. We are getting busy right now. Raising money, right now, to tell these stories because it's important."
This interview was...a lot.
Thoughts?
Photo: The Breakfast Club
​ ​
​ ​ ​