Lil Nas X Drops 'Panini' Video + Kevin Hart Dragged (And Defended) Over His Comments To The Rapper About Him Coming Out
​
Sep 05 | by Natasha
​ ​ ​ ​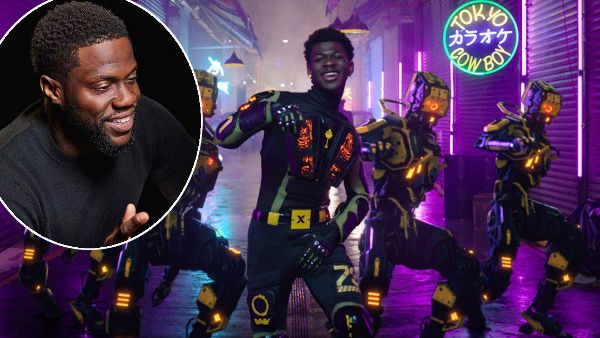 After performing the song in a similar look at the MTV VMAs recently, Lil Nas X just dropped the official video to his newest single "Panini." Go inside his futuristic world and find out why Kevin Hart is being criticized as he recovers from his accident.
Set in a futuristic world of flying cars and hologram billboards, X tapped Disney actress Skai Jackson to star in the vid, showing her in an attempt to escape Lil Nas X as he pops up everywhere she goes, trying to win her over as a fan. Ha. By the way, the treatment idea for the visual came directly from X himself and was brought to life and directed by special effects artist, musician and YouTuber Mike Diva.
Lil Nas X previously revealed that "Panini" is a song about a fan who loves you in the early stages of your career for the cool factor of knowing about something before it becomes mainstream, and that fan feeling like they've outgrown you when the rest of the world catches on. Sounds about typical.
And if you're trying to watch it in school, X has got you covered:
if u wanna see panini and u at school act like ur stomach hurting and ask to go to the bathroom

— nope (@LilNasX) September 5, 2019
Peep the blacklight, neon filled video below:
The video comes out on the heels of Lil Nas X's appearance on Lebron James' HBO show, "The Shop." In last night's season premiere, things got heated when the rapper, Kevin Hart, Charlamagne tha God, and other guests began a question about homosexuality.
.@lilnasx speaks the truth about his choice to come out while at the top. More of The Shop on @HBO now! pic.twitter.com/wETNaPUU5t

— UNINTERRUPTED (@uninterrupted) September 4, 2019
In the 1 minute clip taken from the full premiere episode, Kevin interrupts Lil Nas X's response, saying "So what?!", when the host asks the rapper about choosing to "come out" while he's at a peak in his career.
Some folks thought it came off as dismissive and silencing, especially when Kevin felt the wrath of the LGBT community and allies himself recently in his career due to comments he made about not wanting his son to be gay. The comedian made it seem like X coming out wasn't a big deal, but, isn't it? Even if it's a big deal in a positive way?
Others believed he wasn't being dismissive, and that he was simply saying it shouldn't be a big deal that someone came out. They believe he was actually supporting Lil Nas X in his own way. X had a response to that though when he finished his explanation. He said he's actually solidifying the fact that it's not a big deal if he makes this reveal at the top of his career and it doesn't affect his career, instead of waiting to use it as a publicity stunt.
Check out the debate below:
Kevin Hart got me tight the entire interview, but I think he was trying to say that being gay shouldn't be a big deal to Nas. Even tho for someone like Lil Nas and everything he's done, being gay is definitely a big deal, and that's obv what Lil Nas was trying to explain

— Joshua Bautista (@joshb3600) September 5, 2019
This Kevin Hart shit pisses me off, that whole interview pisses me off, I can't stand when straight people ask why it's a big deal to come out and then say no one cares if people are gay. Fuck you if you think that. Open your eyes.

— soph (@itsmrstealyour_) September 5, 2019
That Lil Nas X/Kevin Hart clip is a prime reason Black gay men hate going to the barbershop. It's often a space for (straight) Black men to bash Black women and Black LGBTQ people with very few people challenging that toxic environment.

— Preston Mitchum (@PrestonMitchum) September 4, 2019
If Kevin Hart is still in the hospital, I hope his nurse is gayer than Billy Porter in June.

— Saeed Jones (@theferocity) September 4, 2019
the stupidity of kevin hart telling lil nas x that the world doesn't care if people are gay anymore. what world are you living in??????

— renee (@chalametsqueen) September 5, 2019
Wow Kevin hart really has the nerve to say "so what" to a famous young black man for coming out, when half his jokes are about slapping his son for "acting gay" LMAO wow

— the qing of queens (@emoilia) September 5, 2019
i can understand where things could be taken out of context but Kevin Hart has literally said he would beat his kid if they were gay-so that's all i really needed to know about him to form an opinion on him and think that he's out of line on any queer issues.

— payne (@payneywayney7) September 5, 2019
Others say the people who are criticizing simply didn't watch the full episode:
Twitter: Kevin Hart is homophobic look at how he gaslight lil nas x
Reality: #TheShopHBO pic.twitter.com/hqJRPqnMc7

— Zan (@GodZanMarino) September 5, 2019
Kevin Hart could have been quiet as a mouse on that Barbershop episode with @LilNasX and folks would have still been upset on some "his silence speaks volumes...he's so homophobic" type shit.

This outrage/easily offended culture is lame af.

— joshtooclutch (@JoshTooClutch) September 5, 2019
Y'all asses ain't even watch the full interview of the Kevin Hart and lil nasx shit y'all annoying "Kevin Hart homophobic" man ain't no damn homophobic. When he said that joke bout his son being gay niggas thought that was the funniest shit. now it's not y'all wild

— SKINNY (@senorskinny) September 5, 2019
I definitely think y'all taking Kevin hart saying "so what ; he's gay who cares" the wrong way lol.....

Calling his accident karma is foul regardless

— Durrell (@DGIBBS89) September 5, 2019
Literally the only time homophobia crosses my mind, is when I'm on Twitter defending straight black men against charges of it.

Black men have too much on our plates to be worried about who other people are fucking - THAT'S what Kevin Hart was saying to Nas X.

— BeeMoe Siddy (@DubAnders) September 5, 2019
Thoughts?
Photos: Columbia/Kevin's IG
​ ​
​ ​ ​