Cardi B Goes Off On 'Small D*ck' Travis Scott Fans Who Are Trolling Her Over GRAMMY Win
​
Aug 30 | by _YBF
​ ​ ​ ​
Cardi B defends her Grammy win over Travis Scott again. And she's poppin' off on the "small d*ck" trolls who keep coming for her. More inside...
Cardi B copped her first Grammy Award for her debut album Invasion of Privacy at the 2019 Grammys, becoming the first solo female to win best rap album. And now she's defending her win once again.
The "Press" rapper hopped on Twitter to defend her win after Travis Scott hopped on Twitter to argue how he should have won the Grammy over Cardi, following the release of his new Netflix documentary, Look Mom I Can Fly.
In the documentary, the "Sicko Mode" rapper was shown looking distraught backstage at the Grammy Awards after he lost to Bardi.
After the doc was released, Travis Scott fans hopped on social media to troll the "Money" rapper. And that's when she went off.
"On my album I showed different sides of me. From my intro talking about my pass [past]," she tweeted. "To living my best life inspiring people. Relationship songs while I was going thru my own relationship drama to shaking ass like Bodak & that ASS. Every song went platinum!"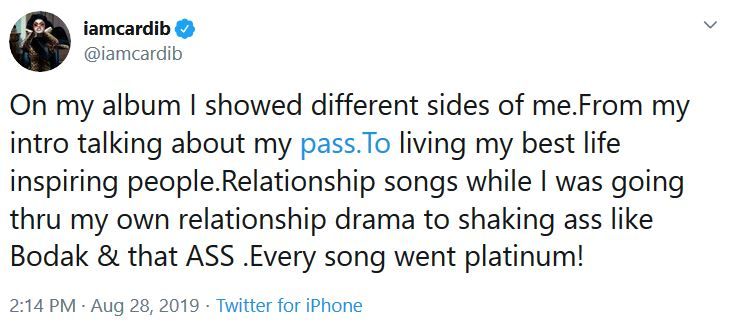 The 26-year-old rapper, who gave birthday to her daughter Kulture last summer, shared how hard it was for her to do everything for the album while she was pregnant.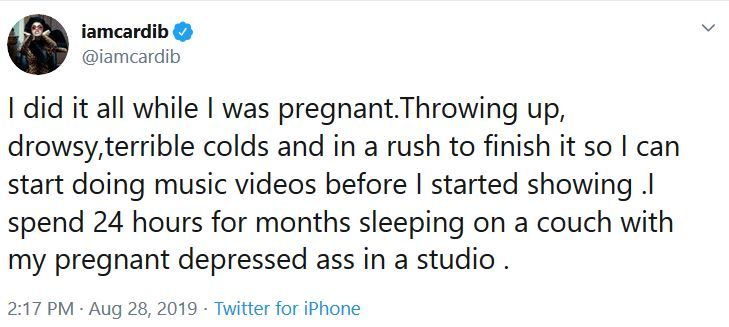 "I did it all while I was pregnant, throwing up, drowsy, terrible colds and in a rush to finish it so I can start doing music videos before I started showing," she wrote. "I'd spend 24 hours for months sleeping on a couch with my pregnant depressed ass in a studio."
The "Be Careful" rapper went on to explain that her husband Offset was the one to lock in the features for her debut album after she split with her longtime manager Shaft (who's suing her) and says she didn't have much of a relationship with anyone at Atlantic Records.
She shared a quote late rapper Nipsey Hussle told her after she nabbed her Grammy win.
"When it's your time, it's your time," she shared.
Then, she directly responded to a Travis Scott fan tweet (that was deleted), going IN on the "small d*ck" grown men who have been trolling her on social media.
"Ya some grown ass men talking about dragging cardi cause I won a award for a bomb ass album .Mind you I myself promoted astroworld on my page when it came out and have a good relationship wit trav while ya some small dick men talking bout draggginh a girl."
Peep the tweets: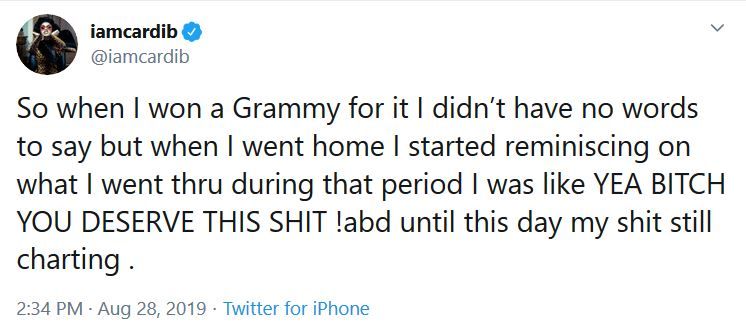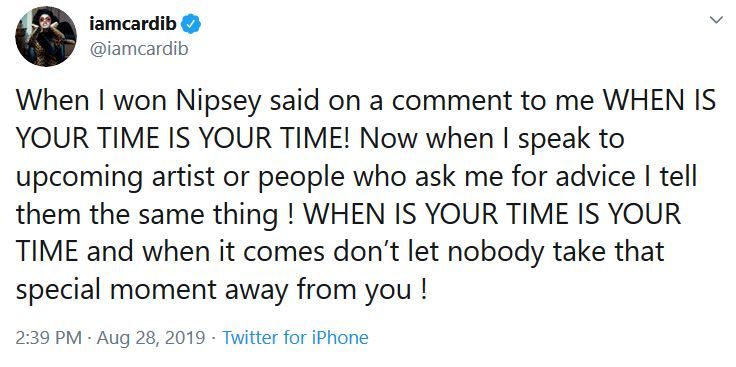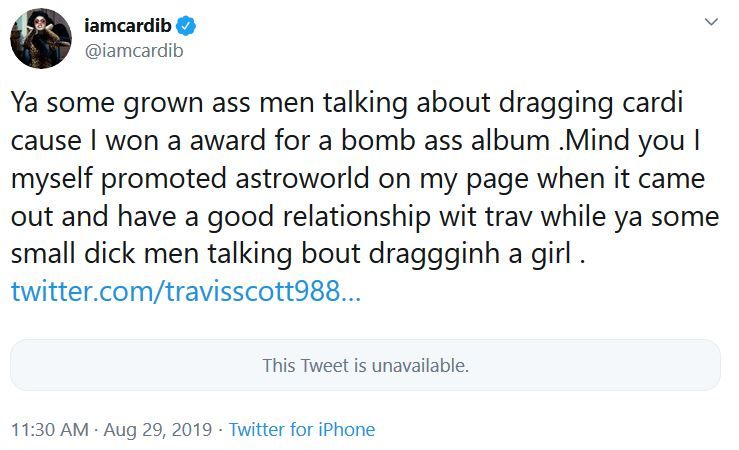 Welp.
We wonder if Travis Scott will respond directly to Cardi on behalf of his fans.
Photo: Getty Images
​ ​
​ ​ ​