Houston Man SHOOTS Two Men After They Tried To 'Catcall' His Girlfriend At A Gas Station - WATCH
​
Aug 19 | by _YBF
​ ​ ​ ​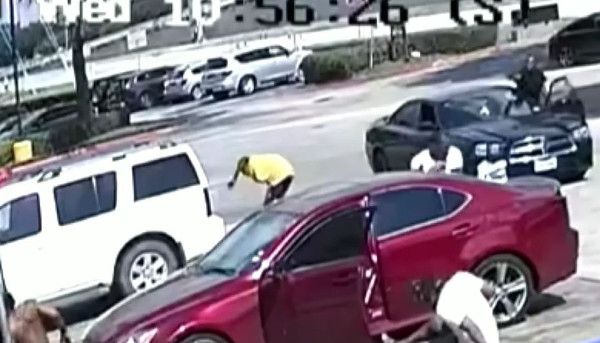 A Houston man pulled out a gun and shot two men after they whistled and catcalled his girlfriend. And it was all caught on video. More inside...
Ish went totally left at a Houston gas station recently.
Apparently, a group of men tried to holla at another man's girlfriend and he made sure it'll never happen again. According to reports, a man pulled out a gun on a group of men and started ringing off shots, injuring two men, one morning at a Chevron gas station. The men "whistled" and "catcalled" who the cops believe is his girlfriend, and he wasn't having it. According to the Houston Chronicle:
The woman was standing outside the Chevron station at Imperial Valley Drive and North Sam Houston Beltway when two men started to whistle at and catcall her around 11 a.m., according to Houston police officers on scene. A man believed to be the woman's boyfriend saw the two men and started to argue with them, police said.

At some point, the boyfriend pulled out a gun from his car and opened fire, striking both men in their legs, officers said. They were taken to a nearby hospital, where they are expected to survive.
The alleged shooter let off six shots before hopping in his black Dodge Charger with the woman and sped away. Two men were seen limping after the shooting before they were taken to a near by hospital. They're both expected to survive.
The suspect is still on the loose.
Watch the shooting unfold below:
Shooting someone over inappropropriate but non-life endangering acts is doing the absolute most. But we bet the victims won't try that again.
Photo: YouTube Screenshot
​ ​
​ ​ ​