Can't Beat 'Em, Join 'Em...For A Price? Jay-Z Set To Team Up With The NFL For Social Justice Campaign & Music
​
Aug 14 | by _YBF
​ ​ ​ ​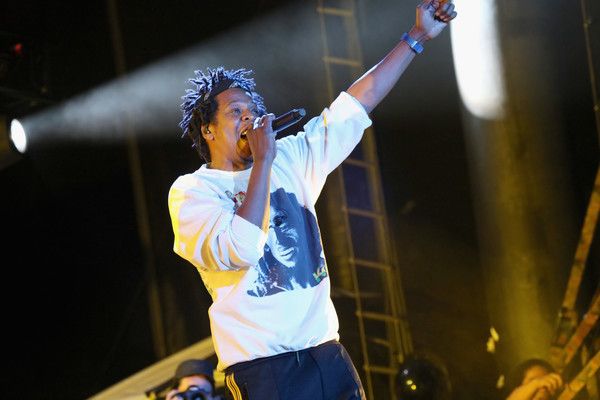 Jay-Z told the NFL he didn't need them, they needed him. And now, a new partnership has been formed. More inside...
UPDATE:
THIS is a lie. COLIN never spoke to Jay-Z and NFL ahead of that deal being done. They NEVER included him in any discussion https://t.co/TWmoXS4JVJ pic.twitter.com/2bjSIEtnjQ

— NESSA (@nessnitty) August 14, 2019
Colin Kaepernick's girlfriend/HOT 97 personality Nessa is speaking out after reports came out saying Jay-Z spoke to the former 49ers quarterback before inking his new deal with the NFL. She's says it's NOT true.
-------------------------------------------------------------------------------
It seems that saying, "Can't Beat 'Em, Join 'Em" rings true when it comes to the NFL and Jay-Z.
The Hip Hop mogul has been very vocal when it came to criticisizing the league over the way they handled former 49ers quarterback Colin Kaepernick and the police brutality protests. Hov bragged about turning down a Super Bowl Halftime performance on "Apesh*t," rapping, "I said no to the Superbowl, you need me, I don't need you."
Welp. All of that is behind him now as he has reportedly formed a new partnership with the football league. Hov and his entertainment/sports company Roc Nation has teamed up with the NFL to serve as the league's "live music entertainment strategist," according the New York Times.
So, what will Hov and Roc Nation be doing? They'll consult on entertainment, including the Super Bowl Halftime Show. Also, they'll contribute to the league's activism campaign, Inspire Change. It doesn't hurt that Roc Nation Sports manages a few NFL ballers as well.
According to the Times, the initiative "donates money to groups fighting for criminal justice reform, opportunities in economically challenged areas and better relations between the police and local communities."
"The NFL has a great platform, and it has to be all-inclusive," Hov told The Times. "They were willing to do some things, to make some changes, that we can do some good."

"With its global reach, the National Football League has the platform and opportunity to inspire change across the country," Hov continued. "Roc Nation has shown that entertainment and enacting change are not mutually exclusive ideas—instead, we unify them. This partnership is an opportunity to strengthen the fabric of communities across America."
That's what's up.
We were wondering if Kaepernick - who Hov has been a strong supporter of - had any involvement in this deal. Turns out, he wasn't. According to Kap's attorney - Mark Geragos - The Blueprint rapper reportedly did NOT speak to the former QB about partnering with the NFL, despite Jay-Z claiming he did. Yikes.
NFL Commissioner Roger Goodell talked about the new partnership, saying the league needed people to come in and tell them what they can do better.
"We don't want people to come in and necessarily agree with us; we want people to come in and tell us what we can do better," Goodell said. "I think that's a core element of our relationship between the two organizations, and with Jay and I personally."
Isn't that - in part - what Colin Kapernick was doing when he took a knee before he ultimately got blackballed from the league? Hmph.
Earlier this year, the NFL, Kaepernick and Eric Reid settled their collusion case that the players launched after making claims that teams were colluding to keep them off the field. It's reported they received less than $10 million to settle grievances with the league.
Jay-Z wearing a Colin Kaepernick jersey on SNL pic.twitter.com/OiXsfY2L21

— Complex Style (@ComplexStyle) October 1, 2017
The financial terms of the deal were not disclosed, however, ESPN reports it's a "long-term partnership," and will introduce new music into various NFL productions. And we all know Hov aint doing nothing for free.
Thoughts on this new partnership? Are you here for it, or nah?
Photo: Getty
​ ​
​ ​ ​