HOT GIRLS ARE UP! Meg Thee Stallion & Nicki Minaj's 'Hot Girl Summer' Tops Charts In 1 Hour
​
Aug 09 | by Natasha
​ ​ ​ ​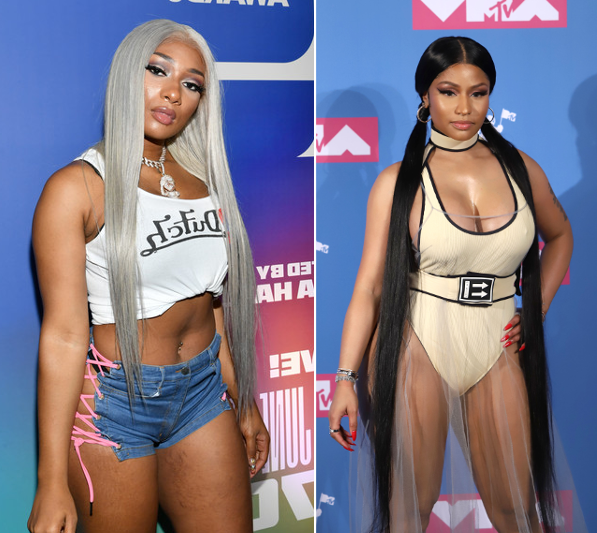 The wait is over, y'all! The Hot Girls are up by 100 now that they've linked up with the Barbs for "Hot Girl Summer". The song, which also features Ty Dolla $ign, is a bop and topped the charts in just one hour! Get into Meg Thee Stallion & Nicki Minaj's new fire inside.
About two weeks ago, Nicki & Meg almost broke the Internet with an impromptu IG live that had us all gaggin' at the idea of Nicki Minaj and Megan Thee Stallion spittin' on a track together. Little did we know, right after that lovefest, the Queens rapper laid down a verse for the new "Hot Girl Summer" track.
Nicki Minaj and Megan Thee Stallion did not come to play on the new banger. It comes with some fire artwork (with that throwback hip hop feel) that features Nicki and Megan in several poses, one in particular of the two flossin' in cow-girl attire with Meg gripping a bottle of her fav brown juice in hand. The Juicy J produced track hits hard, with Meg and Nicki holding nothing back when delivering their sexually confident, brazen, unapologetically arrogant bars.
Megan raps: "Handle me, who gonna handle me / Thinkin' he's a player, he's a member on the team / He put in all that work he wanna be the MVP / I told him ain't no taming me I love my niggas equally."
As you can see Meg's on her big 'ol ish talking again! The track samples "Real ass b***h give a f**k about a nigga..." from City Girls' hit "Act Up" for the chorus, further making the song our new anthem.
Nicki slides in spitting:
"Who a hotter B? Who got a lot of D? / Who poppin' like a P when he be hoppin' out the V? / And who gon' tell him that my bitch is getting her degree? / And when we say it's Hot Girl Summer, we ain't talkin' 'bout degrees."
Ty Dolla $ign also picked up a few points for the City Boys: "Real ass nigga give a f**k about a b***h/It is what it is, this some five star d**k/She a big ol freak it's a must that I hit/It's a hot girl summer so you know she got it lit."
Now, we impatiently await a video with fingers crossed that they make it happen.
The song also came in number 14 in all genres. Now that's real Hot Girl S**T!
BONUS: That time Lizzo and Meg gave us the #FluteTwerk we didn't know we needed:
Boat, driven.
Photos: Shutterstock.com
​ ​
​ ​ ​