Bad Gal RiRi Popped Out Ready To Turn All The Way Up At Barbados Crop Over After Gathering Trump
​
Aug 06 | by _YBF
​ ​ ​ ​
Rihanna gets her entire life during Barbados' annual Crop Over Festival. Get into her look (which includes lots of feathers and waterproof heels) and how she gathered Trump inside...
The Crop Over Festival is here and Rihanna is BACK in her hometown (home island? y'all know what we mean) of Barbados.
Before the festivities kicked off, the Bajan beauty was seen snapping flicks and catching up with friends in Bridgetown when she touched down: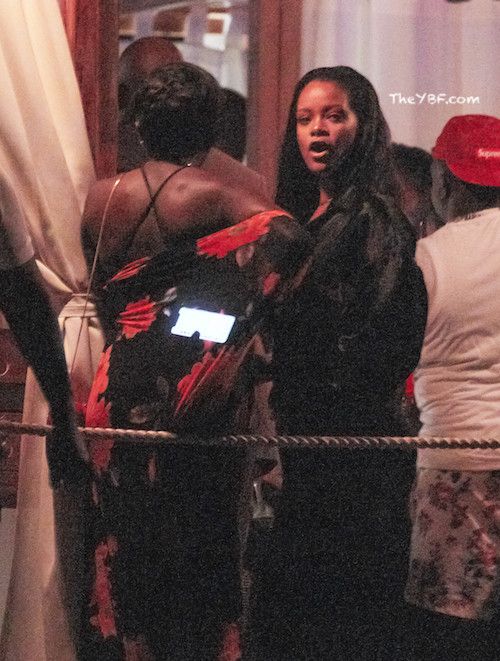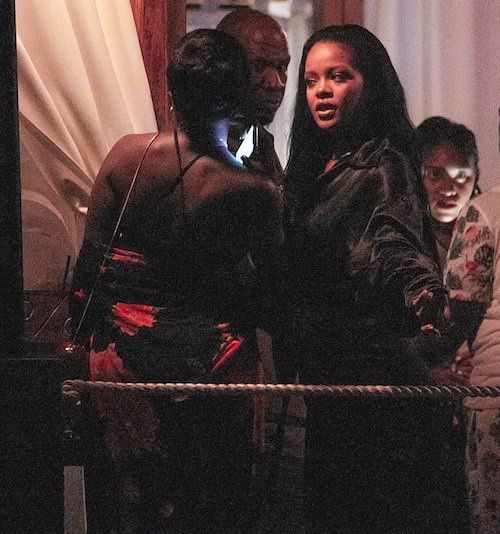 Here's how the island welcomed their Queen:
Yesterday we welcomed @Rihanna back home in Bajan style! Filling the air with the infectious sounds of the tuk band, our Bajan gem was greeted by officials, costumed dancers and stilt men, before heading to Zirque Carnival at Nikki Beach #LoveBarbados #VisitBarbados #CropOver2019 pic.twitter.com/j2WZCV9te2

— Barbados (@Barbados) August 5, 2019
Before she linked up with her homies, she took time out of her busy schedule to rip Donald Trump to shreds on social media, regarding his recent insensitive comments about the two recent mass shootings:
https://t.co/KeSkI3fk1C pic.twitter.com/IzjXncVbmh

— Rihanna (@rihanna) August 4, 2019
"Um... Donald, you spelt "terrorism" wrong! Your country had 2 terrorist attacks back to back, hours apart leaving almost 30 innocent people dead. This, just days after yet another terrorist attack in California, where a terrorist was able to LEGALLY purchase an assault rifle (AK-47) in Vegas, then drive hours to a food festival in Cali leaving 6 more people dead including a young infant baby boy! Imagine a world where it's easier to get an AK-47 than a VISA! Imagine a world where they build a wall to keep terrorists IN AMERICA!!! "
Where's the lie?
Once she got the political stuff out the way...it was time to turn up!
The Island Gal hit up Barbados' annual Kadooment Day parade with her best friend, Melissa Forde, and family just as she does (almost) every year. The Grammy Award winning singer pulled up to the festival wearing a custom pink, feathered David Laport ensemble, styled with Midnight00 waterproof pumps, Camilla Dietz Bergeron earrings, Lynn Ban mesh bracelets, and Gucci sunglasses. She styled her hair in Bantu knots like a true QUEEN.
You'll notice, this year's 'fit covers 90% of her body, which is unfamiliar to the Caribbean queen. Hmmm...we wonder if billionaire BAE Hassan Jameel had any influence. Or is she hiding something? We didn't come across any pictures or videos of her drinking. She is a businesswoman (with several companies under her belt) and in a committed relationship, so that could play a part as well.
Per usual, the ANTI singer was living it up with her family and friends. And when City Girls' "Act Up" song came on, she got even more hype:
Ayyeeee! City Girl Summer in full effect.
Peep more clips of Rih having loads of fun below:
"Rihanna isn't bad badgalriri anymore"
Rihanna: pic.twitter.com/pXFQgODfvC

— RihannaDaily.com (@RihannaDaily) August 5, 2019
Over the last few years, she wore pretty revealing outfits and traditional headpieces to match her curvaceous body. Crop Over is a 200-year-old tradition that marks the end of every sugar cane season on the small island of Barbados. Her fans always anticipate what she might wear, even if it's a full-body suit, they always know it's going to be a hit. In fact, in 2017, even ex-boyfriend Chris Brown couldn't deny her sexy Instagram photos.
Take a look at the "Good Girl Gone Bad" singer's previous costumes in 2017, 2015 (and more here) and 2013.
In case you missed, see Rihanna and her dad, Ronald Fenty, reunite at this year's festival despite that MAJOR lawsuit she filed on him HERE.
Photos: Backgrid/MEGA/Splash
​ ​
​ ​ ​