OUT OF THE SUNKEN PLACE: Lamar Odom Introduces His New Fitness Queen, Defends Her After Trolls Come For Their #BlackLove
​
Aug 03 | by _YBF
​ ​ ​ ​
It seems Lamar Odom has gotten out of the Sunken Place and found him a black queen. Now, he's responding to trolls who are bashing their #BlackLove. See their new coupledom flicks, Lamar's clapback and more deets about his fitness guru girlfriend inside...
Lamar Odom says he's WOKE, y'all.
The former NBA player - who was recently released from the Big3 League - has a new woman in his life and he's over the moon!
Last night, the former NBA baller was spotted holding hands with his new girlfriend, Sabrina Parr, while leaving Craig's restaurant in West Hollywood. It was the couple's first public appearance after Odom had to come to her defense on social media.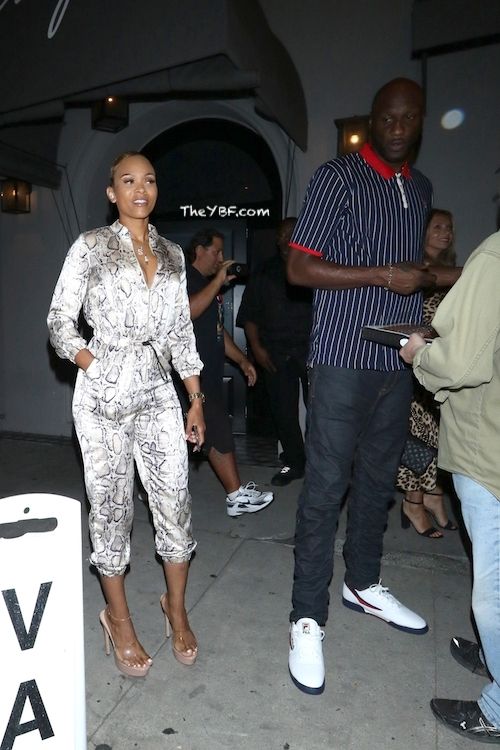 Just yesterday, Odom - Khloe Kardashian's ex-husband - introduced his new girlfriend to the masses. She's a personal trainer/health & life coach, whose body is #FitnessGoal x 10!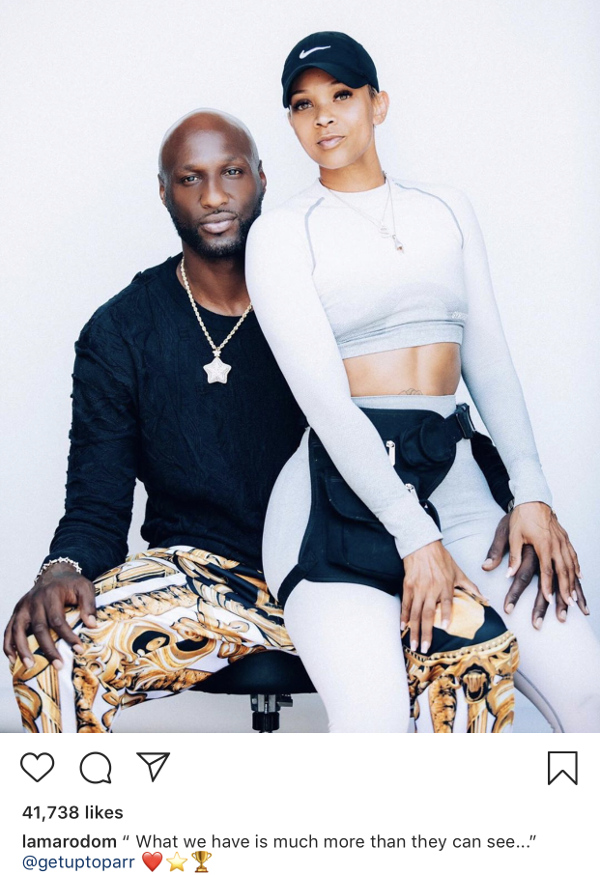 "What we have is much more than they can see...," Odom captioned a picture of himself with Parr sitting on his lap.
The 39-year-old then posted a picture of his 32-year-old girlfriend with a Malcolm X quote.
"It's just like when you've got some coffee that's too black, which means it's too strong, what do you do? You integrate it with cream… But if you pour too much cream in it, you won't even know you ever had coffee. It used to be hot, it becomes cool. It used to be strong, it becomes weak. It used to wake you up, now it puts you to sleep." - MALCOLM X @getuptoparr #blackroyalty"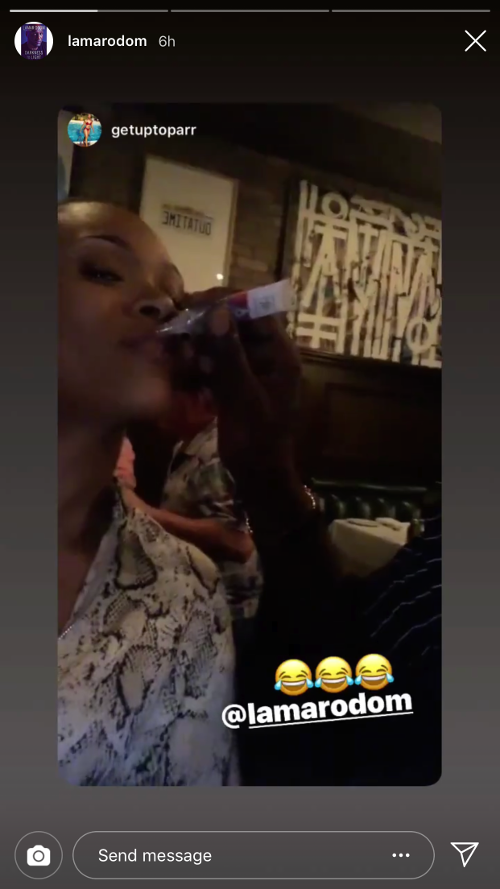 Folks quickly accused him of SHADING his ex-wife, Khloe Kardashian. So, he hopped back on Instagram to defend his new relationship.
Im a bit disappointed to read that people are using my words to enforce their own perceptions and assumptions pointing towards things that just are not MY TRUTH OR REALITY," he wrote.

"This post isn't against anyone including my ex wife that I still respect deeply. I am just PRO love. Can I do that without people feeling offended? Why does that make you mad? Our black women have been held down for centuries ! I am now deciding to send them and my NEW WOMAN a lot of love. My post goes out to the new leading woman in my life, that I'm gonna tell everyday how beautiful she is, from the inside out. Thanks @getuptoparr for teaching me what real self value means. It changed my entire mindset. #woke"
Now he's deciding to send black women love? Oh.
Earlier this week, the couple was spotted locking lips outside of a Chipotle in Atlanta:
As for his new boo...
Parr is a personal trainer and fitness model. According to her personal website, she's a five-time All American track competitor and two-time state champion. Parr returned to lead her alma mater Collingwood High School to a state title as assistant coach. Sabrina also works for ESPN Radio as a broadcaster. Beauty and brains.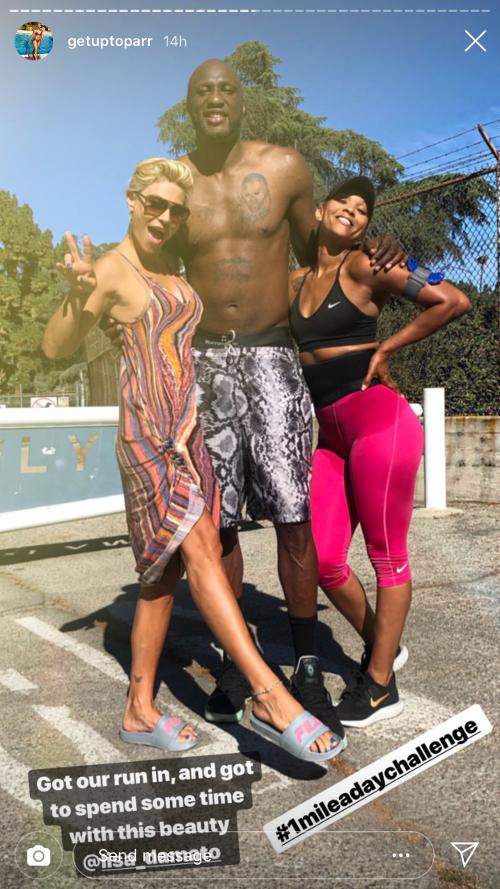 While Lamar and Sabrina are basking in their new love, the media is digging up her criminal past.
Lamar's new woman was arrested for assault against after she allegedly attacked her ex-husband with a trophy!
RadarOnline obtained court papers from Cuyahoga County Court in Ohio, which reveals Parr - who has a son - was arrested on May 7, 2015 for attacking her then-husband. The site reports:
She was charged with one count of felonious assault when she allegedly "did knowingly cause serious harm to [victim.]"

For the second count of felonious assault, she allegedly "attempted to cause physical harm to [victim] by means of a deadly weapon or dangerous ordnance, to wit: a trophy."

For the third and final count, she was charged with allegedly "knowingly causing or attempting to cause physical harm to [victim], a family or household member."

Parr pled not guilty to the charges against her. She was ordered to have no contact with the victim and their child under a temporary protection order. The temporary protection order was later lifted so she could see their son, as the judge determined, "there is no indication that the child was at risk of any harm concerning the alleged events that took place between the defendant and the victim."
Sabrina's ex filed for divorce on May 21, 2015. It was finalized on February 2, 2016.
Parr posted her mugshot with an IG caption reflecting on her criminal past. She opened up about making mistakes and how she has grown since the incident.
"I can hear some of y'all now saying 'omg she was in jail?? She prolly beat up some girl' lol. That wasn't the case in my situation. I was in a very crazy marriage! I won't get into too many details because we are divorced and moved on now. He's a great father and I have a lot of respect for him and I's relationship! I don't like to say anything bad about him because that was just a time in our life we experienced! What I will say is I encourage EVERYONE to make it an effort no matter what happened to get along with the other parent of your child/children! Being mad and holding onto stuff effects the children more than you may realize...

"Anyways moving on... I was miserable, lost, angry, hurt, unhealthy and just struggling overall just a few years ago. You can see it all in my face on my pic on the left!!!! Then one day I woke up and said to myself "Sabrina this is not you! You're a beast! You're a winner! You're a champion! You're a giant! You deserve happiness. You deserve peace! Go and get the life you want"! That was literally the conversation! . . "From that point on, I been moving forward in the right direction! I continue to make mistakes and stumble along the way... But I never stop the journey! That's it y'all!!! Figure out where you want to be, where you want to go... and NEVER STOP THE JOURNEY!!! So, how can I motivate and encourage you all today???"
Now that all that is behind her, she has seemingly found love with the former NBA player.
Photos: Backgrid
​ ​
​ ​ ​