We ALL Miss Them! Barack Obama Surprises High School Grads In Chicago + Anna Wintour Praises Forever First Lady Michelle Obama
​
Jul 27 | by _YBF
​ ​ ​ ​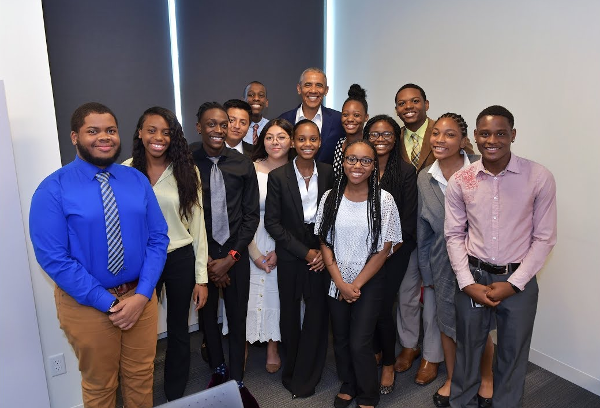 POTUS Barack Obama surprised a group of high school grads and they were left speechless! Meanwhile, VOGUE editor-in-chief Anna Wintour praised Forever First Lady Michelle Obama while dodging questions about current First Lady Melania Trump. Get it all inside...
Students apart of the ObamaYouth Job Corps were in for a real treat when the former President surprised them recently. They were SHOOK when President Barack Obama randomly walked in on them.
SURPRISE! A special guest dropped in to the @ObamaFoundation today to share some words of wisdom with a few of our Obama Youth Jobs Corps interns. Their reactions are priceless #OYJC pic.twitter.com/NOCDPUaLUJ

— Urban Alliance (@UrbanAlliance) July 16, 2019
President Barack Obama totally surprised a group of students participating in a job corps program during their visit to The Obama Foundation in Chicago.
The program aids students in preparing for the workforce, and also provides students with opportunities for internships. Obama spoke to the students on the importance of education, job training and even dropped a few gems based on his personal life experiences.
"Part of the goal of this program is to expose you to what's possible," Obama told the students. "Everybody here has already shown extraordinary talent and initiative. All of you all are focused in a way that I can't say I necessarily was when I was your age. So you guys are already ahead of the game," he continued.
You saw yesterday's @BarackObama surprise, but what did our interns think?

Hear the Obama Youth Job Corps interns reflect on a Tuesday they'll never forget. pic.twitter.com/aXguqB8rfN

— The Obama Foundation (@ObamaFoundation) July 17, 2019
Obama also encouraged them to stay active in their communities.
"Because of all of us, as citizens and generally, have an obligation to make sure that we're tending to the city we live in, the country we live in," POTUS said.
Check it:
POTUS is still out here doing the Lord's work.
Speaking of the Obamas...
During "The Economist asks" podcast, VOGUE's editor-in-chief and queen of shade Anna Wintour praised Michelle Obama, calling her the "best ambassador for the world" during her time as the First Lady of the United States. Wintour commended Mrs. O for every decision she made in fashion, applauded her support for young American designers and all over the world, and mentioned her efforts to not only fashion, but her philanthropic ways as well.
Despite the interviewer wanting to talk more about the current first lady, Wintour let it be KNOWN that Michelle is all she's here to speak about. Listen tot he snippet below:
Which first lady wore the role best? Anna Wintour talks politics and fashion with @AnneMcElvoy on "The Economist asks" podcast https://t.co/0mHlLjtf06 pic.twitter.com/gIoUpd3teo

— The Economist (@TheEconomist) July 21, 2019
Ha!
You can listen to the full podcast here.
Photos: The Obama Foundation/Getty Images
​ ​
​ ​ ​