'Harriet' Will Be One Of The Blackest Movies This Year, But Folks Aren't Here For Cynthia Erivo & Her Shady Tweets Mocking Black Americans
​
Jul 26 | by _YBF
​ ​ ​ ​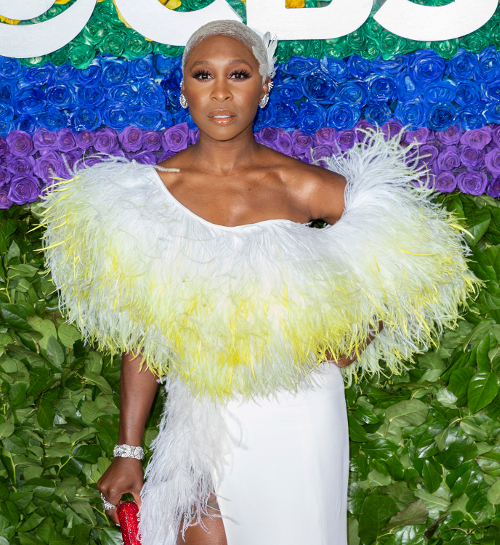 The 'Harriet' movie will likely be the blackest movie to drop this year. However, folks are sounding off about British actress Cynthia Erivo playing abolitionist Harriet Tubman, especially after some of Cynthia's old tweets shading African Americans were brought to light. More inside...
The new trailer for HARRIET dropped this week ahead of its November 1st box office release. And it will be one of the blackest movies to hit theaters this year.
HARRIET is based on the story of iconic freedom fighter Harriet Tubman, her escape from slavery and her subsequent missions to free countless of slaves through the Underground Railroad in the face of growing pre-Civil War adversity. Harriet Tubman is played by 32-year-old actress Cynthia Erivo and she'll be starring alongside singer/actress Janelle Monae, "Hamilton's" Leslie Odom Jr., Vanessa Bell Calloway and more.
Not only is the cast filled with people who look like us, so are the creatives behind-the-scenes. Debra Martin Chase, a black American woman, produced the film, it was directed by Kasi Lemmons (Eve's Bayou), a black American woman, and the screenplay was written by Gregory Allen Howard, a black American man.
Black Americans were tapped for the costume design (Paul Tazewell), musical arrangement (Terrence Blanchard - a New Orleans native) and casting (Kim Coleman).
Peep the trailer below:
CYnthia, as you know, is British. Some folks aren't here for a British woman playing a role an American black woman could and maybe should play when it's already hard enough for dark skinned American black women to get roles. Some feel it's culturally insensitive to have chosen a black British woman rather than an American descendant of slaves to play the iconic abolitionist. A #HarrietDeservesBetter hashtag was trending on social media where people have voiced loudly and clearly their issue with Erivo copping the role.
Oh, some disrespectful tweets about African Americans fired off by Erivo have also surfaced, and they surely don't help her case. Apparently, Erivo has tweeted out TONS of comments - meant to be funny, we think - about "ghetto Americans", she co-signed a comment about African Americans having no culture and she even mentioned black Americans have appropriated African culture.
Check out this very detailed thread with tons of shady tweets Erivo have posted in the past about black Americans:
Here is why Cynthia Erivo, in particular, should not play Harriet Tubman.

TL; DR: There's a troubling pattern of Cynthia repeatedly, deliberately, selectively *choosing* to not give respect to African-American heritage – the heritage of Harriet Tubman.#HarrietDeservesBetter pic.twitter.com/omxuA1Ese7

— Electric Bo Peep(@eBoPeep) September 24, 2018
Here's just SOME of the backlash online:
See why I was skeptical of the movie in the first place? & she a bedwench on top of that?! I'm definitely not seeing it! Making a fucking mockery of Harriet Tubman's legacy with this filty wench and this watered down made for television ass movie! #Harrietdeservesbetter #HARRIET pic.twitter.com/Nbr8iLmc94

— Marcelle-Imhotep (@MarcelleImhotep) July 25, 2019
#Harriet deserves better than the likes of the hateful, anti-black and ignorant @CynthiaEriVo who disrespects American descendants of slaves and our culture & who picks a diff identity based on the conversation at hand. #BoycottHarrietTubman #HarrietDeservesBetter

— $tr8Skullduggery (@41Soulsistah) July 24, 2019
I come to find out if that Cynthia Erivo A Nigerian British. Is deeply Anti black American. Subscribe to white supremacist friends with white supremacists that demonize black Americans. I can no longer support this movie.#Harrietdeservesbetter .#CynthiaErivo .

— Don Salmon (@dijoni) July 24, 2019
It's is our birthright as descendants of American chattal slavery to tell our stories of our ancestors. Why are black brits given priority to tell them over and over again? Someone make it make sense #HarrietTubman #harrietmovie #Harrietdeservesbetter

— roomtempfleet (@roomtempfleet) July 24, 2019
#CynthiaErivo should have never been given the role of #HarrietTubman.She disrespected #ADOS Lineage/Culture/History-#AmericanHistory.Disgusting,someone who hates us get play us.#Harriet #LineageMatters-#HarrietDeservesBetter #BoycottHarriet https://t.co/7OmLc98sYN #HarrietFilm

— Glen Lucien (@glenthecreator) July 23, 2019
#HarrietDeservesBetter I'm not supporting any movies that don't cast FBA's. Actors and actresses are taking on more than just roles, to some degree they're representatives. These foreign black immigrants have no emotional attachment our ancestors plight and leve alot to be desire

— KICKSCIENCE (@Larry88686857) July 24, 2019
NEWSFLASH: Stop supporting movies that feature continental Africans who PUBLICALLY hate/look down on/disrespect Black American culture as Black Americans on screen. Stop ignoring the fact that ethnicity is a thing. Thanks #boycottharriet #harrietdeservesbetter

— (@jmichelx) July 25, 2019
I won't be watching the COLONIZED playing acting our SACRED ANCESTOR She does not LOVE us OR respect us enough to portray us. #HarrietDeservesBetter

— @juanita (@chickenproduc) July 25, 2019
Now #CynthiaErivo why is yo ho ass lying? When you and your team deleted all of your past tweets. #HARRIET #HarrietTubman #HarrietDeservesBetter pic.twitter.com/2CeppFrrIj

— Tyler Collins (@TylerCollins101) July 25, 2019
It's said Cynthia Erivo has personally DM'd people to apologize. But, people want a public apology.
By the way, Erivo is one step closer to nabbing EGOT status with an EMMY, Grammy and Tony Awards under her belt for her portrayal of Celie in Broadway's The Color Purple. HARRIET could land her the Oscar she needs to earn the ultimate Hollywood achievement. We've ALWAYS pulled for Cynthia, but she indeed has some explaining to do.
Thoughts?
Photo: Ovidiu Hrubaru / Shutterstock.com
​ ​
​ ​ ​