#COUPLEGOALS! The Wilsons & The Wades Team Up To Tell A 'Relentless' Football Story
​
Jul 26 | by _YBF
​ ​ ​ ​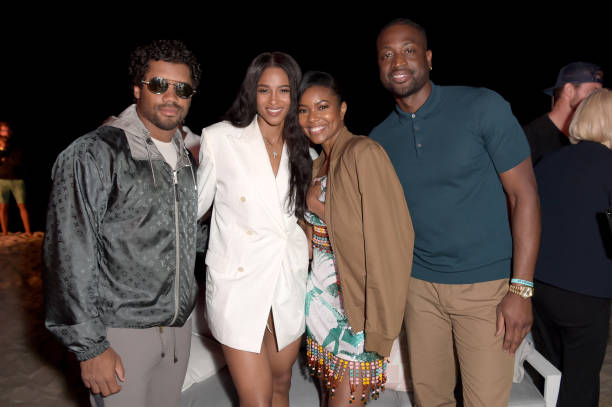 The Wilsons and The Wades are teaming up to make a film about the life of ex-NFLer Vernon Turner. Can we say coupledom goals? Deets inside...
When you're already poppin' and BAE upgrades your life even more?!
Singer Ciara, Seattle Seahawks quarterback Russell Wilson, "L.A.'s Finest" star Gabrielle Union and recently retired NBA baller Dwyane Wade are teaming up to tell the story of former (undrafted) NFL punt returner Vernon Turner (below), titled Relentless.
The Wilsons' Why Not You Productions, along with Wade's 59th & Prairie Entertainment and his wife Gabrielle Union's I'll Have Another Productions are developing a drama based on Turner's 2012's self-published book, "The Next Level: A Game I Had To Play," according to Deadline.
Wade, Union, Wilson and Ciara said in a joint statement: "After reading Vernon's "Letter to my Younger Self," we all learned so much more about this man than what was presented to us growing up. His story isn't just one of an accomplished athlete. It's a story of resilience, family and the will to survive by any means possible. We consider ourselves to be survivors of our own personal struggles who have also come out on the other side and couldn't be more excited to tell this story together. Once we read Brad Gann's script, we knew we had to get this made. This is truly a story of black excellence at its finest."
Deadline reports:
This is way more than Vernon making it to the NFL against long odds that were with him when he was a high school QB who was 5'6″ and 100 pounds, and still threw for 4000 yards and made All State as a senior. The story is also about the sadness, embarrassment, heartbreak, guilt, regret, anger, fear, determination, triumph and relief that it took for the 5'8″ 185 lb. football player from Brooklyn to make it and save his family. In addition to his autobiography, Turner gained attention by writing a Letter To My Younger Self, which went viral on social media. In it, he divulged that when he was only 11, he come home to find his mother shooting heroin into her veins in the bathroom. If that wasn't hard enough for a youth who watched his mom and white father fight over her drug abuse, she told him why she took heroin. As a young girl with her own dreams, she was subjected to a vicious sexual assault, and got pregnant…with him. The drugs were a way to temper the pain of that and she died early. It was up to Vernon to assume the role of adult for his siblings. Even the fact he got his story told by self-publishing his memoirs is in keeping with his never quit attitude.
Turner - who works as a personal trainer for aspiring young athletes - is extremely excited to be working with the two black power couples.
"My most important mission is for this project to have the right group of individuals in place to help tell my story," stated Turner. "Well, I struck 'platinum' with the additions of the talented actress/producer Gabrielle Union and her husband/future Hall of Fame NBA star Dwyane Wade, along with accomplished recording artist Ciara and her husband/NFL's star quarterback Russell Wilson, joining my steadfast producers Brett Gursky, Josh Surkin, and Nicholas Katsapas from Magic Hour, and our unbelievably gifted writer Brad Gann. I truly feel we have the right ingredients to accomplish my mission, which is to help change and save lives. My journey is an extremely powerful tale that must be told and, at the end of the day, I want this film to have a global impact. I came into this world under horrific circumstances, but I want to leave it with a legacy where my parents above will look down with enormous pride- and give a wink of approval."
#BlackExcellence is on the way and we're certainly here for it. We'll keep you posted on the project.
Meanwhile, everybody's still busy living their best lives this summer:
Photo: Getty Images for Spotify/Getty Images North America
​ ​
​ ​ ​