Tyler, the Creator's 'Hot Butt Sex' HOT 97 Freestyle Caught Funkmaster Flex Totally Off Guard
​
Jul 25 | by _YBF
​ ​ ​ ​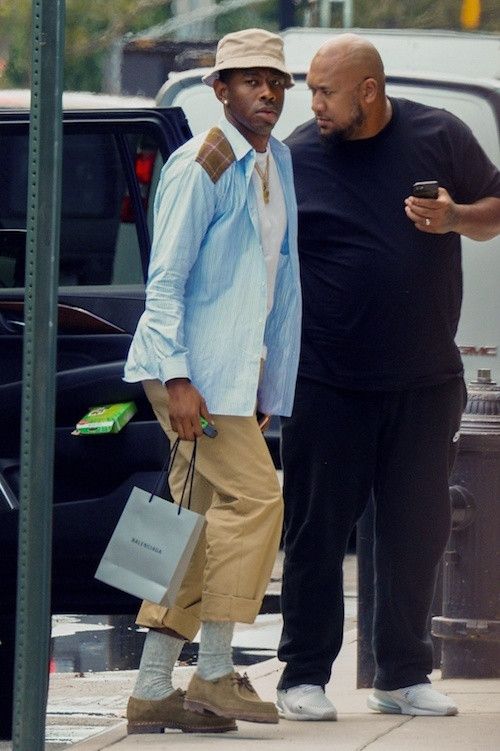 Tyler, the Creator went on HOT 97 and dropped a freestyle on Funkmaster Flex that everyone is talking about. Take a listen inside....
Tyler, the Creator doesn't do interviews much. But when he does, we see he likes to bring the dramatics.
The west coast rapper - above, after shopping with friends at the Balenciaga store in NYC thios week - made a stop at HOT 97 to chop it up with Funkmaster Flex for the first time and he made sure to leave a lasting impression.
After chatting with the radio personality for an hour-and-a-half, it was time to spit some bars off the dome. Every rapper who does an interview on Flex's show has to drop a freestyle to wrap it up. Well, Flex definitely wasn't expecting the bars Tyler spit and they left the DJ squirming in his seat.
"Free Rakim, Free Rakim / I might fly to Sweden to free him," Tyler began rapping, referencing rapper A$AP Rocky being held in a Sweden jail after he was charged with assault.
"Braid my wig, A$AP tat on my rib / Switch with him, then I can f**k all the Sweden men that I wanna / Actually, I'm gonna.
"Listen Flex, we just met, but I know it don't seem like R. Kelly wet dreams / I always keep 16s, n*gga," he continued.
Oop.
tyler, the creator was wilding off the top during his freestyle on funk flex pic.twitter.com/rg3dFoJTJy

— Genius (@Genius) July 25, 2019
He went on to rap about cancel culture, the success of his Golf Wang store, and more. Then he rapped about having to leave to go on a "lil' date with this dude real quick." As he kept rapping, Flex got to the point where he had to stop him and yell out, PAUSE.
"I keep flirtin' with Flex and he ain't tryna f*ck / Now I'm confused, I'ma leave, I just think that he hate me / I thought I came here so he could date me / He talkin' 'bout a freestyle / Uggh, n*gga, f**k rap / F*ck that, I was tryna take him back and take off that hat and we could be like muah, muah, muah on the lips"
Oh.
Check it at the 1:21:44 mark below:
Twitter is in a frenzy over it:
Tyler the creator: me n flex looking in the index for buff neck niggas just for some hot butt sex.

Funk master flex: pic.twitter.com/XjJ9uqkitu

— m**** (@ThriftySmithers) July 25, 2019
When Funk Flex realized that his new bestie is Tyler the Creator. @tylerthecreator @funkflex pic.twitter.com/8bmrBs7W6e

— Henry Guzman (@Chief_Henry117) July 25, 2019
Tyler The Creator "me and Funkflex looking in the index, for buff net niggas, just for some hot butt sex".

Funkmaster Flex was like you and... #FunkmasterFlex #Freestyle128 #Hot97 #TylerTheCreator pic.twitter.com/eyNaMnmtRV

— Raphael Wilson (@089968Raph) July 25, 2019
Tyler got y'all phobias and insecurities showing today and i love it.

— VanLathan (@VanLathan) July 25, 2019
After seeing Tyler the Creator freestyle on Funkmaster Flex all I have to say is Live Your Truth girl

— Mighty DanJahRas The TurnTable Bully (@Mightydanjahras) July 25, 2019
Well, go off Tyler.
Photos: Backgrid
​ ​
​ ​ ​