Nicole Murphy Says She Was 'Kissing A Family Friend Hello' In Those MAKEOUT Pics With Married Director Antoine Fuqua, LisaRaye Spills SCORCHING Hot Tea!
​
Jul 22 | by Natasha
​ ​ ​ ​
We thought we'd had our fill of scorching hot tea for the day, but LisaRaye and Nicole Murphy herself are refilling our cups to the top. Nicole's super ridiculous explanation about those pics of her seemingly making out with married director Antoine Fuqua, plus LisaRaye accuses her of cheating another husband!
Oh?! Apparently we've been saying Hello to our friends all wrong this whole time. After these pics surfaced today showing Nicole Murphy and actress Lela Rochon's director husband Antoine Fuqua lip-locked while barely clothed by the pool in Italy, Nicole's got an explanation.
Gather 'round. It's a doozy.
In a just issued statement, Nicole explains that the pics showed her simply greeting a family friend. Nicole revealed to Love B. Scott:
"Antoine and I are just family friends. I ran into him in Italy and we exchanged a friendly hello and that was it."
Where else have we heard this "family friend" explanation when MESS is caught on camera? Hmph.
Mmhmm.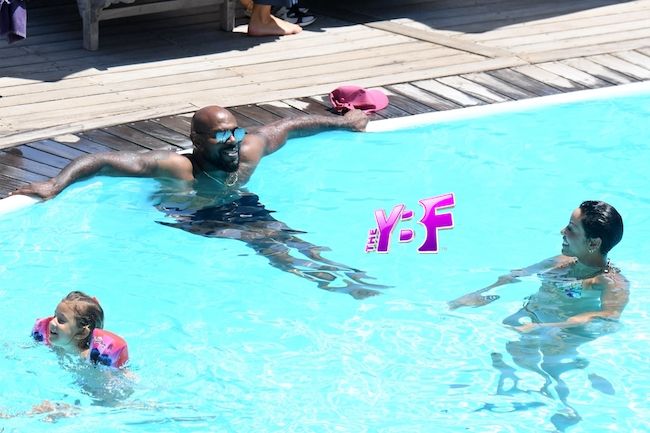 So, Nicole, you're telling us that you just so happened to be in this random Italian city of Ischia where a caveside movie festival just so happened to be taking place and where Antoine Fuqua just so happened to be and you all just so happened to cross paths and say "Wassup"? Twice?
Mk girl.
That's not all. LisaRaye McCoy commented on TSR's Instagram post featuring pics of Nicole and Antoine kissing. LisaRaye said:
"Gurl @nikimurphy you went after @iamlelarochon husband too?...smh So wrong...again!!!"
As you recall, LisaRaye was previously married to the now former Prime Minister of Turks & Caicos Michael Disick. LisaRaye previously accused Michael of cheating with multiple women, including a few American celeb women.
Whew.....
Photos: Backgrid
​ ​
​ ​ ​