Meek Mill Appears In Court To Get 2008 Drug & Gun Conviction Overturned, Van Jones Is Confident It'll Get Done Soon
​
Jul 17 | by _YBF
​ ​ ​ ​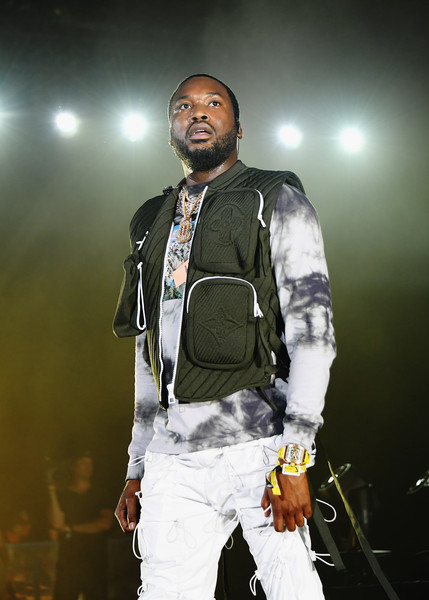 Meek Mill is fighting for his freedom after being on probation for over 10 years. He appeared before a judge to get his 2008 drug and gun conviction overturned. Here's what happened & Van Jones' prediction...
Rapper Meek Mill (real name Robert Rihmeek Williams) is out of prison, but he's still not free.
Lawyers for the "Dreamchasers" rapper - who is the co-chair of the REFORM Alliance - appeared in appeals court yesterday (July 16th) to try and get the rapper's 2088 drug and gun conviction overturned. The case has kept the Philly native on probation for over a decade and he's doing everything he can to become a free free man.
Meek's legal team reportedly stood before three Pennsylvania Superior Court judges in a Philadelphia courtroom to ask that his 2008 conviction on gun and drug charges be tossed out and a new trial be set.
MEEK MILL IS STILL NOT FREE. That could change today. This afternoon, REFORM Co-Chair @MeekMill has a hearing with the Pennsylvania Superior Court that could lead to his conviction finally being overturned. It's time to rectify this injustice once and for all. #FreeMeek #REFORM pic.twitter.com/t7OrUx6vrh

— REFORM ALLIANCE (@REFORM) July 16, 2019
His lawyers argued controversial Judge Genece Brinkley - who sent him to prison in 2017 over a parole violation - has become too involved in the rapper's life and has lost her impartiality. They also argued the arresting officer is a "bad cop" who provided poor evidence against Meek. The sole witness at the original trial was the now-retired Reginald Graham. Turns out, Graham was placed on the Philadelphia district attorney's office "do not call" list due to his history of misconduct.
"He now has been discredited," lawyer Kim Watterson of Los Angeles told the three-judge panel. "They (prosecutors) do not have confidence in his testimony and will not call him at retrial."
"Although he was not charged federally with the other officers in the narcotics unit, Graham resigned from the police department prior to being formally dismissed," Krasner's office wrote, referring to a 2015 police corruption trial that ended with the acquittal of six officers. "The Commonwealth cannot call a witness whose credibility it mistrusts."
Assistant District Attorney Paul George said the office wouldn't call Graham due it its "legal, ethical and constitutional obligations." So yeah, both sides are seeking a new trial.
Right now, prosecutors could choose to drop the case if a new trial is granted, which would leave Meek Mill unconvicted and free. However, the court usually takes several months to make such a ruling.
CNN's Van Jones - the CEO of REFORM Alliance - spoke out after the hearing and he's confident that Meek's conviction will be overturned within two months.
"I have been in criminal justice for 25 years, and I have never seen a district attorney's office be calling for a new trial at the same time the defendant is calling for a new trial," said Jones. "We are one step closer to justice. This hearing was an extraordinary moment where you have attorneys on both sides saying that a new trial should go forward."
Here's a clip of Van Jones speaking to the media after the hearing below:
The @meekmill case is a stench in the nostrils of God. Tomorrow a judge will decide if Meek will get a new trial. We're dedicated to fighting for Meek and all those in his position. #FreeMeek pic.twitter.com/IsEwLV9rG3

— Van Jones (@VanJones68) July 16, 2019
You'll recall, Meek Mill became the poster child for prison reform after all of his drama with Judge Genece Brinkley. She sentenced him to two to four years in prison for parole violations. He ended up spending five months behind bars before a court ordered him to be released last year.
The court hearing comes before his two-part in-depth interview with "CBS This Morning's" Gayle King. He opens up about his experiences with the broken justice system and how it has pushed him to fight for prison reform in the United States.
"If you take a drone right now in Philadelphia and you put it on the main line of the suburbs and you put it on the main line of the ghetto, you would see there's two Americas," he said. "You would see chaos on one side and you would see people going to their mailboxes and kids coming from school on one side."
AHEAD: Rapper @MeekMill fights to clear his name.

Only on @CBSThisMorning, he tells @GayleKing how he wants to change the criminal justice system. pic.twitter.com/Mc1pvZnOYj

— CBS This Morning (@CBSThisMorning) July 16, 2019
The 32-year-old rapper also talked about how being on probation put a damper on regular, everyday activitivies, such as picking his son up from school:
"My son lived in New Jersey, but I lived in Philadelphia, and the bridge is a 15-minute ride," he said. "It's just a bridge. I couldn't go get my son from school when I wanted to . . . Some days I would get off work early, I would just have a free day, and I would just want to pop up at my son's school and get him from school. I'd been out of town for two weeks in a row working. Can't really do it."
Check it:
On August 9th, the rapper's "Free Meek" documentary - produced by Jay Z - will be released on Amazon.
For kicks...
Meek got in on the FaceApp fun, poking fun at his situation. Hey, at least he can laugh about it now.
Photo: Getty
​ ​
​ ​ ​