GIRL GROUP DRAMA! Spinderella SUES Salt-N-Pepa For Unpaid Royalties & Breach Of Contract, Sources Claim She's BITTER
​
Jul 12 | by _YBF
​ ​ ​ ​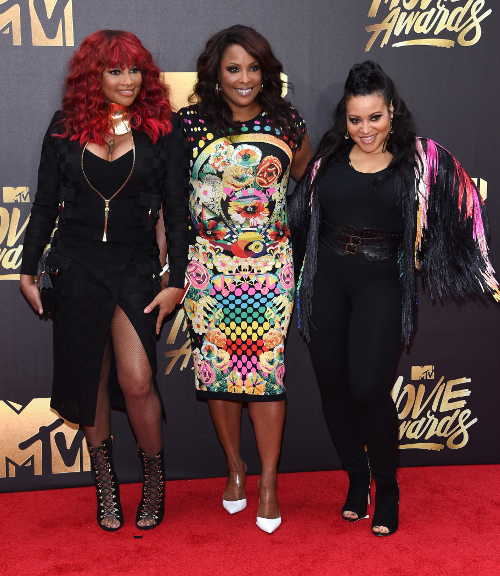 DJ Spinderella claims she was kicked out of the group and now she's SUING Salt-N-Pepa for unpaid royalties. Deets inside...
There's drama unfolding in one Hip Hop legendary group. Again.
About two months ago, DJ Spinderella took to social media to announce she had been terminated from future performances with Salt-N-Pepa on their reunion tour. And she said she received the notice via email. Yikes.
"I'm deeply saddened to share with all the #SaltnPepa and #Spinderella fans that I will not be performing on the #NKOTB Mixtape Tour," she wrote. "Despite my participation in promoting the tour and being highly publicized as one of the acts, in January 2019 I received a 'termination' email from #SaltnPepaexcluding me from performances with the group. It was my expectation, after making that decision, that they would also take responsibility for sharing the news with the public and other affected parties. It has been months now with no mention. Out of love for my fans and a commitment to upholding a standard of professionalism, I've taken it upon myself to let everyone know. I refuse to participate in misleading fans, ticketholders, and others who — based on all the advertising — were anticipating seeing the iconic #SaltnPepaand #Spinderella trio. So, I'm making it clear now. Please know you will have the opportunity to see me this summer in many other projects and activities I'll be participating in and I look forward to seeing you all then."
Now, she's gunning for what she believes it rightfully hers.
Spinderella (born Deidra Roper) just filed a breach of contract lawsuit in federal court (sheesh) in Texas against her former bandmates, Cheryl "Salt" James and Sandra "Pepa" Denton.
In addition to gunning for alleged unpaid royalites, she's also suing for multiple breaches of contract, fraud, and international misrepresentation, according to court documents obtained by The Blast. Oh, and she's looking to receive money she claims she wasn't paid that dates back to the 90s. She claims she was promised a third of the royalities from their Best Of Salt-N-Pepa album, however, she never saw those coins. She was supposed to be paid $125,000.
"Roper was suddenly informed — in an unexpected telephone call from Denton — that James, 53, and Denton, 52, were holding the sum of $125,000 that would be paid to Roper," the documents claim. "No such payment of $125,000 was subsequently made to Roper."
It doesn't end there...
Spin also claims she was excluded the group's VH1 show 'Salt-N-Pepa Show' in 2007 that chronicled the group's rise to fame. She claims she was supposed to receive 1/3 of the funds, however, she was limited to just guest spots and was paid way less than the agreed upon amount.
Spin appeared at the 2018 Billboard Music Awards and was not paid. She also claims SoundExchange, the company responsible for the distribution of royalties to artists, revealed her groupmates received over $600,000 over the past decade and she hasn't received a dime.
Salt-N-Pepa has responded to her lawsuit, claiming she's bitter.
TMZ reports:
Sources connected with the group tell TMZ ... the ladies think Spinderella's suit is really about her own insecurities -- that she feels like a third wheel, and has ever since 2007's 'Salt-N-Pepa Show' on VH1. Spin was only a featured guest.

However, our sources say Spin's not entitled to any royalties in her contract -- including the $125k she says she's owed from the 1999 'Best of' album. We're told she was always paid as an independent contractor, but S and the P still made sure Spin always got the finest accommodations to go with her paycheck.

As for the TV show ... our sources say it was TV producers who didn't want her involved and it was out of Salt and Pepa's hands. We're told they think Spinderella's bitterness also stems from talk shows regularly requesting only the 2 front women for interviews.

Our sources also say the Salt-N-Pepa brand is owned by Salt and Pepa, not Spinderella ... so her claims of trademark infringement in her suit are also baseless. We're told they haven't used her name or likeness once since her departure from the group.

Finally, we're told the duo claims it went out of its way to make sure Spinderella got her own shine during the group's appearance at the 2018 Billboard Music Awards. They say no member got paid for the gig ... and Spin was well aware of that.
Ugh! Let's hope the ladies can work this out. Sad to see an iconic group come to this.
Photo: DFree / Shutterstock.com
​ ​
​ ​ ​