Jordyn Woods Isn't Here For Larsa Pippen's Messy Comments About Always Being 'Suspicious' Of Her & Tristan Thompson
​
Jul 09 | by _YBF
​ ​ ​ ​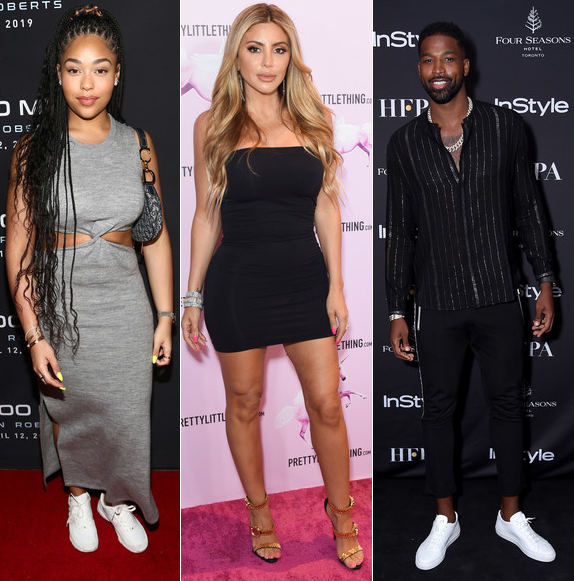 Larsa Pippen is throwing shade at Jordyn Woods over the Tristan Thompson drama and the 21-year-old is throwing it right back. More inside...
Nope. Jordyn Woods is not going to stand for Larsa Pippen (of all people) trashing her name in the media.
It's interesting when folks who have their own cheating drama going on speak down on someone else's situation. To quickly catch you up to speed - NBA Hall of Famer Scottie Pippen filed for divorce from Larsa Pippen in October 2016, following the Future cheating drama.
The couple reunited and was "back on" Summer '17 and then Larsa filed for divorce in November 2018. Now, she's supposedly dating Toronto Raptors player Eric Moreland. Hmph.
Larsa Pippen Hits the Club with Rumored Boyfriend Eric Moreland pic.twitter.com/QKb1Bs0djp

— Gospel Music (@MekoStarr) June 28, 2019
As if she doesn't have enough of her own drama going on, Larsa is throwing shade at 21-year-old Jordyn Woods...yet again.
During a June 24th interview with Hollywood Unlocked, Larsa shared she has always been "suspcious" or Jordyn and Tristan due to some supposed awkward encounters with them. You'll recall, Hollywood Unlocked broke the Jordyn x Tristan story. The site called up Larsa before the story went live to give the Kardashians a heads up that Kylie Jenner's bestie was messing around with the Cleveland Cavaliers baller - who has a daughter with Khloe Kardashian. Once she got the call, Larsa said the first person she called when she found out Jordyn & Tristan hooked up at a party was Kim Kardashian.
"I called Kim. She didn't believe me. She was like, 'No way. There's no way,' " Pippen said. "Then we called Kourtney and Kourtney was like, 'Yeah, I believe it.'"
As you know, Jordyn and Tristan ended up kissing after partying at him home in LA right after Valentine's Day. In her "Red Table Talk" interview, Jordyn admitted Tristan kissed her, but confirmed she did NOT have sex with him. Larsa claims previous interactions between the Eyelure ambassador and the NBA baller had her and Kourtney Kardashian giving them the side eye.
"Because there were other situations where [Jordyn and Tristan] were in the same room together and it was like, a weird feeling. And Kourtney was in that room."
In the "Keeping Up With The Kardashians" season finale, fans saw Larsa call up Kim to tell her what had went down. After the scandal broke, Larsa also threw shots at Jordyn on social media, writing, "Can't wait to see which version of her story she tells. Hope it's the same she told @khloekardashian when she checked her."
The unmitigated GALL of it all. Larsa must have forgotten that she, too, was rumored to be cheating with Future while she was still married to Scottie Pippen.
Check it at the 21-minute mark:
No worries though. Jordyn - who just released her new Boohoo collection - served up a classy clap back with some BOMB pictorials. In the caption, she wrote, "heard it all before."
Check it:
Bloop!
Photos: Getty
​ ​
​ ​ ​