Bow Wow Accused Of Physically Assaulting Exes Ciara & Erica Mena, Kiyomi Claims He Allegedly Caused Her To Have Miscarriage
​
Jul 03 | by _YBF
​ ​ ​ ​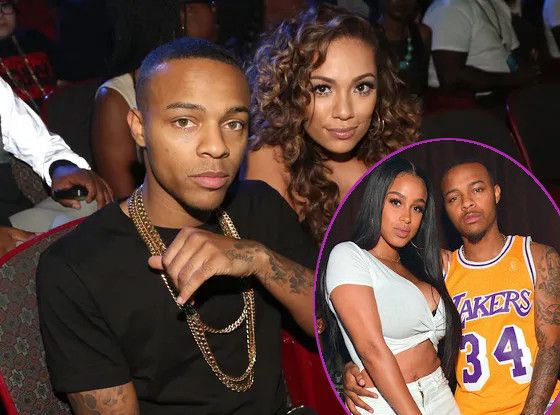 Some serious physical assault allegations are being made about Bow Wow from his ex-fiancee Erica Mena and his most recent ex-girlfriend Kiyomi Leslie....
Physical assault accusations are being thrown Bow Wow's way from two of his exes. His former fiancee Erica Mena and his ex-girlfriend Kiyomi Leslie have opened up about alleged abuse they suffered at the hands of the "Growing Up Hip Hop: Atlanta" star/producer.
Kiyomi Leslie had Twitter in a frenzy when she posted up (and then deleted) a series of tweets detailing how Bow Wow allegedly physically assaulted her. Last year, she revealed she suffered a miscarriage, but said it was due to stress. Now, she claims Bow Wow punched her in the stomach and that's the real reason she lost the baby. She said his mother knew about about her son allegedly beating on her and called her "trash." She claims to have tons of receipts to "embarrass" him, his mother and everyone around him.
Here's what she tweeted (and deleted) below:
"Bro some ni**as you wish you never got involved with. Lord that ni**a is a corn BALL. He keep telling lies on my name and imma embarrass you, your momma, and everybody you deal with! PROMISE"

"I didn't put my bruises on tv because I don't have too. The police saw them but when I do put them on the "gram" he gonna have an excuse for how I got them too huh? LoI if y'all believe that lame a** ni**a didn't do NOTHING. Y'all need to be in a mental home with him and his momma…"

"Bet he won't tell y'all the police been called out more than that one occasion and his family lied & covered for him that time. He beat me while I was pregnant. Punched me in my stomach & all… lost my baby and still covered for the weak a** ni**a"

"k I have receipts… for everything! Don't PLAY WITH ME ! Play with your fckn children… play in traffic but don't not play with ME! On YOU!"

"His weak ass momma called me sounding all concerned that her son beat me… TERESA KNEW her son beat me numerous times and still got on national television to lie… YOU LUCKY MY MOMMA RAISED ME TO RESPECT WOMEN BECAUSE WHEEEEEW ! Trashhhhh"
Reality star Erica Mena - who got engaged to Bow Wow in 2014 - co-signed Kiyomi's accusations. She responded to a fan's comment on Instagram confirming he used to abuse her and she spilled tea about Bow Wow allegedly breaking his ex-girlfriend Ciara's finger.
"Trust. BELIEVE HER!," Erica wrote.

"Here come all the people that love to dismiss women about their hurts," a fan commented. " Y'all don't remember Erica Mena said some of the same things about Bow Wow. No one ever listens to women!," the fan continued.

"I'm the tough girl so my story was never the truth but y'all see how round 4 played out. He broke Ciara finger years ago, so this been going on," Mena responded to the fan.
Oh wow!
A few weeks ago, the rapper/actor/reality star - who just released a new mixtape titled Greenlight 6 - shared photos of his smashed car windows after someone went postal on his G-Wagon:
Flicks of his busted G-Wagon came out not long after he was featured on "Growing Up Hop Hop: Atlanta" all boo'd up with one of Kiyomi's friends:
Back in February, both Bow Wow and Kiyomi were arrested on battery charges after a fighting. Cops said both were arrested because visible injuries were seen on both. See their injuries HERE. Bow Wow has yet to respond to the assault allegations, but we all know he will soon.
Photo: Getty/ATLpics.net
​ ​
​ ​ ​