While You Were Brunching & Chillin' Sunday, The NBA Basically Changed Completely
​
Jul 01 | by _YBF
​ ​ ​ ​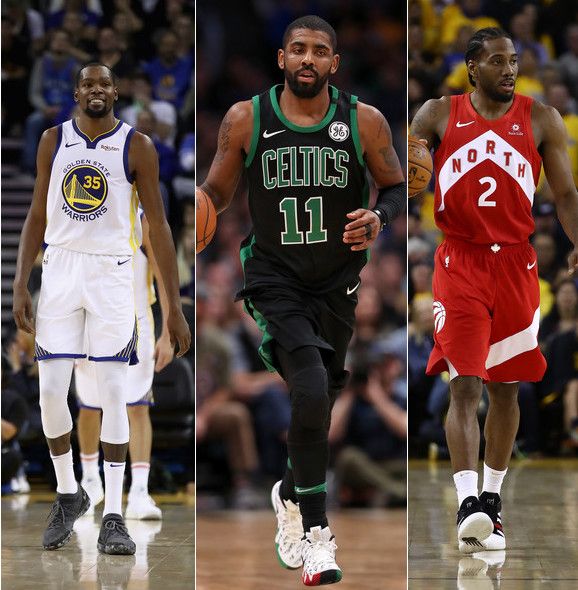 The whole NBA just changed...for the better. The upcoming seasons are going to be way more competitive. Here's what went down yesterday in case you missed it.
The NBA just did an overhaul while you were doing your usual Sunday ish like brunching and chillin'. And everyone is STUNNED.
According to ESPN, the sports world just witnessed the most transactional day in NBA history!
The league is now super competitive as the free-agent frenzy has lead to a wide open championship race. It's the biggest transactional season since 2014-15, when the Miami Heat broke up and LeBron James went back to the Cavaliers. The league is full of possibilities and it seems any team could be in the running for the Larry O'Brien Trophy next summer.
The Golden State Warriors have even more competition on their journey back to a championship.
Small forward Kevin Durant - who will likely miss the entire 2019-20 season after rupturing his Achilles during the NBA Finals - will reportedly sign a four-year, $164 million contract with the Brooklyn Nets. And he's not the only superstar joining the team.
Boston Celtics point guard Kyrie Irving will be joining the Brooklyn Nets where he will reportedly sign a four-year, $141 million contract. New York Knicks center DeAndre Jordan is also joining the Nets on a four-year, $40 million contract. By the way, the Knicks have been trending since yesterday because the fans are salty as hell.
Kyrie also signed to Roc Nation Sports (where KD is currently also managed), so now it makes sense that both are headed to BK.
It's reported the Knicks struck out on getting KD and Kyrie. Not only that, they also failed to land No. 1 overall draft pick Zion Williamson (who ended up with the New Orleans Pelicans), so Knicks fans are hurting right now. Check on them and make sure they're good today. Hope Knicks superfan Spike Lee is OK this morning. Ha!
Seattle Seahawks quarterback Russell Wilson addressed the Nets' moves via Twitter:
3 days ago... y'all were acting like we were all good...

Now @KDTrey5 & @KyrieIrving come along and y'all kick me to the curb...

don't worry I'll be back @BrooklynNets pic.twitter.com/qRkKR2aNkZ

— Russell Wilson (@DangeRussWilson) July 1, 2019
Ha!
Source: It's a full five-year max for Klay Thompson, not a 4+1. No player option on the fifth year. No 'no trade' clause. Just like the Steph Curry contract a couple summers ago.

— Anthony Slater (@anthonyVslater) July 1, 2019
One of the biggest moves that didn't entail leaving his team - Klay Thompson with a SUPER secured bag from the Warriors. He's out for much of next season with an ACL injury, but the Splash Brother just nabbed a 5-year, $190M contract. That's HUGE. Only a couple people in the NBA have anywhere near that amount of coins in their contract or more, one being his teammate Steph Curry. This also means he's remaining in the Bay until he's at least 34 years old. Somebody said he's now in prime Kardashian territory with this new contract, especially since his name already starts with a K. Teehee....
Portland Trail Blazers shooting guard/point guard Seth Curry - Steph Curry's brother - just signed a four-year, $32 million deal with the Dallas Mavericks:
Seth Curry to sign 4-year, $32M deal with the Mavericks, according to multiple reports https://t.co/SaQBEJ0kQU pic.twitter.com/rKCbPArDPn

— Sports Illustrated (@SInow) July 1, 2019
After leading his team to the franchise's first NBA Title, Toronto Raptors small forward/shooting guard Kawhi Leonard is a free agent. The Finals MVP could choose to stay in Toronto (if they cough up some MAJOR coins), or he could joing the Clippers and make the 2019-20 season INSANE. Or, he may choose the Lakers, which would add some major power to the team as he would be playing with LeBron James and new addition Anthony Davis. Who knows. It's now a waiting game to see where he ends up.
Nets baller D'Angelo Russell got traded to the Warriors, joining Steph, Draymond Green, and Klay Thompson. According to reports, Thompson just agreed to sign for a full five-year maximum contract worth $190 million with no caveats attached. Also, the Warriors reportedly traded veteran forward Andre Iguodala to the Memphis Grizzlies, ending an era for the Warriors.
Philadelphia Sixers lost Jimmy Butler to the Miami Heat after he agreed to a four-year, $142 million free-agent contract with the organization.
Oh, and there's MUCH more. ESPN reports:
Meanwhile, the Northwest Division has turned into an arms race with the Utah Jazz loading up their team by trading for Mike Conley, then adding Bojan Bogdanovic and Ed Davis on Sunday. They join the Denver Nuggets, who elected to pay Paul Millsap $30 million to keep him and locked down Jamal Murray with a five-year contract extension, as legitimate contenders to win the West.

Then there's the Portland Trail Blazers, who are coming off the conference finals and re-signed Damian Lillard and Rodney Hood. Not to mention the Oklahoma City Thunder, who have two All-NBA players in Russell Westbrook and Paul George.

The Dallas Mavericks, who will be getting freshly re-signed Kristaps Porzingis back, and New Orleans Pelicans, who now have one of the deepest teams in the conference after signing JJ Redick and trading for Derrick Favors, will both be playoff contenders.

Coming off a 60-win season, the Milwaukee Bucks kept key players Khris Middleton and Brook Lopez to space the floor for MVP Giannis Antetokounmpo. But they had to let valued guard Malcolm Brogdon go due to cost reasons, perhaps slightly bringing them back toward the pack.

Brogdon went to the Indiana Pacers, where he is expected to eventually join a recovering Victor Oladipo to create a powerful backcourt that could see them become more of a factor. The Detroit Pistons added another scoring and playmaking option by signing Derrick Rose as they look to return to the playoffs.
Whew! It's a totally different NBA! And we're not mad at it. Let the games - and the money flow - begin!
Photos: Getty
​ ​
​ ​ ​