Kamala Harris Got Joe Biden Together During The #DemDebate! She's Declared The Winner, But Not Everyone Is Convinced
​
Jun 28 | by _YBF
​ ​ ​ ​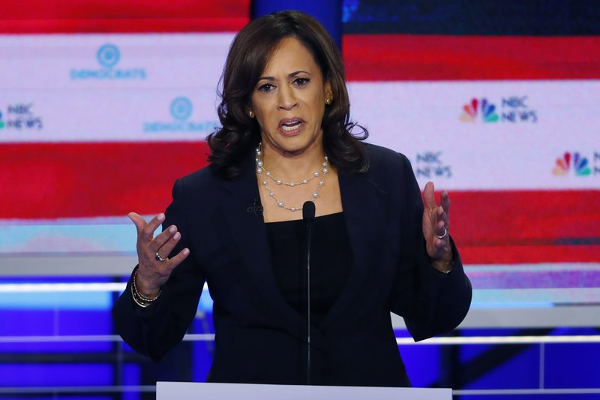 Kamala Harris came prepared for war at last night's Democratic Debate and she ripped former Vice President Joe Biden to shreds with an emotional speech. More inside...
Things got heated during the Democratic Debate last night as presidential hopefuls fight for a spot to run in the 2020 Presidential Election.
Sen. Kamala Harris stole the spotlight with an emotional speech that put former Vice President Joe Biden on FULL blast.
Sen. Harris confronted Biden over his record on race, delivering a personal story that had Biden shocked AF. After her speech, his face literally said it all.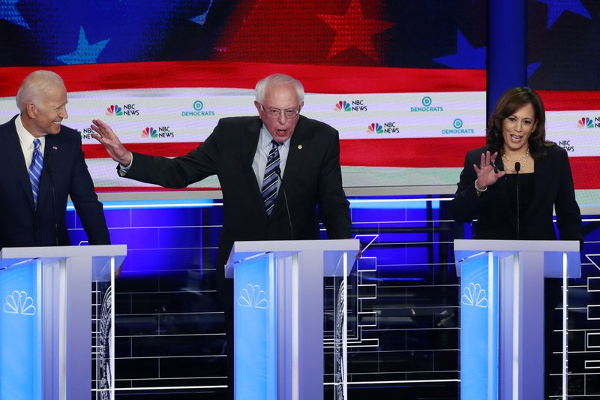 When she started with, "As the only black person on this stage, I'd like to address the issue of race," we knew ish was about to get real.
Sen. Harris - the 54-year-old junior senator from California - went after Biden, 76, over his history in the Senate where he supported opposing policies to bus students to integrate schools, and his recent controversial comments about his work with senators who supported segregation. Harris was one of those students affected by the segregation laws and she made sure everyone felt what she went through years ago as a kid.
"It was hurtful to hear you talk about the reputations of two United States senators who built their reputations and career on the segregation of race in this country," Harris said as she looked directly in Biden's eyes. "It was not only that, but you also worked with them to oppose busing."

"There was a little girl in California who was part of the second class to integrate her public school and she was bused to school every day," Harris continued. "And that little girl was me."
Chileeeee! Biden looked as if he was going to pass out. He clearly wasn't expecting this, and it showed.
Peep the clip below:
Biden tried to say she was wrong, that he wasn't opposed to the idea of bussing, but he was opposed to it being enforced by the federal Department of Education. Tomayto, Tomahto. NBC's post-debate fact checkers called his rebuttal a lie, and so did Twitter:
Dear @JoeBiden,

Is this your signature?

Last night you lied to @KamalaHarris and to the American people when you said you weren't against busing to integrate schools.

You were.

Here is your letter to a white supremacist where you call it your:

"ANTI-BUSING LEGISLATION." pic.twitter.com/CRnl0d1HTc

— Shaun King (@shaunking) June 28, 2019
Looks like "time's up" for Biden. Or is it?
During the debate, Kamala Harris' social media team put up posts with her throwback pic along with the caption, "There was a little girl in California who was bussed to school. That little girl was me." So, it was likely pre-planned.
There was a little girl in California who was bussed to school. That little girl was me. #DemDebate pic.twitter.com/XKm2xP1MDH

— Kamala Harris (@KamalaHarris) June 28, 2019
In a post-Dem Debate interview, she talked about how if segregationists had their way, she (and tons of others) wouldn't be where she is now:
If those segregationists had their way, I would not be a member of the United States Senate, and I certainly would not be a serious candidate for president of the United States. pic.twitter.com/iQi3TeNZ4G

— Kamala Harris (@KamalaHarris) June 28, 2019
After leaving the stage, she asked voters for their support:
Thank you for your support tonight. I need your help to get to the finish line. Please donate and help us get there. https://t.co/KP5GtU3QGo pic.twitter.com/nrjWKCdro3

— Kamala Harris (@KamalaHarris) June 28, 2019
Sen. Harris' presidential campaign is an overdrive. On her website, she's already selling "That Little Girl Was Me" T-shirts, featuring a picture of her as kid as the backdrop. They'll run you $29.99 to $32.99.
Across social media and cable news, spectators and commentators declared Kamala Harris as the runaway winner of the night.
Power 105's Charlamagne Tha God (and plenty others) gave the stamp of approval too:
Sen. @kamalaharris is on fire. She just needs to finish one sentence with #Periodt and she will be number one in the polls tomorrow. #DemDebate2

— Charlamagne Tha God (@cthagod) June 28, 2019
Kamala Harris would mop the floor with Donald Trump in a debate.

— Mikel Jollett (@Mikel_Jollett) June 28, 2019
If your definition of electability is "the ability to pander to conservative baby boomer white dudes," Joe Biden has it.

If your definition of electability is "the ability to kick Donald Trump's ass all over a debate stage," Elizabeth Warren and Kamala Harris have it.

— Adam Best (@adamcbest) June 28, 2019
If I may exercise a point of black-privilege here. Allow ME to explain why @KamalaHarris's debate with @JoeBiden is not merely resurfacing his past (terrible) positions, but is actually about how he'd deal EXACTLY the kind of segregation black and brown people STILL fight against https://t.co/wBGc9DRZIm

— Elie Mystal (@ElieNYC) June 28, 2019
Kamala Harris tore joe biden a new asshole on bussing. I'm personally not a fan of Harris given her prosecutorial and corporate friendly record. But damn, this was a satisfying #demdebate exchange.

— Rania Khalek (@RaniaKhalek) June 28, 2019
I'm white a Woman and I'm not American, Kamala Harris was right on point every time.
— Heidemarie Peters-Voigt (ALL DMs BLOCKED) (@HeidemarieVoig) June 28, 2019
However, everyone isn't convinced.
The screenshot of the deleted tweet of Trump Jr (the pathetic son whose father ghosted him and hopes to one day be a lap dog to Putin's lap dog) questioning whether Kamala Harris is black - for those of you asking for it since the media isn't reporting on it pic.twitter.com/w6m2ADlUSy

— Adam Parkhomenko (@AdamParkhomenko) June 28, 2019
Of course Trump Jr. had a ridiculous Tweet & delete.
Last night @KamalaHarris claimed she was in the "second Integrated class" at the Berkeley school she attended. But yearbook pictures show the school had been integrated—before she was born.https://t.co/crBlyDGbVy#DemocratDebate

— Larry Elder (@larryelder) June 28, 2019
kamala harris last night: "we cannot separate parents from their children"

kamala harris's record: *separating parents from their children*

— juliana pache (@thecityofjules) June 28, 2019
True, but Harris should be careful. Her record as a prosecutor had poor outcomes for minorities. Sometimes policies have unintended consequences and now she will have to answer for that. She put "the old white guy" in his place, but she'll need old white guys to win the election.

— Lisa1 (@ThisHereLisa) June 28, 2019
Pete Buttigieg seemed the only authentic or genuine political candidate on the podium last night. Kamala Harris was impressive, but her routine seemed planned or even rehearsed. Particularly her attack of Joe Biden.

— Mark James Lawicki (@JamesLawicki) June 28, 2019
Meanwhile, this happened this morning:
I am so proud to be a Democrat. @KamalaHarris, @SenGillibrand and @PeteButtigieg are arm-in-arm, the morning after a debate, to shine a light on the injustices happening at the Homestead private detention center. What's happening here is wrong. pic.twitter.com/0rRnnRNEG2

— Ian Sams (@IanSams) June 28, 2019
The primaries kick off February 2020. Now's the time to start paying attention, folks!
Photos: AP Photo/Wilfredo Lee
​ ​
​ ​ ​