Cardi B. Drops Court-Inspired Video For 'Press', Just After Pulling Up In Court For Her Real Life Assault Case
​
Jun 26 | by Natasha
​ ​ ​ ​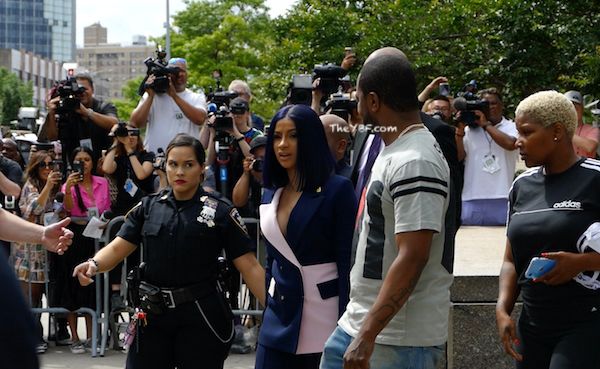 Ding Dong! Cardi B. is holding MAJOR court in the courtroom in her brand new "Press" video. And her fans are already calling it legendary. Watch inside.
She's arrived. And she's trying to stay out of jail - both on screen and for real for real.
Directed by Cardi herself and Jora Frantzis, the visuals for her new single "Press" were all about her flexing her creative skills while playing off her real life situation. We doubt the judge and prosecutors in her ongoing assault case are here for this type of "artistry", but something tells us she gives zero f's. Watch below:
Cardi's stylist, Kollin Carter, chose that white Viktor and Rolf suit as the perfect over-the-top interpretation of the new courtroom queen. The raptress also thanked everyone else involved:
As for the case she just received umpteen indictments in, Cardi pulled up in Queen County Criminal Court yesterday in New York to plead Not Guilty to all 12 charges.
She, along with two other defendants in the case, Tawana "RemyRojaLaPerla" Jackson-Morel and Jeffrey "AstonMartinChuck" Bush, are accused of organizing an assault on two strippers at Angel nightclub whom Cardi believed were sleeping with her husband Offset.
The Associated Press reports:
"Not guilty, sir, honor," said the rapper dressed in a dark blue and light pink pantsuit with her hair tinted blue as she pleaded in state court to two counts of attempted assault and various misdemeanor charges, including harassment, criminal solicitation, conspiracy and reckless endangerment.

She didn't speak to reporters as she entered and left the courthouse, but waved at a small crowd of fans who shouted her name and took video on their cellphones."
As you recall, an irate Cardi was seen on video at the club the night the two strippers claim they were attacked. Reportedly, a fight broke out in which chairs, bottles and hookah pipes were thrown, causing minor injuries to the woman and another employee.
Offset was also seen at the bar speaking to at least one of them.
Photo: MEGA
​ ​
​ ​ ​