2019 BET Awards: Blac Chyna Serves Up Southern Belle Dolly Parton Realness
​
Jun 23 | by _YBF
​ ​ ​ ​
What in the Black Dolly Parton hell was Blac Chyna thinking? More of her look for the 2019 BET Awards inside...
Blac Chyna is living life in the fab lane these days. And she's not giving any f****.
The Lash Boutique rolled up to the 2019 BET Awards at the Microsoft Theatre serving up black Dolly Parton realness. Chick rocked a blonde wig styled in Dolly's signature stile while posing it up in a red high slit Bryan Hearns gown, topping her look off with red roses in her hair. The mom-of-two has been busy filming her own reality TV show, "The Real Blac Chyna," which airs on the Zeus Network.
We see she doesn't skip leg day.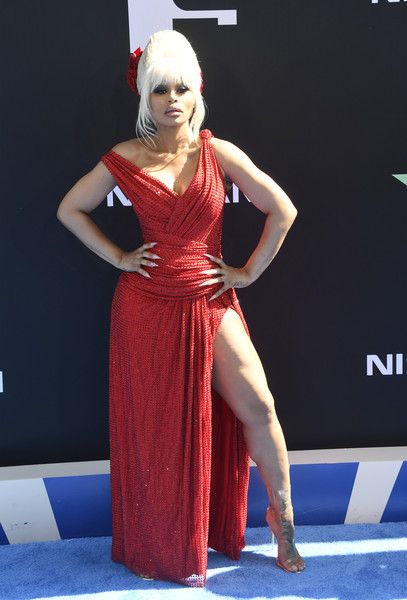 A former friend of Chyna's is accusing her of messing up his opportunity to make it big as a gay rapper.
Andre Xcellence told Page Six he and Chy were planning to make music together, but she allegedly went M.I.A.on him after he coughed up thousands of dollars for the project they were doing together.
"I was her gay. We were friends for a couple of years. I have a recording studio. She came in for some sessions with her team and we became fast friends. She knew my music and was a big supporter," he told Page Six.
He claims Chy approached him about making music together after the Karadashians tossed her to the curb.
"I was there the day that the Kardashians sent her a 'frenemy' cake to her house. She was so ­upset and talking about how mean they were to her and I believed it. I believed her and all of her nonsense," he said.
The aspiring artist claims he put up $35,000 for the project, but Chyna never showed up for the shoot.
"She came up with the treatment and idea. She wrote herself into the concept. I went ahead and found investors and I spent $35,000," he claims. "She showed up for rehearsal but never came to the shoot. It was supposed to be a big breakout moment with her and we would've been doing LA Pride and then she backed out," he said. "She disappeared and told me months later she's not doing music right now."
Damn.
"I thought she was my friend," lamented Xcellence. "She wouldn't do this to a straight rapper. Because I'm the 'gay artist,' the little guy, she thinks there are no repercussions," he said.
Xcellence has plans to release visuals for his track "Break a B*tch" and he fires shots at Chy in the song rapping, "I'll break a bitch like Chyna did Rob/like Caitlyn did Kris."
"I am going to release the video . . . Chyna specifically asked me not to because it would damage her relationship with the Kardashians even further," he said.
More money, more problems. But in the meantime, floss with ya Dolly Parton a--.
Photos: Getty/Instar
​ ​
​ ​ ​