[UPDATE] Tory Lanez Calls Out Colorism On The Set Of New Video + Model Claims He Staged The Incident, Singer Responds!
​
Jun 17 | by _YBF
​ ​ ​ ​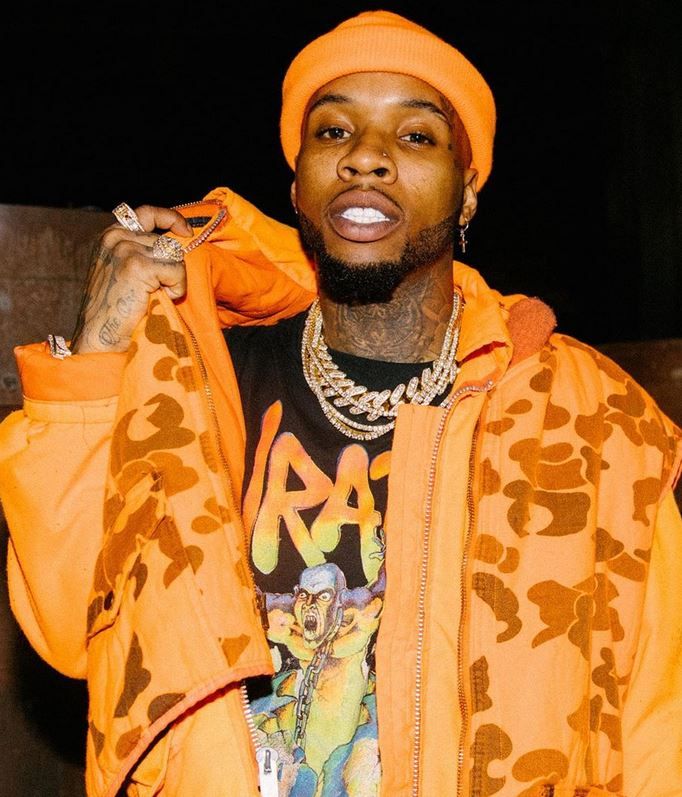 Singer Tory Lanez has had enough with colorism and just put the music industry on blast. See his declaration inside...
[UPDATE]: The darker-skinned model in the video - Sultry Shen - is speaking out and she claims Tory Lanez staged the whole "colorism" incident.
"Where is the scene then if @torylanez wanted me so bad?!!! #fakenews," Shen wrote on her Instagram story. "Tory asked for both me and the light skinned girl to do solo shoots. When it was her turn, he said cut the video to make it appear as if it had something to do with race. I know the directors very well."
She tagged the director Capone & Guise in her IG story. The director posted an IG story that said, "Hmm...Interesting."
Tory responded to her IG story, writing in the DMs, "Yo. I'm glad u [sic] made the cut. And people got to see what really happened. Keep doing u baby girl."
She posted a screenshot of Tory's DM and wrote, "You should of [sic] had this same energy on set! #SetUpOnSet."
After that post, she shared a screenshot of someone from Tory's camp reaching out to her saying Tory was going to contact her. She wrote on the screenshot, "Please don't contact me Mr. ToryLanez! I don't get star struck! #SetUpOnSet"
Then, Tory hopped on his IG stories to respond: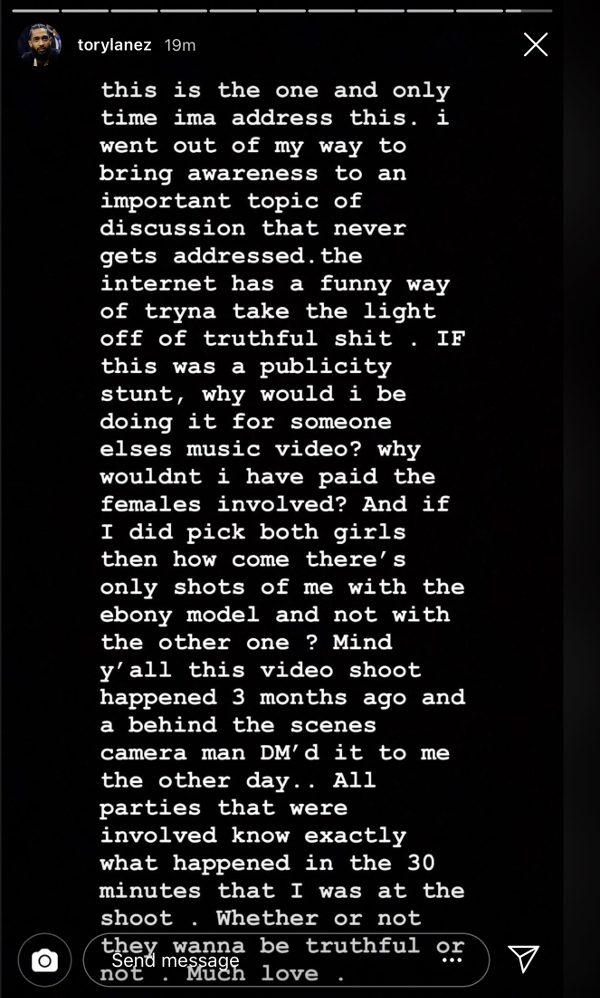 Lordt.
-------------------------------------------------------------------------------------
Tory Lanez is fed up and he's letting the world know why. We stan an artist who uses his platform to denounce an -ism that heavily affects black women.
He's sick of directors colorist antics on his music video sets, so he's calling them out on it.
Over the weekend, the singer posted a behind-the-scenes clip of himself filming Nafe Smallz's "Good Love" video. In the clip, a darker-skinned woman is dancing next to him. At some point, it seems someone from behind the cameras asks the darker-skinned woman to leave and replaces her with a lighter-skinned woman to be featured.
It's hard to make out, but Tory says something like "We don't even need that," and walks up to the lighter-skinned woman and tells her she's beautiful. They go back to filming and the darker-skinned woman is back on set.
The "Say It" singer posted the clip on his Instagram page, calling out the industry for colorism. He said colorism in the industry isn't going to stop if artists don't stand up, and speak out for black women. And he's totally right. He admits to poking fun at the black community, but said he's no longer standing on the sidelines as others continue to devalue black women.
"This is an On -Going problem in our community of entertainment that needs to stop," he wrote in the caption. "As a black man , Sometimes I'm going to joke about the black community just like we all do . BUT WHAT IM NOT GOING TO DO IS ALLOW ANY OF THESE DIRECTORS TO DE-VALUE OUR BLACK WOMEN ... countless times I've seen directors swap out our women of color for women of lighter complexion, or women with straighter hair ETC . ... IT IS OUR RESPONSIBILITY AS ARTIST TO STAND UP AND NOT LET THIS HAPPEN .. it's BEEN time to embrace our woman of color #BlackIsBeautiful"
Check it:
Whether or not this was a staged scene to promote his new video is besides the point. The fact he's speaking out on a topic we rarely see black male artists speaking up about is something to clap for.
The more you know, the more you grow.
Peep the full video below:
Speaking of colorism in the music industry, it seems "Ice Me Out" rapper Kashdoll is dealing with her own bout of being "too dark-skinned." She said she has never experienced colorism until now:
It's crazy i remember saying i haven't witnessed Colorism just yet in the industry... well it happened! This guy don't even wanna clear this beat Bc of my skin tone or unless i get another woman on the hook that's a lighter complexion... just wanted to share that with u guys

— Kashdoll Sr. (@kashdoll) June 16, 2019
She previously said on Instagram that she "didn't believe in colorism" and wondered if it was because she had yet to experience it.
Thoughts?
Photo: Tory's IG
​ ​
​ ​ ​