TAKING A STAND! Tiffany Haddish Postpones Atlanta Show Over GA's Anti-Abortion Laws, Goes On Rant About Why She's Single
​
Jun 16 | by _YBF
​ ​ ​ ​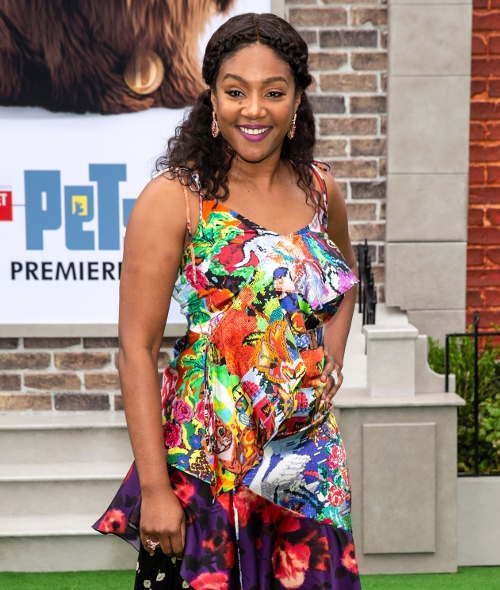 Tiffany Haddish is taking a stand for women! She has postponed one of her shows in Atlanta due to the state of Georgia's anti-abortion law. Deets on her show, plus her rant about why she's currently single inside...
We all know Tiffany Haddish is about making jokes and cutting up where she's at. But, when it comes to women's issues, the Hollywood actress gets serious.
The Secret Life of Pets 2 star has postponed her June 22nd show at the Fox Theatre in Atlanta because of Georgia's highly controversial anti-abortion "heartbeat" law.
The Girls Trip star released a statement, saying she can not perform in the state "in good faith" unless the heartbeat bill is withdrawn.
"After much deliberation, I am postponing my upcoming show in Atlanta. I love the state of Georgia, but I need to stand with women and until they withdraw Measure HB481, I cannot in good faith perform there," the Night School actress said in a statement released Saturday.
The theater is offering refunds to ticket holders.
Georgia Governor Brian Kemp signed into law one of the nation's most restrictive abortion bans, which bans abortions after a fetal heartbeat can be detected. A heartbeat can be detected as early as six weeks into pregnancy. He signed the bill into law on May 7th and it's set to go into effect January 1st.
Netflix, ABC, and Walt DIsney have threaten to boycott filming in the state of Georgia over the bill. A slew of Hollywood movies and television shows are filmed in GA due to the state's favorable tax incentive. Production companies get a 30% tax break for filming in the southern state.
In other Tiffany Haddish news...
The EMMY winner hopped on Twitter to set the record straight about her love life. Yes, she's single. No, she's not thirsting after a man, even though she may act like she is when she's doing interviews and red carpet appearances.
Right now, Tif is focused on trying to heal from her past relationships and she's focused on self-care and self-love.
I want you to know the truth. I am not looking for a man right now, I am still trying to heal from my other "Great" relationships. Dang men making videos cause they can't take a joke. If I was dating someone the world wouldn't know about it unless he wanted it that way.

— Tiffany Haddish (@TiffanyHaddish) June 11, 2019
I tell the media all these things I want in a man some are really and a lot of my deal breakers are fake. Why would I tell the world what my real deal breakers are so a man can pretend till he got my heart. Fuck did that already.

— Tiffany Haddish (@TiffanyHaddish) June 11, 2019
While she's taking time to love herself, if the opportunity for a healthy relationship presents itself, she's not totally against it:
I have been in lots of relationships. Right now I am focused on the one that really counts the one with Me. I am doing really Good in this one I give Me whatever I want and I know how to make me happy. maybe in a few years we might let someone else in.

— Tiffany Haddish (@TiffanyHaddish) June 11, 2019
It's the world that thinks I need a somebody. We "Me,Myself, And I" think not right now we just getting our thing strong. And we building a Empire no time for Needy relationships.

— Tiffany Haddish (@TiffanyHaddish) June 11, 2019
She also has a message to all the men who think she's thirsting after them:
So too all the fellas that think "oh Tiffany wants me" or "Tiffany is thirsty" just know I want you to make me some money and I am Thirsty because I work really hard and everybody don't sale Alkaline water with a PH of 8 or higher.

— Tiffany Haddish (@TiffanyHaddish) June 11, 2019
Ok Now everybody Have a Good Day! Because we will.

— Tiffany Haddish (@TiffanyHaddish) June 11, 2019
"The Last O.G." star even responded to some of her fans about her singledom:
Yazzz it's always great to invest in you but you must keep your mind open to meet others and if you meet someone worthy then you can share your heart!

A closed mind can cause you to pass up the the one who could be the love of your life.

Yazz it's all about you!

— HoneyOhannaTene on FB & Instagram (@HoneyOhannaTene) June 11, 2019
It's not hard but why get one if I am not going to take care of it . I am focused on other things in life. If I have to say things to keep them at bay Till I accomplish my goals I will. Love from someone special isn't hard to find keeping it is work that I am not up for right now

— Tiffany Haddish (@TiffanyHaddish) June 11, 2019
That Part

— Tiffany Haddish (@TiffanyHaddish) June 12, 2019
And there you have it.
Photo: Ovidiu Hrubaru / Shutterstock.com
​ ​
​ ​ ​