Disturbing Video Shows Cops Hold Arizona Family At Gun Point + Family Plans To Sue City Of Phoenix For $10 Million, Jay Z Reportedly Pitches In
​
Jun 15 | by _YBF
​ ​ ​ ​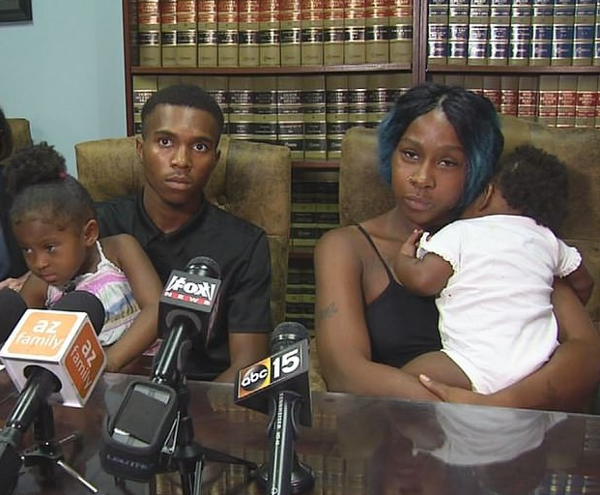 An Arizona Family is suing the city of Phoenix for $10 million after they were held at gun point after their four-year-old walked out of a store with a $1 Barbie doll. See the shocking and disturbing video of the encounter and deets on their lawsuit inside...
An Arizona Family is suing the city of Phoenix for $10 million after a horrific encounter with the police.
The young, black family - Dravon Ames, 22, his pregnant fiancée Iesha Harper, 24, and their daughters, Island, 4 and 1-year-old London - was held at gunpoint after their 4-year-old daughter walked out of the dollar store with a Barbie-like doll they hadn't paid for - unbeknownst to the parents.
According to reports, officers responded to a shoplifting report on May 29th involving a man and a woman with two small children in Phoenix. Video of the encounter was released this week, which shows the officers ordering the family to put their hands up and to get out of their vehicle. The officers unleashed a tirade of expletives at the family in front of the two small children escalating the situation to unnecessary levels.
"Get your f*cking hands up!" one officer screams over and over at the couple. "I"m going to put a f*cking cap right in your f*cking head! Get your f*cking hands up! Who the f*ck is that man?"
As she's holding her children, Harper tells the officers she can't open the door because it doesn't work properly. Officer threaten to shoot her.
"You're going to f*cking get shot!" he shouts, pointing a gun at the vehicle. "Are you f*cking deaf? Get out the f*cking car!"
"I can't put my hands up," Harper sobs. "I have a f*cking baby in my hands. I can't, I'm pregnant. Officer, he's overdoing sh*t. He's overdoing it."
Meanwhile, another officer escorts Ames out of the car, roughing him up as he puts him in handcuffs. He's seen slamming Ames' face against a cruiser, kicking his legs, and punching him in the back while he's pinned to the police car. The officer is screaming at Ames, ordering him "When I tell you to do something, you f*cking do it."
Ames kept his cool and calmly responded, "I didn't do anything, sir."
The other officer is seen screaming at Harper to put the baby down and he even tries to snatch the baby from her arms. Then he screams at her to put the baby down on the hot pavement. She refuses and a scuffle ensues.
Peep the disturbing videos below. WARNING! Explicit language is used in the clips:
Do you hear the tone of their voices ... they want to kill!!!! https://t.co/hnUiLxNRIG

— Meek Mill (@MeekMill) June 14, 2019
"My hands are up! My hands are up!" 22yo Dravon Ames says as a Phoenix police officer yells to "get your fucking hands up." The same officer later says "You're gonna fucking get shot!"

Ames says the officers stopped him after his child walked out of a Dollar Store with a doll. pic.twitter.com/Nlkd7IXsyc

— Meg O'Connor (@megoconnor13) June 12, 2019
Another angle of the incident filmed by a different resident of the apartment complex where Ames and his pregnant fiancee were dropping off their kids with a babysitter show a Phoenix police officer trying to yank the child from the mother's arms. pic.twitter.com/pTb07lZAXD

— Meg O'Connor (@megoconnor13) June 12, 2019
Disgusting.
According to the police report, Ames was interviewed and he allegedly admitted to shoplifting from the store as well and threw a pair of underwear out the window when he was leaving.
The store decided not to prosecute since both stolen items were returned. That's why no charges were filed, police said.
Phoenix Police Chief Jeri Williams posted a video statement to Facebook, saying she is "making contact" with the couple. She says "like you, I'm disturbed by the language and action of our officer," saying the incident is "not representative of the majority" of the police department.
Check it below:
Phoenix Police are investigating the incident of alleged misconduct.
A local clergy member advocating for, and speaking on behalf of, the family says that the Phoenix police department's claim that it will investigate to see whether excessive force was used is stunning in its audacity.
"Clearly, excessive force was used. Clearly, policies and procedure were not followed. Clearly, body cameras were not being utilized. Clearly, the officers felt empowered to be disrespectful and abusive," said Reverend Jarrett Maupin. "What we demand to know is, what kind of background these officers have? They held toddlers and a pregnant woman at gunpoint, grabbed a mother and infant by the neck, dislocated a 1-year-old's arm, endangered a delicate pregnancy, terrorized and tortured a young father, and nobody was charged or jailed. These officers must be held accountable. We want justice."
As of now, the police department will NOT identify the cops in the video.
Now, the family is gearing up to sue the city of Phoenix for $10 million, filing a notice of claim this week. They want $2.5million for each family member. Their attorney - Tom Horne- says the officers dislocated the 1-year-old's arm and that the father was also injured in the incident. They also allege false arrest, emotional distress and violation of their civil rights.
"He kicked me pretty hard. I'm still limping. He just seemed like he was trigger happy. He wanted to shoot someone that day," said Ames.
"After this, me and my daughters will never be the same anymore or feel the same for police because it seems like every police is out for blood or something. We wasn't really doing anything,' Harper said in a press conference.
It's reported Jay-Z's Team ROC - the philanthropic division of JAY-Z's Roc Nation - is looking into the incident to determine how they can assist.
Tragic and unnecessary.
Photo: AZFamily.com via 3TV/CBS 5
​ ​
​ ​ ​