Oh? Tessa Thompson Confirms She's Single, Says Her Sexuality Isn't Clickbait - Soak In Her Intergalactic Look At 'MIB' Premiere
​
Jun 14 | by _YBF
​ ​ ​ ​
Tessa Thompson says she's single and opens up about her sexual preference in her new cover story for Marie Claire. She also stunned on the carpet for the Men In Black: International premiere. Get it all inside....
Around this time last year, actress Tessa Thompson - above, rocking Alexander Wang in NYC yesterday - spoke out to semi-address rumors that she was dating Electric Lady Janelle Monae.
The CREED 2 actress had starred as Janelle's love interest in her Dirty Computer visual album and a few videos, walked the red carpet with her, and had been spotted on vacay with her being all cutesy. Then, that's when the rumors started.
Although some outlets ran headlines that she confirmed she was dating the Dirty Computer singer, it wasn't quite the case. She didn't flat out say she was dating Janelle or that they were officially a couple, but she didn't stop others from saying it either.
"We love each other deeply," Tessa told Net-A-Porter last summer. "We're so close, we vibrate on the same frequency. If people want to speculate about what we are, that's okay. It doesn't bother me."
We still don't know if the two were ever a couple. However, she's a single woman...now.
In her new cover story for Marie Claire's July 2019 issue, the 35-year-old actress - who's open about her sexual fluidity - confirms she's a single lady these days. It's unclear if she has always been single, or if she and Janelle broke up. She shared she didn't like how the media painted this picture about her sexuality for clickbait.
"I didn't like that," she says about the media scrutiny, an unpleasant occupational hazard. "We live inside such a clickbait space, where you say one thing about your experience and then it gets categorized by somebody else, and you get further and further away from the truth."
She mentions one writer who misrepresented her feelings about cats (let the record show: Thompson doesn't hate them; she's just allergic) and another interview in which comments she made about her sexuality—direct quote: "I'm attracted to men and also to women"—got spun by Internet gossip mongers as some sort of major coming-out moment.

The point is, people tend to run with their take on things. Like "Pynk": I frame it as a sort of feminist manifesto, but Thompson gently deflects. "I think I'm too close to it probably to see it the way you see it. Like, things got written about my head popping out of those pants. It wasn't that high-concept. We were just messing around. We had no conversations about me playing a clitoris. We knew it would look funny. You're making things with friends. Your friends start laughing."
You can read her full interview here.
Get to know Tessa a little more in her cute "Pop Quiz" below:
Meanwhile, on the promo trail...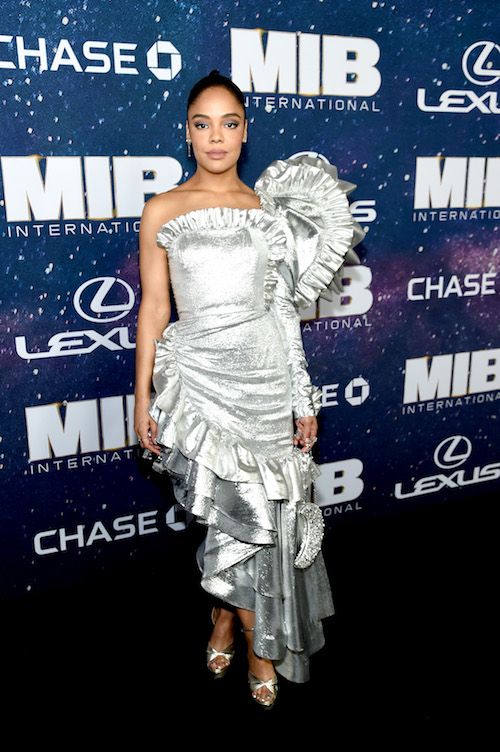 Tessa Thompson lit up the carpet when she pulled up at the NYC premiere of her new film, Men In Black: International, held at AMC Lincoln Square.
The Hollywood actress channeled intergalactic vibes in custom Rodarte - styled by Wayman + Micah - that had everyone on notice. As she made her way down the carpet, she snapped it up with her fine a-- MIB co-star Chris Hemsworth:
See the dress in motion below: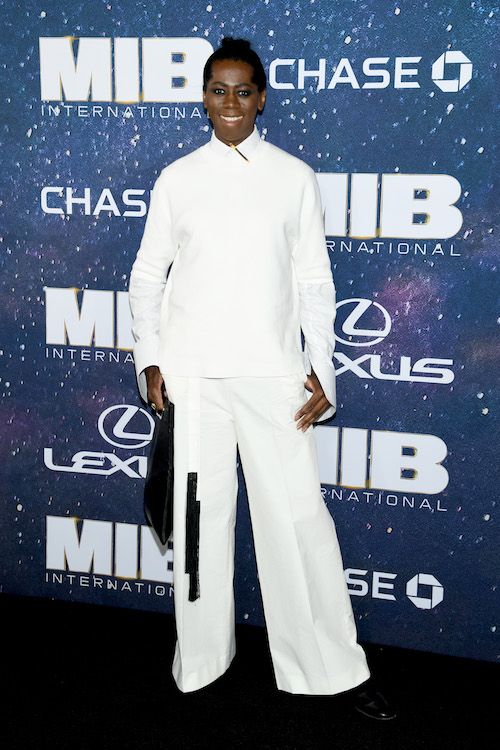 "America's Next Top Model" alum J. Alexander (aka Miss Jay) was also in the mix.
MIB: International is in theaters now.
Be sure to swipe through our gallery below of Tessa Thompson's fab looks as she trekked the promo trail in NYC!
Photos: Backgrid/Getty Images for Lexus
​ ​
​ ​ ​