Alexandra Shipp Stirs Up More 'X-Men' Colorism Controversy, Now She's On A Social Media Break + Regina Hall, Sam Jackson & More Hit The 'SHAFT' Premiere
​
Jun 12 | by _YBF
​ ​ ​ ​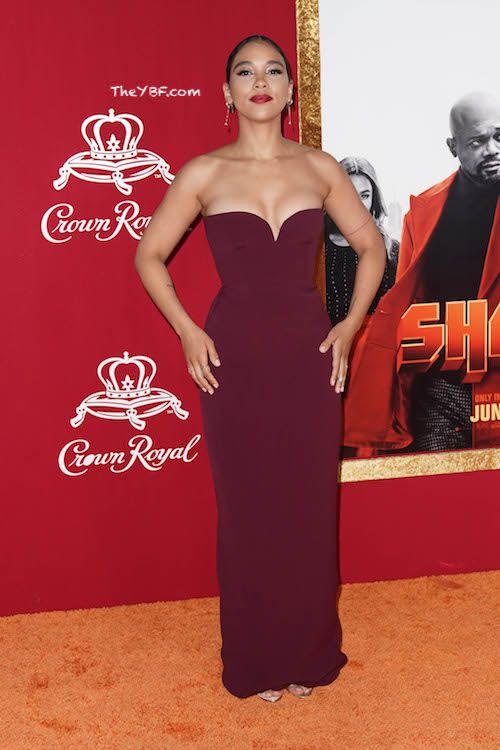 Alexandra Shipp found herself in more colorism controversy about her Storm character which has caused her to take a break from social media. Deets on what she said that has folks up in arms, plus flicks of Alexandra, Samuel L. Jackson and the rest of the SHAFT cast at the premiere inside...
Alexandra Shipp keeps finding herself in the middle of controversy when it comes to colorism and her X-Men role as Storm.
Halle Berry famously played Storm in the first four X-Men movies. In 2016, Alexandra Shipp took on the role in X-Men: Apocalypse, as well as in the newly released Dark Phoenix, which hit theaters June 7th.
Alexandra, who is bi-racial - has gotten plenty of pushback from fans about her acting skills (or lack thereof) and the fact that many fans believe Storm should be played by a dark skinned actress as skin color does play a part in the character's background.
And chick is still saying things that has folks coming for her. They believe her most recent comments are colorist and distasteful.
The 27-year-old actress was asked what her ideal Storm movie would look like and her idea included only lighter-skinned actresses.
"Okay, so this is what I've come up with," she said. "I think it'd be really cool if you had me and Halle [Berry] both teaming up together and fighting a baddie. We have to save the planet past, future, present and maybe throw in Yara [Shahidi] in there, and have her be a young one, or Amandla [Stenberg] be the younger one. I think it'd be even cooler. So I feel like we just gotta get a whole bunch of Storms together, because then people will just be like, 'Oh my God, that's so much Storm.'"
Check it:
#DarkPhoenix star @AlexShipppp wants to put herself, @halleberry, @Amandla, and @YaraShahidi together for the ultimate Storm movie. https://t.co/S3EG1qOUYA pic.twitter.com/iowqW8is88

— Brandon Davis (@BrandonDavisBD) May 23, 2019
Once Twitter got wind of her comments, they took it there:
Us when storm gets recasted for a beautiful dark skinned, black woman! pic.twitter.com/TExd2oiszK

— Gold Standard Ship (@AwesomeBamon) May 24, 2019
She said !!!!! LIGHTSKINS ONLY !!!!! EYEE had to laugh!

— discount duckie thot (@ihatefritos) May 24, 2019
No but #KikiforOroro pic.twitter.com/4ySaknyF67

— Ibrahim Amin (@ibzamin) May 23, 2019
um she's speaking but all I hear is bullshit what makes she think we even want or need her as our MCU Storm

— LET ME BE BETTER BY THE WEEKEND (@nofilterking) May 24, 2019
Alexandra, stop.

— Sam M. Huisache (@sammhuisache) May 24, 2019
We need dark skinned storm im tired of light skinned storm!!! Us light skins don't need it!!!

— buzz killington (@KendraDae) May 24, 2019
X-Men fans are over "light skin" Storms and they're very vocal about it. Apparently, the backlash has caused Alexandra to take a break from social media because she's sick of people twisting her words. She also said she doesn't regret what she said about casting Halle, Yara and Amandla because she said what she said:
.@AlexShipppp talks about her decision to stay off Twitter following criticism of comments she's made on the platform in the past pic.twitter.com/1nw2A3fVPr

— AM2DM by BuzzFeed News (@AM2DM) June 6, 2019
Oh.
Earlier this year, Alexandra popped back at If Beale Street Could Talk actress Kiki Layne after she said she was gunning for the role of Storm, which we think she would be perfect for. Get those deets HERE.
By the way, X-Men: Dark Phoenix bombed at the box office during its opening weekend.
Screen Rant reports:
Original projections had it pegged for about a $50 million debut, which would have been the worst start in the entire series.

Dark Phoenix was an outright disaster commercially, taking in $32.8 million domestically and finishing second for the weekend, behind The Secret Life of Pets 2. It's expected Dark Phoenix will lose at least $100 million due to its poor performance, so there's no denying this is a flop.
Womp.
As for another movie Alexandra is starring in...
A SHAFT reboot is on the way! And the cast was front-and-center on the red carpet for the NYC premiere.
Stars Jessie T. Usher, Regina Hall, Samuel L. Jackson, and Alexandra Shipp was all smiles posing it up alongside Richard Roundtree - the original Shaft star - days before the film hit theaters this Friday (June 14th).
Mr. Roundtree will be reprising his role of John Shaft I alongside Samuel L Jackson, who will be playing John Shaft II, and newbie Jessie T. Usher, who will portray John Shaft Jr. The 76-year-old actor was 21 at the time the first Shaft hit theaters. He played the legendary private eye in three films and a TV show.
"He's kind of iconic in our community and in our mythology," Jackson - above, pictured with his wife Latanya Richardson - told the New York Daily News. "He's one of our heroes, and we don't want to make him be a buffoon or a fool in any way."

"To have a guy like that who was unapologetically black, brave, cool and irreverent was a revelation," said the actor, who was 22 when Shaft initially hit theaters in July 1971.

"By the time the Blaxploitation era hit, people tried to disparage it in an interesting sort of way, but we wanted it," Jackson added to the outlet. "We needed it. I've been going to movies all my life, so it was important that I see people who were heroes, who were sticking it to the Man, which is what basically those movies were."
Facts!
Peep pics of Jessie, "MacGyver" star Tristin Mays, SHAFT star Regina Hall, Oscar winner Spike Lee, NBA baller Dwight Howard, Beyonce's mom Tina Knowles Lawson and her husband Richard Lawson, comedian Cedric the Entertainer, musician Questlove, CNN's Don Lemon, SHAFT director Tim Story and his wife Vicky Mara Story below: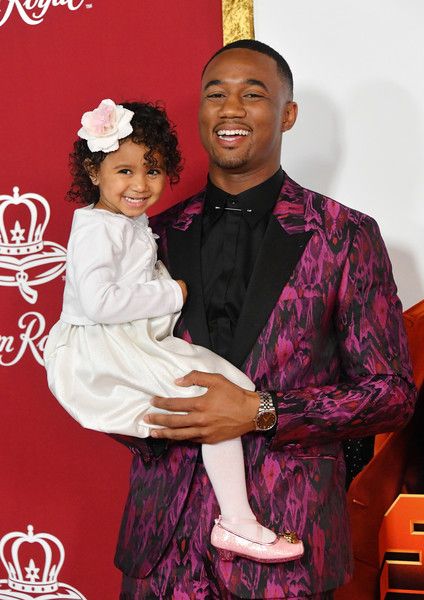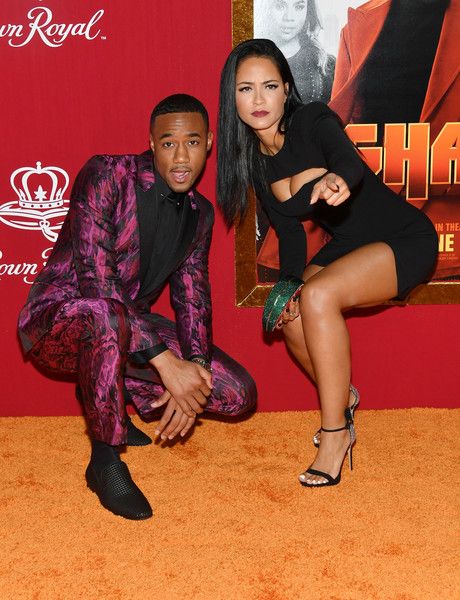 Flawless.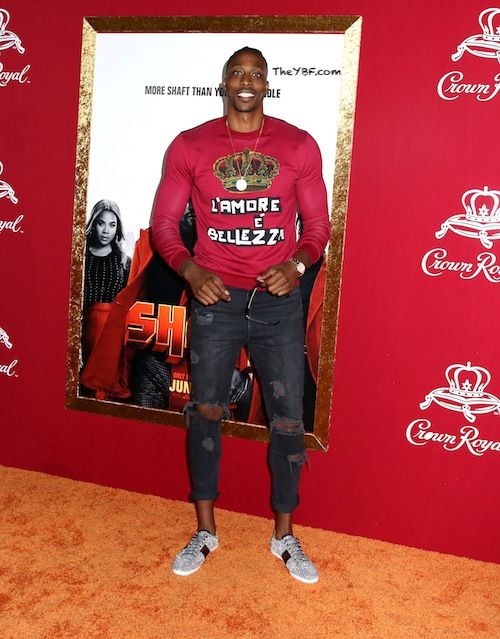 Hmm...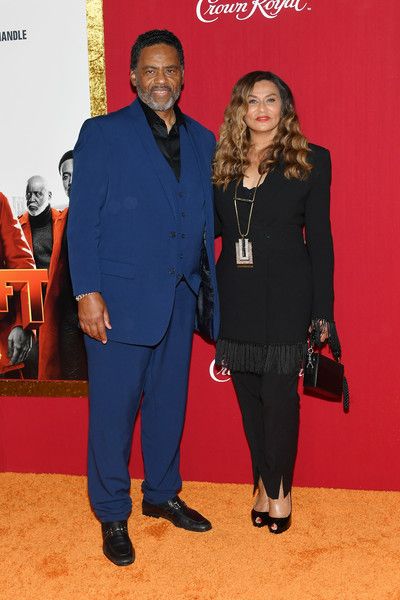 #BlackLove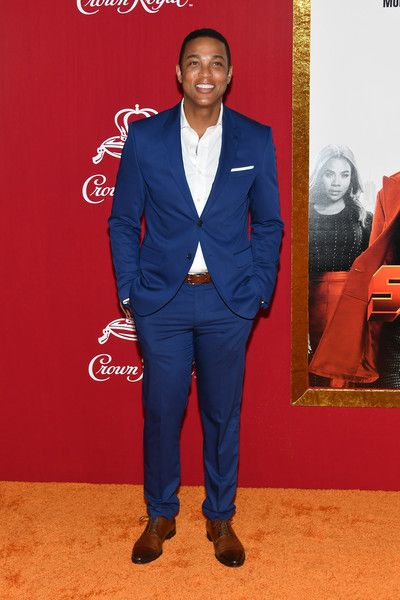 The fellas were all smiles on the carpet.
The cast also fronts ESSENCE magazine's latest issue:
SHAFT hits theaters this Friday.
Photos: Getty/Startraks/MEGA
​ ​
​ ​ ​