GET MONEY: Grace Hightower Wants HALF Of Robert De Niro's Half-Billion Fortune, But He's Fighting Back With Their Prenup
​
Jun 07 | by _YBF
​ ​ ​ ​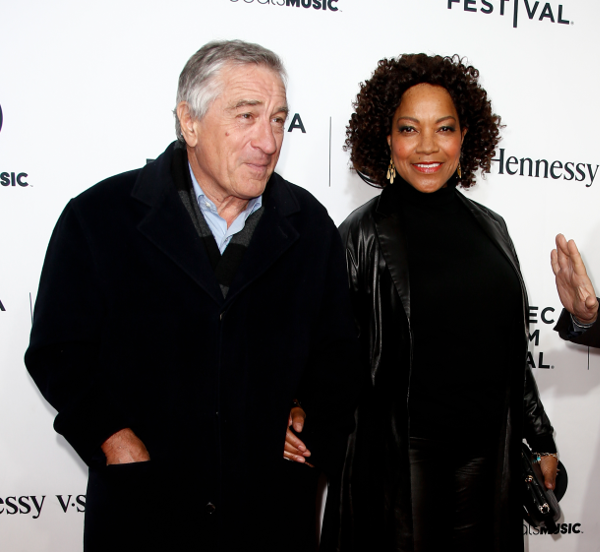 Grace Hightower claims her estranged husband Robert De Niro is worth $500 million, and she wants half! Details inside...
The divorce battle between Robert De Niro and his estranged wife Grace Hightower is getting ugly.
New details suggest Grace is demanding HALF of his alleged "$500 million" fortune even though they signed a prenup in 2004 that claims she's only entitled to a $6 million apartment, $500,000 cash and $1 million a year in alimony.
The former couple sat in Manhattan Supreme Court this week for a series of contentious hearings in their ongoing divorce.
So here's the thing, Robert and Grace got married in 1997. They filed for divorce in 1999, then they ended up getting back together and married in 2004. There are conflicting reports about whether the 1999 divorce was actually finalized.
In November 2018, Robert and Grace decided to call it quits again. They have two children together. The former couple is also battling over custody of their 7-year-old daughter, who they had through a surrogate. Their son is 21-years-old. Robert has four other kids from a previous relationship.
So now, it's a money battle.
Robert wants the prenup to be upheld, while Grace - who also owns a coffee company - is arguing that she is entitled to much more. The 64-year-old wife/mother claims the 75-year-old Hollywood actor kept her in the dark about their money since 2008. She believes she is entitled to a cut of 38 movies and 35 new business ventures since 2004 that involved the Oscar-winning actor. She wants an additional 50% of what he earned from his share in Tribeca Grill, the 88-room Greenwich Hotel and Canal Productions.
Of course, De Niro doesn't want that. He contends that the prenup sets strict limits on her take in a divorce, according to his attorney Caroline Krauss-Browne.
Grace's attorney Allan Mantel claims the couple's revenue since their 2004 pre-nup was at $300 million, $250 million came from movies. Her attorney estimated De Niro's net worth was $500 million. They're now battling about how to interpret the 2004 pre-nuptial agreement they signed after their first divorce.
Page Six reports:
"Mr. De Niro has made $300 million since 2004 via 35 businesses, and 38 movies," Hightower's lawyer, Allan Mantel, told the judge.

"His total income is more than $500 million. He gets it all," he said in angry disbelief, prompting Justice Matthew Cooper to interject some humor into the tense proceeding.

"Now his income will fall, now that special counsel Robert Mueller is out of the picture on 'Saturday Night Live,'" the judge quipped.

De Niro's attorney is accusing Grace of "nickel-and-diming the actor for every penny of his fortune."

"She is seeking essentially every piece of paper of De Niro's receipts for meals on movie sets, wardrobe, payroll records of every employee at Nobu, credit card charges. This all goes back 15 years."
So get this, Grace's attorney claims the reason they divorced the first time was because she didn't feel like an equal in their relationship.
"That's what caused the first divorce — we want a partnership," Mantel said. "She enhances his goodwill. She enhances his career. 'I agree you're going to be my 50% partner' — it's in the agreement."
Lordt. De Niro's lawyer is also arguing his coins are about to dwindle due to recent developments in the news.
"His income will fall now that Special Counsel Robert Mueller is out of the picture — less 'Saturday Night Live,'" Cooper said, referencing De Niro's appearances on the sketch show.
Well that's an....interesting counter.
Neither Robert nor Grace would comment on the divorce as they left the court.
This is serious. Hella money is involved. We'll just have to see how this all plays out.
Do you think Grace should get half? Why or why not?
EXTRAS:
1. #WhenTacosAreLife Texas A&M DB was arrested for an assault over tacos. STORY
2. A Pennsylvania jury on Tuesday found a woman from Pittsburgh guilty of involuntary manslaughter and endangering the welfare of her baby, who died after drinking fentanyl that was in the child's sippy cup. STORY
Photos: Debbie Wong/Shuttershock.com
​ ​
​ ​ ​