TRIPLE DATE NIGHT! LeBron & Savannah, Russell & Nina Westbrook, Chris & Jada Paul Have A Ki-Ki Over Dinner
​
Jun 03 | by Natasha
​ ​ ​ ​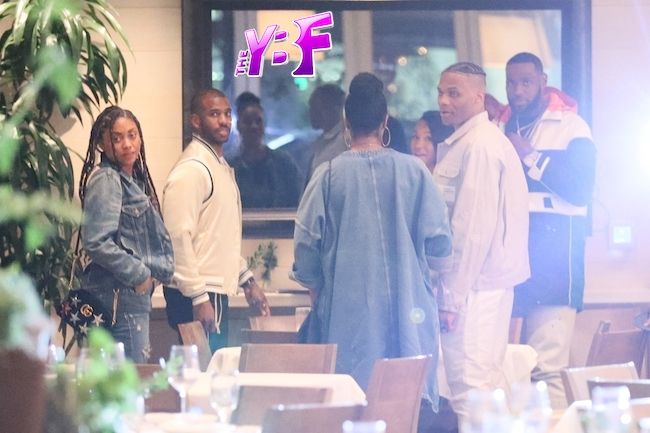 There's a perk or two of not being in the NBA Finals - you can wine & dine with your fellow baller couple friends however much you please. Get into the James', Westbrooks' & Pauls' triple date night inside.
LeBron James, Chris Paul and Russell Westbrook have been longtime friends off court for years, regardless of any beef they get caught up in on the court during the season. So the NBA ballers and their wives - Savannah James, Nina Westbrook and Jada Paul - linked up for a triple date night over the weekend.
They were spotted wining and dining at a restaurant in L.A. Saturday. Odell Beckham Jr. was spotted leaving the restaurant as well on the same night, but it's unclear if he was with them or not.
Seems like Laker LeBron is loving L.A., and the Pauls and Westbrooks always spend plenty of time there in the off season (if they're not all vacationing somewhere together).
Dinner isn't completely out of the ordinary. The fellas - plus Tristan Thompson - were also hanging out together Memorial Day weekend smoking cigars and blasting Nipsey Hussle:
Rich sh--.
Just days after Bron allowed his b-ball prodigy son Bronny, Jr. to have his own Instagram page, pops posted up this reminder:
Speak on it, king!
By the way, the Cleveland native is still copping bags even in the off season. He just announced his new deal with luggage company RIMOWA.
BONUS: Nina Westbrook headed to Cabo afterwards for a little vacay with the kids. Russell stayed behind and drove to practice today:
Adorbs.
EXTRAS:
1. Google is about to be investigated by the DOJ for anti-trust reasons as authorities make moves to break up the conglomerate. STORY
2. Apple shuttered its iTunes app today. It will instead use 3 separate apps for Music, Podcasts and TV across all devices. STORY
Photos: Backgrid
​ ​
​ ​ ​