Michael Ealy's Spilling Tea On Folks, Says Chris Rock Was An 'A**hole' & Reveals Busta Rhymes Was A Bad Tipper
​
May 19 | by _YBF
​ ​ ​ ​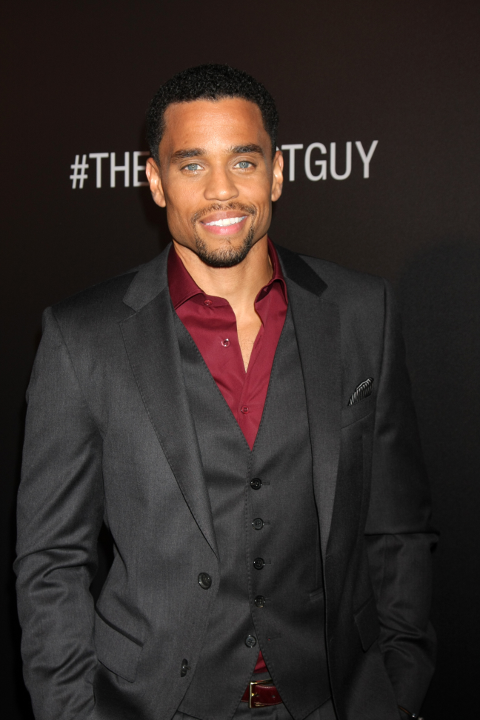 Michael Ealy is spilling tea about a few celebrities he encountered before he made it big in Hollywood. Find out what he said about comedian Chris Rock and rapper Busta Rhymes inside...
Michael Ealy usually keeps a low profile even when he is promoting a new project. However, he has been spilling all types of tea while making press runs for his new thriller, The Intruder, also starring Meagan Good.
It wasn't all peaches and cream when Michael Ealy first got his feet wet in Hollywood. During an interview with the Chicago Tribune, the 45-year-old actor was asked about the worst moment in his career, and he revealed an actor he looked up to said something "horrible" to him that made him SO mad he wanted to punch him in the face.
"I was doing this movie with Anthony Hopkins and Chris Rock called 'Bad Company' (from 2002)," he shared. "I was still waiting tables at the time but I had just done a 'Law & Order' episode, which basically certifies you as a New York actor. I was so excited to audition for this movie and I didn't get the part but (director) Joel Schumacher saw something in me and he wrote a part for me.
Ealy said he was hype about the role because it was first movie and it was a big budget movie where he would be starring opposite Anthony Hopkins in a scene. He said Kerry Washington - who was also just starting out in Hollywood - was also in the movie and Chris Rock's love interest. While everything was seemingly great on set, Chris Rock wasn't really feeling him.
"Everything went well. Joel was fantastic. Anthony Hopkins was fantastic. But Chris Rock was a little cold. He was probably at the height of his career at this point and I idolized him — I had watched all his stuff and thought he was so funny and I really respected him — but he was just kind of indifferent to me."
The "Being Mary Jane" star said he was asked to do some reshoots for the end of the movie a couple months later and that when Chris took a dig at him. He said they were shooting the wedding scene between Chris and Kerry where he played the best man and that's when Chris got petty.
"So we're about to shoot this scene, I'm in my tux, I come on set and Chris and Kerry are standing there and Joel is telling me where to stand. And right before he says action, Chris looks over at me and he says: 'Oh (pause). Still in the business, huh?'

"And when he said that, it was like a Mike Tyson left hook. And I knew he wasn't joking around. I think maybe he was trying to disguise it as playful teasing, but it was a dig. For whatever reason, it was a dig: 'You still in the business, huh?'

"Some people don't get it when I tell this story, but to say that to me was beyond disrespectful — to the point where Kerry was like (laughs), 'Chris, no.' I still love Kerry to this day because she was like, 'What's wrong with you? That was just wrong.'"
Ealy said he and Chris didn't speak much on set to begin with. He said Chris may have thought he wasn't going to be around long, so he didn't think it was important to be nice to him. Ealy said he remained professional even though he wanted to punch Chris in the face.
"I just stayed professional and did my best, but I was stuck there having to look like I'm happy to be at my friend's wedding when really at this point, I wanted to punch him in the f------ face. The crying came later. In the moment I wanted to punch him in the face. That was my Maryland upbringing coming into play (laughs) where you just fight."
He said Chris' comments motivated him to keep acting so he could prove all the naysayers wrong.
The Perfect Guy actor said he ran into Chris Rock years later that the Golden Globes. And guess what? Chris remembered what he said to him and apologized! Now, they're good.
"Years later I see Chris at the Golden Globes. I had been nominated for 'Sleeper Cell' (a Showtime drama from 2005) and I run into him on my way to the bathroom. And you know what he said? 'I love your work and I apologize for what I said.'

"He somehow remembered what he said to me and that it was wrong — and he owned up to it and apologized and told me he loved my work and he was a fan.

"That's when the crying happened (laughs)! For him to acknowledge it was huge — it meant everything to me. And he's kind of a dope person because of that. I forgive easy, but can you imagine if he hadn't remembered that we had worked together on a movie before? That would have been the second punch, right?"
Aww! Ealy said he learned a valuable lesson after his initial Chris encounter:
"It's a takeaway that I still hold true to this day: There will be plenty of people who will not believe in you. Some will be in positions of power, some will be huge stars. But not matter how crushing it feels, you can not give up. You have to keep pushing.

"But it also taught me early on how to treat people. I really learned that working with Will Smith and Halle Berry — when I worked with them, they both knew everybody's name on the crew and they spoke to every actor, whether they were background or guest star.
Glad he was able to take something from it.
Michael Ealy also revealed the worst tipping celebrity....
Before making it big in Hollywood, Michael Ealy used to be a busboy at Negril Village in NYC where celebs would come in often for some good Caribbean eats. During an interview on the "Wendy Williams" show with his Intruder co-star Meagan Good, he said he worked there for about 5 years and he called it a "deep, dark time." Ealy revealed Diddy was the best tipper. He said the Hip Hop mogul dined there with record exec Andre Harrell and they gave him a $100 tip.
"And who's the worst tipper that you had?," Wendy Williams asked him during an interview.

"Um..I have since reconciled with him so I can say it...Busta Rhymes," he shared. "So be careful who you tip because they will tell on you."
The bill was like $104 and Busta dropped him a $4 tip! OMG. Watch Michael Ealy explain the story above at the 8:58 mark above.
Photo: Kathy Hutchinson/Shuttershock.com
​ ​
​ ​ ​