FIRST LOOK: Master P & Romeo Miller Star In 'I Got The Hook Up' Sequel
​
May 08 | by _YBF
​ ​ ​ ​
One of our fave hood classics is back. Master P and his son Romeo Miller are gearing up for the release of I Got The Hook Up sequel. Deets on when it drops inside...
Remember Master P's I Got The Hook Up?! Their whole cell phone ring had us cracking up.
Now, over 20 years later, Master P and his son Romeo Miller are teaming up for the sequel, I Got The Hook Up 2. Of course, P is executive producing the flick and they'll both be starring in it. Keeping that Miller legacy alive.
Several familiar faces will be popping up in the sequel, including P's daughter Cymphonique Miller, Sheryl Underwood, John Witherspoon, Michael Blackson, and Clifton Powell; as well as a plethora of the biggest social media sensations, rappers folks love, and reality stars including Jess Hilarious, Young Jeezy, Kash Doll, YFN Lucci, Apryl Jones, Erica Mena, Juju, Webbie, and more.
"This project is not only hilariously funny, but it expresses the vitality of gentrification, entrepreneurship, and coming together as a family during hard times," said Master P. "With all the tragedies in the world, we could all use a good laugh. This is one of the may projects on the way from Genius Minds Films."

"In 1998, Master P created what would eventually become a cult classic with the release of I Got the Hook-Up, said Brett Dismuke, Chief Content Officer of UMC. "Now, 21 years later, we are excited to partner with P and his team on the return of 'Black' and 'Blue' in I Got the Hook-Up 2. In recent years, the existence of the classic Black comedic film has been limited. But with the release of the sequel this summer, UMC is bringing back the Black comedic film for audiences across the country to enjoy both on the big screen and from the comfort of their homes."
I Got The Hook Up 2 is set to hit theaters on July 12, 2019. The film will make its streaming debut on UMC (Urban Movie Channel) in October 2019.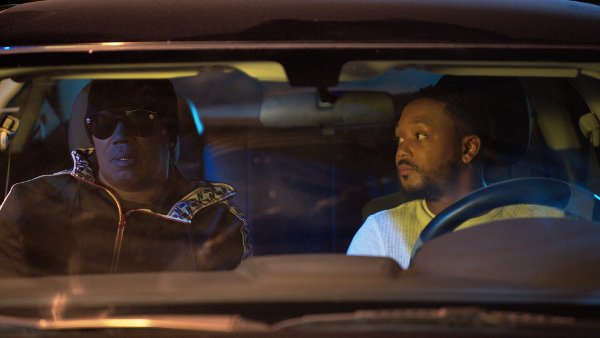 Here's what you can expect from the comedy sequel:
In the original 1998 film, Master P and comedian AJ Johnson (Friday, Menace II Society, House Party) star as Black and Blue, two small time scam artists who sell boom boxes and broken TV's from their van at a local parking lot. When a shipment of cellular phones gets to them by mistake, it doesn't take long before the FBI and local crime bosses are after them. Reprising their roles in the upcoming sequel, I Got the Hook-Up 2 picks up with Black and Blue as they run a local restaurant.

When an incident results in their restaurant being shut down, Black needs to find some cash – fast. He thinks his luck has turned when Blue's son, Fatboy (Fatboy SSE) and his best friend Spyda (DC Young Fly), brings him a stash of stolen cell phones and Black decides to sell them on the streets. The only problem is, the boxes with the phones also contain the Colombian cartel's stash of Molly which Spyda decided to go ahead and sell. Now, it's up to Black to find a way back in the game, get rid of these burners, and pay back the cartel before time runs out.
We know how folks feel about sequels, but we're actually here for this, especially because of the line up. And we're rooting for anybody black.
Photos: UMC
​ ​
​ ​ ​