Who's The YBF Chick Stealing Thunder From Bella Hadid? - Fanny Bourdette Donon Goes From Law School To Bossin' Up On The Fashion Scene
​
May 08 | by _YBF
​ ​ ​ ​
Fanny Bourdette Donon calls model Bella Hadid her best friend. But chick is a queen in the fashion game herself. Get into her boss moves at Dior and more inside...
After being seen with Bella Hadid doing Met Gala prep all this past weekend (pictured above), folks have been asking who's the new chick? To put it simply, she's everything. And a bomb fresh face everybody should get to know.
French-born and Rwanda-raised Fanny Bourdette-Donon is living it up in the fashion world. And she's doing all that after finishing law school.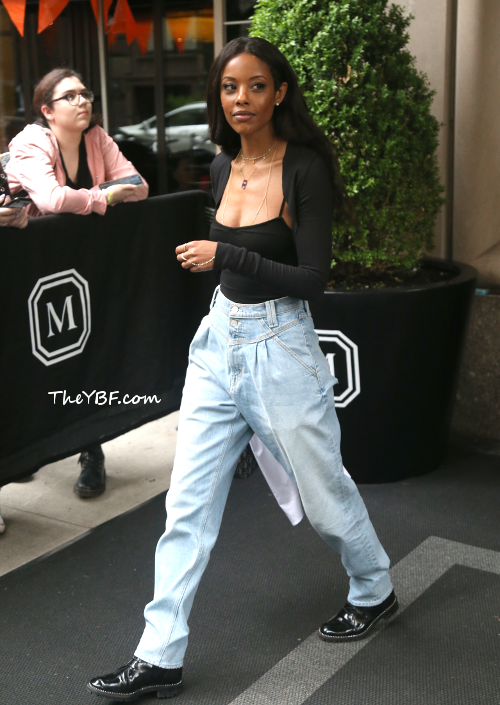 The 33-year-old fly chick comes from humble beginnings, but she was determined to make her mark in fashion as she fell in love with it as a young girl. Fanny chopped it up with Refinery29 recently where she opened up about her double glow up (law + fashion), what she does for Dior, how she met her bestie Bella Hadid and more.
The YBF chick is the international PR and special projects manager for Dior Beauty where she works closely with the luxury house's brand ambassadors. Last year, the brand's earned media value was over $411 million, according to Tribe Dynamics.
Peep the highlights:
Talk to me about the decision to pursue law and then changing to fashion later on.

"Well, we have to put it into perspective. I'm 33. Back then — literally when I was 17 in Africa — cell phones had just arrived and I didn't even own a computer. Life was completely different. To me, fashion was what I was looking at through magazines and no one around me was really knowledgeable and could tell me that this was an entire industry or how it works. I was so disconnected from that. "When I graduated, I didn't really know what wanted to do.

Since my dad was a diplomat, it was like, "if you don't know what you want to do, I'm gonna give you two options: You either go to law school or med school." I was really bad at math (I hated it), but I'd always loved to write. I was considering becoming a journalist at first, actually. So, I said Why not. I went to [law school].

"When I finished, finally being in France, I understood that fashion is a real industry and that it's what I wanted to do. I moved to L.A. and went to FIDM. I didn't just want to go and intern for someone — I wanted to know about the history of fashion, marketing, merchandising, etc. I got my B.A. in marketing and merchandising and then I started interning, and that's how I got where I am today."
Fanny is Dior's Special Projects Manager and she shared how she nabbed the job:
What do you do at Dior? And how did you get the job?

"I landed my job really randomly. At the time, I had a clothing line called Guilty Brother, with a partner. Unfortunately, our investor suddenly passed away and we couldn't find any funding to continue. It's tough when you start like that because you have to control your distribution, fabric is so expensive because you don't have quantities to produce, and so much more.

"I was so devastated. I don't have kids, but when you spend so much time building something and it has to stop, it felt like they were taking away my child somehow. I was completely traumatized and depressed. I didn't want to start something new. So, I felt like I needed to go and work for someone else because I never had, really. Eventually, I ended up at a dinner sitting next to the person who is my boss today.

"What gave me this passion about fashion was really the Galliano era at Dior. I remember when I saw the Maasai collection, it had such resonance with me. Coming from Africa and seeing how you could transform and reintegrate all those references...it was magical."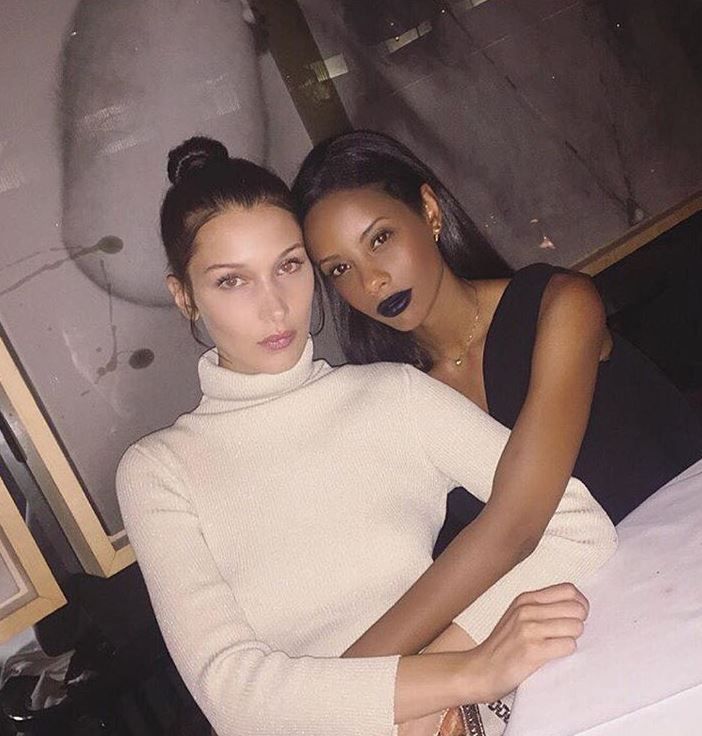 In her personal life, she's hanging out with Bella, one of the new clbuspawn supermodels and girlfriend of singer The Weeknd. Here's how they met:
A few people know you as being friends with Bella Hadid. How did you guys meet and what your friendship is like?

"I find it super-cute that people love our friendship. I was looking for an ambassador for the house; to me, she has the look of the Dior woman — and she was young, smart, and seemed so confident. Because I was living in L.A. and we had so many friends in common, I just brought it up. I was like, Do you guys know Bella? They were like, Oh my God, yes, you guys should meet — you will get along so well!

"We had an event in the South of France, so I reached out to Bella's agent to invite her — no strings attached — and he replied that she would love to attend. That was literally the first time we met and we became best friends right away.

"It's natural with her. We get to spend so much time together now that she's the face of Dior, of course. It's one of those friendships, like, when you have this instant connection and you feel that you were friends in a past life, maybe? I know that might sound completely crazy, but I swear that's how our friendship feels. I'm very protective of her; she's kind of like my little sister, in a way. Because I know how pure she is and how she only has good intentions. It's really rare to meet those kinds of people."
She also shared her thoughts on the #METOO & #TimesUp movements:
I'd love to get your thoughts on a couple movements that are happening in the industry right now — the #MeToo and Time's Up movements — and Maria Grazia Chiuri being such a voice right now in fashion when it comes to bringing politics and feminism to the runway.

"It's such an exciting time to be a woman — not only in fashion, but the world. I'm so happy it's finally happening. I don't understand how it didn't happen before, but I'm thankful for the women who are leading this movement and using their voices.

"Honestly, I'm just supportive. I'm totally on the same page in the way that I work: Every chance I get I try to book female photographers, stylists, etc. And it was such a fight for me to make sure that we were bringing colors into beauty and into the house. In that sense, I wouldn't say that I'm a part of the movement — because I feel like we all are as women — but it's so important to me to make sure I contribute every day in my own way."
A fab chick indeed.
We love when a new YBF chick gets in the mix in a fabulous way. You can read her entire profile here.
Photo: Splash/Fanny's IG
​ ​
​ ​ ​