John Singleton's Private Funeral Will Be Held Next Week, Public Memorial In The Works + John's Eldest Daughter Gets His Multi-Million Dollar Estate
​
May 04 | by _YBF
​ ​ ​ ​
Funeral arrangements for famed director John Singleton have been announced. Also, his eldest daughter, Justice Singleton, has been named has his beneficiary of his estate. More inside...
Five days ago, Hollywood was rocked with news that Oscar nominated director John Singleton had passed away. After a tough week and a half surrounding John's stroke and reported coma, the family made the impossible decision to remove him from life support. He was 51.
Details about his funeral arrangements have been announced. The South L.A. native will be laid to rest at Forest Lawn-Hollywood Hills, the same cemetery where late rapper/activist Nipsey Hussle was buried.
The family will celebrate his life in a private service at Angelus Funeral Home in South L.A. on Monday, May 6th at 10AM. It's the same place Nipsey's family held their private service as well. The private service will reportedly be closed off to the public, however, the family is planning a memorial event for the public that's set to be held on May 21st. Details for the event are still being worked out.
Here's the invitation (via TMZ):
Both John and Nipsey were raised in South L.A. and were very active in their community. Also, John's L.A. office wasn't far from Nipsey's store, The Marathon Clothing. Peep a clip of John visiting the store below:
In other news...
John Singleton's eldest daughter, 26-year-old Justice Singleton, has reportedly been named the beneficiary of his estate, which is reportedly valued at $3.8 million.
The famed director drafted the will back in 1993 before his six other children were born. They could have a claim to split the assests 7 ways. It's assumed the $3.8 million is not the full extent of his assets. According to reports, his full estate is valued at $35 million, so it's possible the will may not be a full accounting of the assets John left behind. It's possible he may have a trust that disposes of other assets that are not included in the will.
John Singleton's mother, Shelia Ward, could possibly get custody of John's minor children unless the biological mothers of the children have taken custody. He has two minor children.
This news comes on the heels of John's other daughter, Cleopatra Singleton, fighting with Shelia while he lay in a come after his stroke. Cleopatra made claims that Shelia was swindling money from the estate to deny his children any money.
Tons of celebs posted social media tributes to the director who created and directed classic movies such as Poetic Justice, Higher Learning, Baby Boy, and Shaft; TV shows like "Snowfall"; and even Michael Jackson's epic "Remember The Time" music video. President Barack Obama took time to remember John Singleton on his Twitter account:
Condolences to the family of John Singleton. His seminal work, Boyz n the Hood, remains one of the most searing, loving portrayals of the challenges facing inner-city youth. He opened doors for filmmakers of color to tell powerful stories that have been too often ignored.

— Barack Obama (@BarackObama) April 30, 2019
Here are tons more tributes posted by celebs who loved and worked with him below: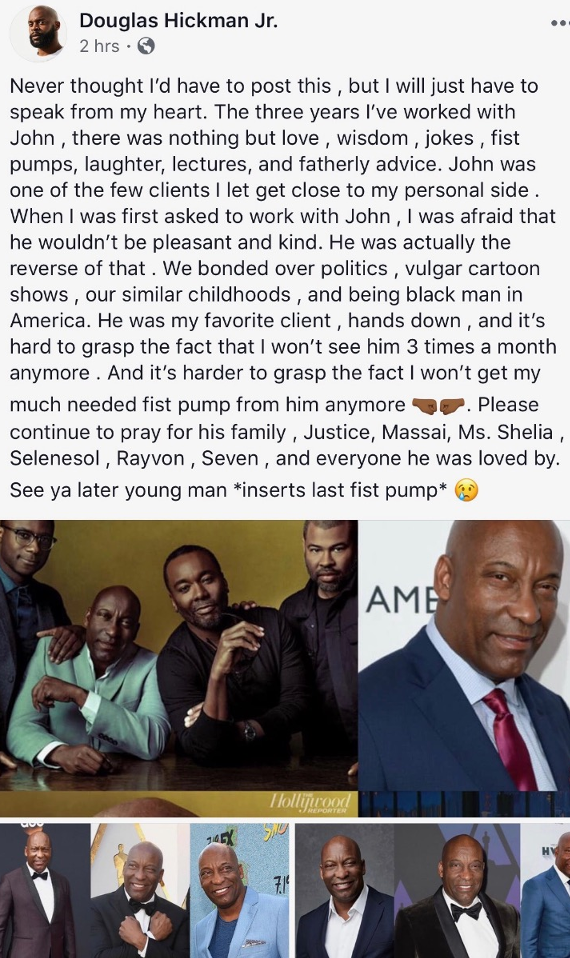 Rest In Power John Singleton!
EXTRAS:
1. Footage of Soulja Boy in court last week shows the rapper appearing before a judge in an organe jumpsuit after he was arrested for violating probation. He was sentenced to 240 days behind bars and community service. Watch here.
2. Young Thug's Atlanta mansion is now being offered for $1 million below the original asking price. STORY
Photo: Kathy Hutchinson/Shuttershock
​ ​
​ ​ ​