NeNe Leakes Feels Vindicated After 'RHOA' Finale Shows Cynthia's 'Betrayal', But Fans Call Her Petty & Childish
​
Apr 01 | by Natasha
​ ​ ​ ​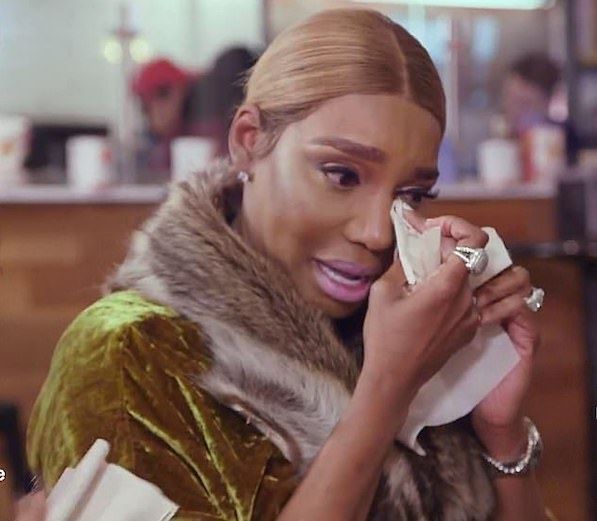 We're not sure if it's just misplaced aggression or if NeNe Leakes had a secret beef with Kenya Moore even Kenya didn't know about. But last night's "RHOA" finale shows why NeNe felt "betrayed" by her best friend Cynthia who invited former co-star Kenya to an event.
NeNe brought the dramatics with her reaction, and the Internets were basically like, Bihhhhhh Please!
The timing wasn't the best. News had just broken about the death of rapper & universal people's champ Nipsey Hussle, and almost everyone was mourning.
Then the "Real Housewives of Atlanta" finale kicked off, and it just seemed more trivial than usual. Something tells us folks would have been annoyed by this take regardless of when NeNe posted it. The "RHOA" star said this during last night's finale:
Broke her? Oh ok. So what could have been so horrendous that Cynthia did to her "good friend"?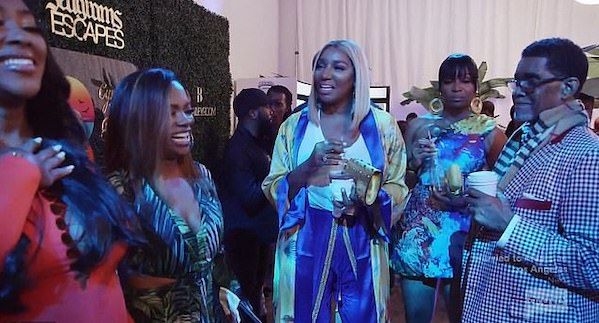 Invite former co-star Kenya Moore - who was big pregnant at the time - to NeNe's event. Seemed harmless enough right? Shiiii apparently we all thought wrong.
NeNe flipped her ish, and Cynthia (and everyone) was mad confused.
"You don't call your sister and tell her? You didn't think that was as big of an issue?" Leakes said. "[I'm] your sister who you are really with. This is the sister you talk to five or 10 times a day. You don't do that to her!"

"You have not been the same friend to me that you are to your other friends," Leakes told Bailey, referencing Moore. "You other friend started a lot of stuff. Why did you never address her about that? … You have to be neutral. You're not neutral. … When she started her thing in the press, you never stood up for me."
Cynthia wasn't here for it:
"Whatever you and Kenya have going on, that's between you and Kenya. If you guys don't get along, I have nothing to do with it," Bailey told Leakes. "I don't play the social media thing. She does it, you do it. When we went to her shower, you were making little comments or whatever. That's what you do. … I refuse to be in the middle again."

"I never knew if Kenya was going to come or not until Kenya walked in the door. I didn't think it was that big of a deal," Bailey said. "You were clearly irritated about the shower. The last thing I want to do is tell you that Kenya's going and her not even show up to even go down that road."
She reminded NeNe of who's the boss at this point:
"This is my event, NeNe," Bailey said. "This was my event. I can invite anybody to my event! The only thing I wanted was for my friends to come on my night. But I didn't think for one second that you couldn't be big enough to be in a room with Kenya."

"I'm sorry about not giving you a heads up… I was wrong," Bailey said on the RHOA finale. "I am your friend. You know that I love you. I would do anything for you … I should have told you and I will be neutral. It will not happen again. I am here for you."
So THIS is what NeNe's been talking about for months? Oh. She says she heard Cynthia whispering some devious things to her boyfriend Mike Hill and it was caught on mic.
NeNe then went on IG Live to continue explaining why Cynthia betrayed her worse than she's ever been betrayed, apparently:
We're not the only ones confused about when NeNe started having an issue with Kenya:
I hold all the real tea #RHOA https://t.co/DCJywXIb69

— KENYA MOORE (@KenyaMoore) April 1, 2019
#FACTS https://t.co/8ZTyn0NgdN

— KENYA MOORE (@KenyaMoore) April 1, 2019
A grown ass woman, has to explain to another grown ass woman, why she invited another grown ass woman, to her party. Did I get that right? #RHOA pic.twitter.com/BRwVui0rGp

— Maxine Shaw (@Mark_Jayy) April 1, 2019
We take it he was just mad she wasn't he only center of attention.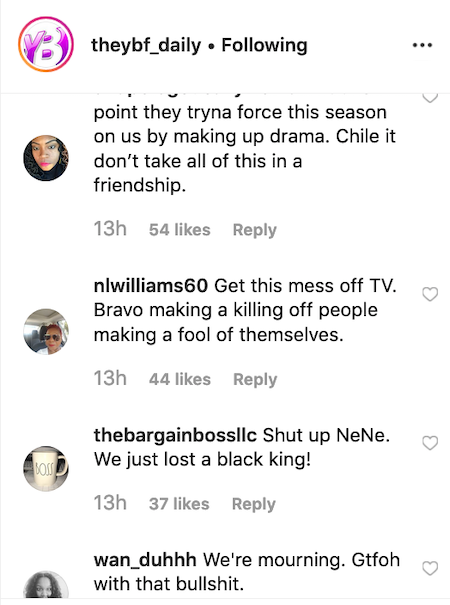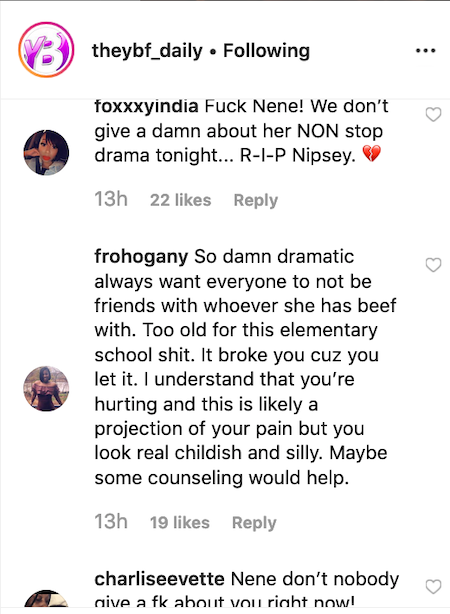 Sheesh.
The comments section on our IG post wasn't having it.
The 3-part "RHOA" Season 11 reunion kicks off Sunday, April 7th on Bravo. NeNe's going at it with everybody.
​ ​
​ ​ ​