Tyler Perry Is Paying The Rent & Tuition For The Children Of A Slain Single Mother + Sony Shows Some 'Hair Love'
​
Mar 21 | by _YBF
​ ​ ​ ​
Tyler Perry stepped in to help four children who lost their mother. Gotta love a celeb who walks the walk. Find out how he blessed them, plus deets on Matthew A. Cherry's Hair Love film that just got picked up inside...
Everyone needs an angel here on Earth at some point and time. Tyler Perry was able to be just that for four children whose mother was horrifically murdered.
The filmmaker stepped in to help 45-year-old Tynesha Evans' four children after police say she was shot and killed in a bank parking lot allegedly by her boyfriend. According to reports, the suspect - 58-year-old Othniel Inniss, allegedly lured Tynesha to a Wells Fargo bank in Atlanta under the pretense of giving her money to pay her rent. That's when he allegedly shot her. He was arrested and charged.
The producer offered to help the family by paying their rent so they don't get evicted, he paid for arrangements to have the mother's body flown to Wisconsin for her burial, and he offered to pay her 18-year-old's daughter's tuition at Spelman College, so she doesn't have to quit school.
Tynesha's daughter Audrey Turner received a personal phone call from Tyler and said she was surprised to hear how he was willing to help out.
"It was a call I wasn't even going to answer," she told WSB-TV. "I said, 'Well, let me answer it to see who it is.' I answered and the person on the other end said, 'This is Tyler.' I said, 'Who?' He said, ' This is Tyler.' I said 'Tyler who?' and he said 'Tyler Perry. At that point, I just broke down crying."
Aww!
Sharadiant Turner, who is a freshman at Spelman, said she's going to continue school in honor of her mother.
"I'm going to do what she wanted me to do. She started me on math and now I'm going to get to graduate with a mathematics degree from Spelman College without debt. It means everything," she said. The alleged shooter has been charged with murder and aggravated assault with a firearm.
A GoFundMe page was set up to help the family before Tyler stepped in with over $62,000 already raised.
Thank God for angels here on Earth.
As for another story that'll have you in your feels...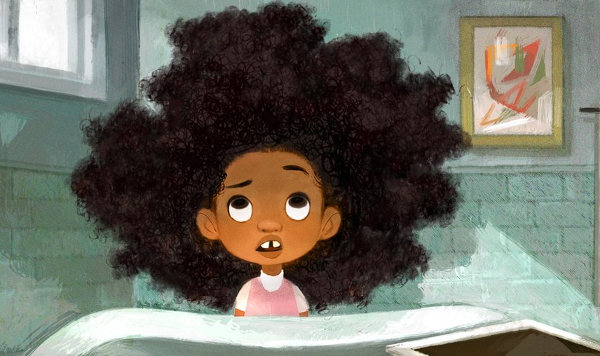 In 2017, we told you director/producer Matthew A. Cherry was raising funds for a brand new, much-needed short film for the kiddies titled, Hair Love.
Hair Love centers around the relationship between an African-American father, Stephen, his daughter, Zuri and her hair. Stephen had to get to work on his daughter's hair when his wife was unavailable to do it before a big event. Stephen will have to figure out how to do Zuri's hair on his own and, as expected, hilarity will ensue.
The Kickstarter campaign for #HairLove is now live. The goal is set for 75k but we're trying to raise 100k. https://t.co/ZtbqZLrkAy

— Matthew A. Cherry (@MatthewACherry) July 10, 2017
The BlacKkKlansman executive producer has partnered with Sony Pictures Animation on the short animated film, according to Deadline.
"In the past year, it has been very clear that audiences have been yearning to see fresh stories that are universal and culturally authentic," SPA President Kristine Belson said. "Hair Love is a wonderful father-daughter story and we are proud to nurture talented young filmmakers like Matthew who are breaking new ground," the exec added.
Not only is an animated movie in the works,Hair Love will also be turned into a book that will be published by Kokila Books/Penguin Random House on May 14th.
"It was important to get this story out there and we are so grateful to Sony Pictures Animation for their generous support in helping us make that happen," Cherry himself noted of the deal and roll-out plan. "They have championed it from its early stages and we cannot wait to share the project with the world."
The site reports:
Co-directed by Cherry and Everett Downing, Hair Love raised $300,000 on Kickstarter back in 2017. That's the most any short film, animated or not, has ever achieved on the funding platform.

Produced by Toliver, Cherry, Stacey Newton and Monica A. Young, Hair Love also sees Frank Abney and Peter Ramsey, who served as a director on SPA's Oscar-winning Spider-Man: Into the Spider-Verse, as EPs.
Hair Love it set to hit theaters later this year. We're here for it.
Come thru kings!
Photos: Tinseltown / Shutterstock.com/@SonyAnimation
​ ​
​ ​ ​