Cardi B Set To Join Star-Studded Cast For Movie Debut In Stripper Flick + J. Cole Lets His Guard Down Back Home In GQ
​
Mar 19 | by _YBF
​ ​ ​ ​
Cardi B is gearing up to make her feature debut in an upcoming stripper flick that features a star-studded cast. Deets on her role, plus J. Cole stepping outside the box for GQ magazine's newest issue inside...
Cardi B is about to take it back to her humble beginnings as she kicks off her acting career. Talk about a full circle situation!
The Grammy Award winner will flex her acting chops for her feature debut in an upcoming film titled Hustlers, also starring Jennifer Lopez and Crazy Rich Asians star Constance Wu.
According to Deadline, the film follows a crew of savvy former strip club employees who band together to turn the tables on their Wall Street clients. The former dancers get their revenge on wealthy, drunk and abusive clients by maxing out their credit cards after they've passed out. Oop! Sounds familiar.
The film is reportedly inspired by a 2016 New York Magazine article that went viral.
The "Money" rapper will be joining Keke Palmer (PIMP), Lili Reinhart (Riverdale), Julia Stiles (Silver Linings Playbook) and Oscar-winner Mercedes Ruehl (The Fisher King). Mette Towley (Cats) and Trace Lysette (Transparent) are in negotiations to join the film.
"We could not have asked for a more exciting or talented lineup of performers to join our cast," STXfilms chairman Adam Fogelson said in a statement. "STX is thrilled to reunite with Jennifer, Elaine (Goldsmith-Thomas) and Benny (Medina) to bring this unexpected, entertaining and often shocking story to the big screen for audiences worldwide."
STXfilms is producing the film alongside JLo, Elaine Goldsmith-Thomas and JLo's manager Benny Medina, who previously collaborated with STX on 2018 rom-com Second Act, as well as Adam McKay, Will Ferrell and Jessica Elbaum for Gloria Sanchez Productions. Lorene Scafaria is directing.
"I'm thrilled to have the opportunity to work with this dynamic group of women," said Scafaria. "We're grateful to have assembled such a powerhouse cast and can't wait to start filming at the end of the week."
Last month, JLo's fiance Alex Rodriguez gave us a sneak peek at the singer/actress practicing her pole dancing routine: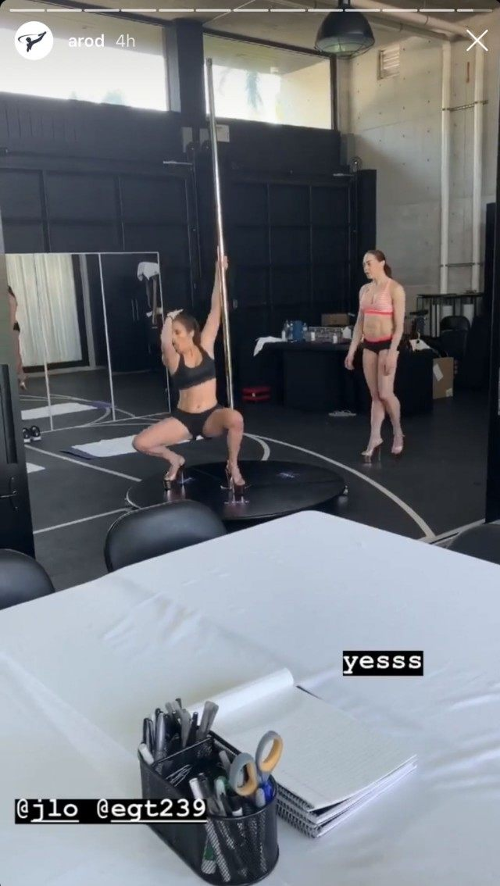 Hustlers began shooting on March 22nd in New York City. Will you be buying tickets to see it when it drops?
On the magazine front...
Well THIS is a surprise.
J. Cole hardly ever does interviews, let alone magazine covers, but he's seemingly coming out of his shell more. The rapper covers GQ magazine's April 2019 issue and he explains why he decided to front the publication in the rare interview.
Somehow GQ felt like it was a good idea to put me on the cover. Thank you Allison for the cover story. Slime said I gotta start dressin' like this all the time. We gon see https://t.co/8nHA5DGBgB

— J. Cole (@JColeNC) March 19, 2019
"I'm trying not to be as stubborn about it all," he shares. "I realize, like, memories come from getting out of my comfort zone—great memories."
So it sounds like fans may get to know the North Carolina rapper on a deeper level.
In the issue, the rapper - who's early rap monikers was "Therapist" - talks about how he hates being the center of attention, going platinum with no features, the Grammys, how fatherhood has changed him, and more. Below are the highlights:
On why he doesn't care for fame:

"I don't like center-of-attention-type moments," he says. "Like the camera, mad people, the world watching the arena, and I have to do something right."

On how he felt about the phrase "J. Cole went platinum with no features":

"I was loving it," he says. "I was like, 'Word up—this is funny as hell.' But the second or third time, I was like, 'All right, it's almost embarrassing now.' Like, 'All right, man, y'all gonna make me put a feature on the album just so this shit can stop.' "

On never winning a Grammy:

"I'm not supposed to have a Grammy, you know what I mean?" he says. "At least not right now, and maybe never. And if that happens, then that's just how it was supposed to be."

On how fatherhood changed him:

"For a while, I felt a little weird about it. Like, nah. I felt, 'Did I miss something?' 'Cause I didn't feel the change that people talk about. And then I figured out what it was," he says. "I changed my life in order to get ready to have a family and to have a son. I literally changed my life, where I was living, the things that I was doing. I changed. So because of that, when my son came, I was ready. I already made room."

On Colin Kaepernick settling his lawsuit against the NFL:

"Listen, justice was served," Cole says, noting the wisdom in Kaepernick's move. "This man got his money, know what I mean? Plus," Cole speculates, "he'll probably play again."
You can read his full interview here.
Below is a behind-the-scenes look at J. Cole's GQ cover shoot in Raleigh, North Carolina:
Also...
We backkkkkkkkk.

DREAMVILLE FEST 2019
APRIL 6TH RALEIGH, NC

TICKETS ON SALE AT https://t.co/1N6zZeTmpw@dreamvillefest @dreamvillE pic.twitter.com/jDP7Iew5Ce

— J. Cole (@JColeNC) March 19, 2019
J. Cole just announced the full music lineup for his inaugural Dreamville Festival, a new one-day music festival experience making its debut on Saturday, April 6th at Dorothea Dix Park in his home state near downtown Raleigh.
Dreamville Festival 2019 performers include J. Cole, SZA, Big Sean, 21 Savage, 6Black, Nelly, Teyana Taylor, Bas, J.I.D, Davido, Rapsody, Cozz, Saba, Earthgang, Ari Lennox, Omen, Lute and Mez.
Photo: Cardi's IG
​ ​
​ ​ ​