Fire & Karma?! The 'RHOP' Season 4 Trailer Just Dropped, And That Ish Is A Doozy
​
Mar 18 | by Natasha
​ ​ ​ ​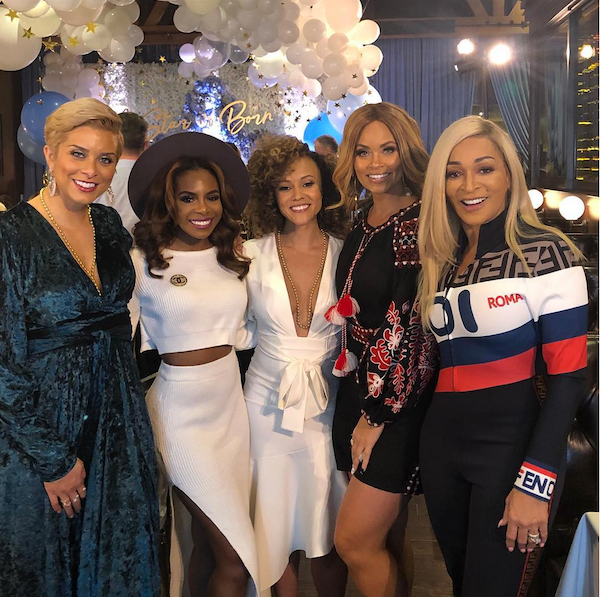 The Potomac ladies are back! And based on this newest trailer, ish is getting real crispy amongst the cast. Watch the first trailer for season 4 and what they've been up to recently inside.
Robyn Dixon, Monique Samuels, Karen Huger, Gizelle Bryant, Ashley Darby, and Candiace Dillard are back for season 4 of "Real Housewives of Potomac." This season, the chicks are whipping out knives on each other, throwing the karma word around, and accusing folks' husbands of not even loving them.
Bravo gave the deets via press release today saying:
This season, lies are uncovered and relationships are strained, but love always finds a way. Ashley and Michael have healed from their loss and are ready to work on expanding their family, but the word on the street in Potomac is that Michael has to deal with some serious allegations. Meanwhile, Monique is ready to deliver her new bundle of joy and focus on her entrepreneurial endeavors, but her husband Chris is not ready to say good-bye to his baby-making days. Karen and Ray are pushing through their troubles, while still watching everyone else with a side eye, as Karen launches one of her biggest ventures. Gizelle has a tale she wants to tell with her upcoming book launch, and she is also working on mending her friendships and revitalizing her love life. Meanwhile, love is blooming in Potomac as Candiace and Chris are knee deep in wedding planning. However, Candiace's mother, Dorothy, has an opinion on everything, making one wonder who is actually in control. Robyn and Juan have found their groove finding their way back to each other as Robyn also works on her property investment goals. With all the trials and tribulations ahead, will these ladies be able to keep it cute and classy?
Chile...
It doesn't help that the sexual assault claims about Ashley's husband Michael was ALL in the news right after their almost-split a couple seasons ago. Of course, Karen and others thew it in her face after Ashley had previous shady ish to say about their relationships.
Now that Ashley is pregnant (in real time), despite Michael saying he didn't want to have kids with her, things should get even more interesting.
Robin and her ex-husband are back to banging like rabbits (her words). And she's not the only one back on good terms with her ex. Gizelle posted pics from ex-husband Pastor Jamal Bryant's new installation as pastor of New Burth Baptist Church along with their two girls.
We doubt they're back on as a couple though.
Candiace and her now hubby tied the knot in a gorgeous ceremony recently:
Monique Samuels and hubby Chris welcomed their baby boy Chase.
And the ladies are getting along enough to hit a few events together:
They got together at Andy Cohen's baby shower in L.A. and Candiace's mom Dorothy's birthday party.
The "Real Housewives of Potomac" returns May 5 (9 p.m. ET) on Bravo. Starting May 19, the series moves to its permanent timeslot at 8 p.m. ET.
Tommy Garcia/Bravo
​ ​
​ ​ ​